Cricket fraternity condemns the unfortunate Pulwama attack
Ever since the attack happened, there has been an outpouring of grief on social media.
Updated - Feb 15, 2019 11:14 am
39.7K Views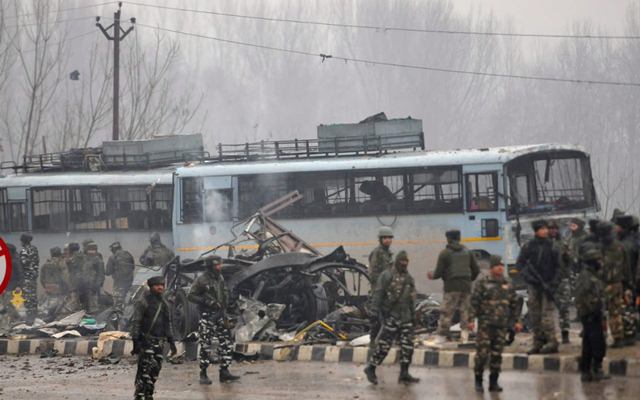 Follow us on Telegram
February 14 is celebrated as Valentine's Day, a day of love across the world. However, the day will perhaps not remain the same in India's history anymore as the country witnessed one of its deadliest attacks on Thursday. The entire country was rocked and left in shock when terrorists carried out a heinous attack on the unsuspecting CRPF personnels in Jammu and Kashmir's Pulwama district.
Pakistan-based Jaish-e-Mohammed (JeM) terror group has claimed responsibility for the attack. According to reports, 44 CRPF personnel were killed in the powerful IED blast on the Jammu-Srinagar highway. A CRPF convoy of 70 vehicles was targeted by an explosives-laden SUV that was being driven by a Jaish suicide bomber identified as Adil Ahmad Dar. The vehicle rammed into one of the CRPF buses, killing 44 of its occupants and leaving several injured. The Pulwama attack is the biggest terror attack in Kashmir in the recent past.
Prime Minister Narendra Modi has already promised that the sacrifices of the martyrs will not go in vain. Condemning the attack on the CRPF convoy, PM Modi tweeted
"The entire nation stands shoulder to shoulder with the families of the brave martyrs. May the injured recover quickly".
Ever since the attack happened, there has been an outpouring of grief on social media. Well,  the cricketing fraternity has also condemned the attack and has paid rich tribute to the martyrs. The likes of Gautam Gambhir, Virender Sehwag, Shikhar Dhawan, Mohammad Kaif and others took to Twitter to express their grief over the incident.
"Sad and pained to hear about the dastardly attack on our brave CRPF men in #Pulwama in which many of our jawans have been martyred. I pray for a quick and speedy recovery of those injured in the attack," Laxman wrote on Twitter.
Sad and pained to hear about the dastardly attack on our brave CRPF men in #Pulwama in which many of our jawans have been martyred . I pray for a quick and speedy recovery of those injured in the attack.

— VVS Laxman (@VVSLaxman281) February 14, 2019
India opener Shikhar Dhawan tweeted:
Deeply saddened and disturbed by the news. I condemn the terror attack in #Pulwama. My condolences to the families of the jawans who sacrificed their lives.

— Shikhar Dhawan (@SDhawan25) February 14, 2019
Here are some more tweets from the cricketers:
Really pained to hear about the attack on our #CRPF men who have been martyred in the attack in J&K. I pray the coward attackers are taught a lesson at the earliest.

— Mohammad Kaif (@MohammadKaif) February 14, 2019
Appalled and deeply disturbed by the news of CRPF jawans killed in Kashmir's Pulwama. My thoughts and prayers with the martyrs' families.

— Suresh Raina🇮🇳 (@ImRaina) February 14, 2019
I strongly condemn what happened yesterday to our brave CRPF Jawans in Pulwama. It is absolutely despicable. My heartfelt condolences to all the families of the martyrs. These attacks can't continue and we need to retaliate. #PulwamaAttack

— VINOD KAMBLI (@vinodkambli349) February 15, 2019
As the news continues to pour in on the attack in #Pulwama yesterday, my heart goes out to the martyrs, their families, the grieving, in these days of bereavement. Deeply disturbed.

— Mithali Raj (@M_Raj03) February 15, 2019
The real picture🙏🏻🙏🏻🙏🏻🙏🏻🙏🏻🙏🏻🙏🏻🙏🏻🙏🏻🙏🏻🙏🏻🙏🏻🙏🏻🙏🏻🙏🏻🙏🏻🙏🏻🙏🏻🙏🏻🙏🏻🙏🏻🙏🏻🙏🏻🙏🏻🙏🏻🙏🏻🙏🏻🙏🏻🙏🏻🙏🏻🇮🇳🇮🇳🇮🇳🇮🇳🇮🇳🇮🇳🇮🇳🇮🇳🇮🇳🇮🇳🇮🇳🇮🇳🇮🇳🇮🇳🇮🇳🇮🇳🇮🇳🇮🇳🇮🇳🇮🇳🇮🇳🇮🇳 this picture says everything .. pic.twitter.com/be6LPLpCJA

— Sreesanth (@sreesanth36) February 15, 2019
With every passing second, anger is taking over sadness. Have questions that needs to be answered. The martyrdom of our finest should not be just another black letter day #phulwamaattack

— Deep Dasgupta (@DeepDasgupta7) February 15, 2019
— Bishan Bedi (@BishanBedi) February 15, 2019
Absolutely pained to hear about the attacks in Pulwama last evening on our CRPF Jawans. Thinking about them and their families. May their souls rest in peace. #Pulawama

— surya77 (@surya_14kumar) February 15, 2019
I'm shocked after hearing about the attack in Pulwama, heartfelt condolences to the martyred soldiers & prayers for the speedy recovery of the injured jawaans.

— Virat Kohli (@imVkohli) February 15, 2019
#PulwanaAttack#RIPBraveHearts
Deepest condolence to their families! 🙏🙏🙏🙏 pic.twitter.com/0JaxOw3abJ

— Rahul Sharma (@ImRahulSharma3) February 15, 2019
Shocked and horrified by what happened #Pulwama. The day we all celebrated love some cowards spread hatred. Thinking about the jawans and their families. India keep them in your prayers.

— Rohit Sharma (@ImRo45) February 15, 2019
Heartfelt condolences to the families of the martyred soldiers in the #Pulwama attack.
Really disturbed to hear about this.
May their souls rest in peace and hoping for a speedy recovery of the injured soldiers.

— Kuldeep yadav (@imkuldeep18) February 15, 2019
Feeling angry and sad ….
Not at all the way to live boss 🙏🏼🙏🏼🙏🏼#Pulwamattack
Let's reach out to the people and family's who got hurt by this and help them in whatever way we can 🙏🏼

— Sanju Samson (@IamSanjuSamson) February 14, 2019
Really pained by the cowardly attack on our CRPF in J&K in which our brave men have been martyred . No words are enough to describe the pain. I wish a speedy recovery to those injured.#SudharJaaoWarnaSudhaarDenge

— Virender Sehwag (@virendersehwag) February 14, 2019
Yes, let's talk with the separatists. Yes, let's talk with Pakistan. But this time conversation can't be on the table, it has to be in a battle ground. Enough is enough. 18 CRPF personnel killed in IED blast on Srinagar-Jammu highway https://t.co/aa0t0idiHY via @economictimes

— Gautam Gambhir (@GautamGambhir) February 14, 2019
Follow us on Google News