Cricketers and their WWE equivalents
Updated - Oct 1, 2015 2:50 pm
35.9K Views
Cricketers and their WWE equivalents: The Gentleman's game and the World Wrestling Entertainment, well it does sound that they are two polar opposites and one might conjecture what in the world can connote to a proper connection between these two.
We in CricTracker have undertaken a fun activity to equate WWE superstar's and cricketers by virtue of their common characteristics, similar attitude, and other such things. Not everything that happens in the WWE is true and the veracity of certain incidents just patently seem doubtful and fake. Whereas here in cricket, it's some serious business going on. But one must have to agree that both cricket and WWE offer top class entertainment and they have been engrossing audiences for a long long time across borders.
So here we go, CricTracker's Cricketers and their WWE equivalents:
1) Kofi Kingston and Dwayne Bravo: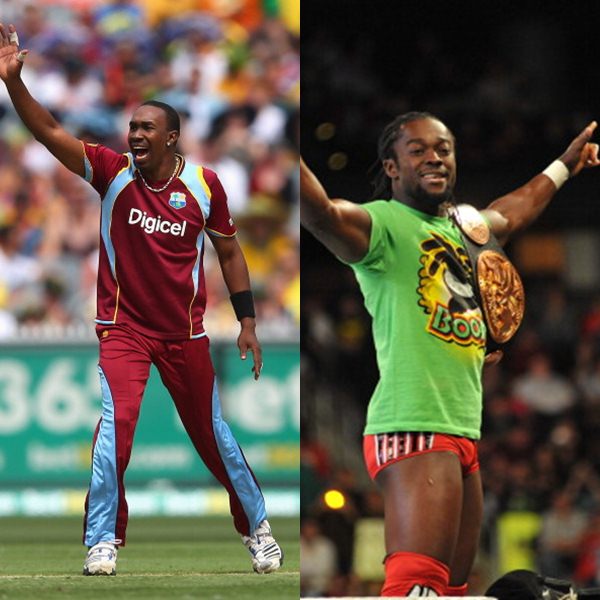 Kofi Kingston is one of the most acrobatic wrestlers ever to have set foot in the WWE ring and Dwayne Bravo is one of the most athletic fielders to have ever graced the sport of cricket. Both these guys don't fail to mesmerize people with their jaw-dropping athletic skills. Kofi Kingston hops around the ring virtually like spiderman, he can perform somersaults, boom drop, hanging overhead kick and perform some unreal moves from the top of the rope. He is very renowned for his entertaining stints at the Royal Rumble. In the Royal Rumble he once was on the verge of getting eliminated but with his stunning balance he converted one of the chairs over there as a pongo stick and hopped back to the ring without getting his feet touch the ground outside of the ring. And then there is Dwayne Bravo, a guy who has been redefining the art of fielding and putting into dispute the laws of gravity with his seemingly impossible catches and eye-popping dives. Both these superstar's have been top class entertainers and have thoroughly been a delight and a treat for the audiences.