Cricketing action that Steve Smith and David Warner will miss during the ban period
Australia is set to play a lot of cricket over the next one year.
Updated - Apr 3, 2018 10:07 am
1.7K Views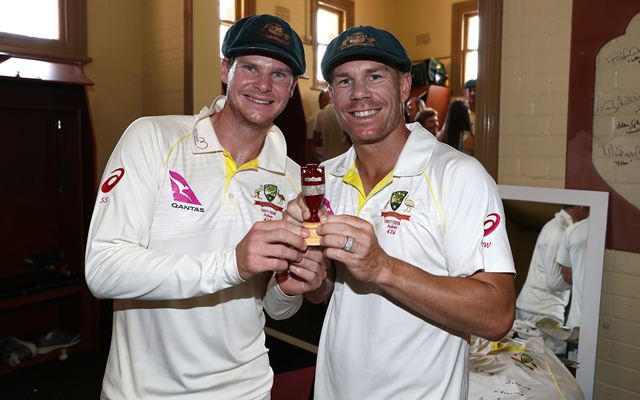 Follow us on Google News
Cricket Australia, in a bid to rebuild the country's reputation which has been tarnished by the recent Sandpaper Gate imposed a ban of one year each on both Steve Smith and David Warner. This essentially means that these two will have to miss out on some major cricketing action over the next one year. More than anything else, these two players were in their prime form before they were banned.
During the duration of this ban, Smith and Warner will be missing out on much of the action. Australia is scheduled to play a lot of cricket in the coming year. This includes series against Bangladesh and Sri Lanka at home and a tour to Zimbabwe.
But there are even bigger cricket fixtures that they won't be a part of, most of which will help them take shape ahead of the 2019 ICC Cricket World Cup in England. If they are restricted to play any domestic cricket, it will also affect their selection once the ban is lifted.
Here is the list of series/tournaments that they will miss
1. Indian Premier League: They wouldn't get to feature in the IPL this year as the BCCI hasn't given them a nod to take part in the league. These two were expected to play key roles for their franchises. But it is unfortunate for them to miss out on the best of cricket leagues around the world. The SRH for sure would miss David Warner more than RR would miss Smith.
2. Limited overs series against England: The Australian team is scheduled to play a bilateral series involving the two teams across five ODIs and a solitary T20I in June 2018. The Australians would have wanted to defeat England in their own backyard just like the Englishmen did in Australia earlier this year. But these two players missing out will dent their chances quite a bit. It would also have helped them adjust to the conditions to prepare for WC 2019.
3. Series against Pakistan in UAE: As per the FTP schedule, Australia will tour Pakistan in October 2018. They are set to play two Tests, 5 ODIs and a T20I against Pakistan then. Smith and Warner who were the leading run scorers in 2014 UAE will also miss out on this tour. It'd be tough for the Aussies to deal with spin without this duo.
4. South Africa tour of Australia: The worst part of it all is that this duo wouldn't play South Africa in Australia. After all, they worked so hard and also got involved in ball tampering to defeat this very team. It'd disheartening for them not to play against the Proteas. However, they'll also be happy that they will not have to face the Proteas again in the midst of all these insults.
5. India's Tour of Australia:  The encounter of the summer for Australia. The Aussies would be eager to defeat India and gain back their lost pride. Virat Kohli's men have been in prime form and it would be a daunting task to defeat them. Also, the No.1 side never won a Test series in Australia. Without the services of Smith and the explosive Warner, it could well be the best opportunity for the Indians to win their first ever test series on Australian soil.
Returning to the cricket field after a year will be tough but it would give them enough time to reflect on their shameful deeds and come back stronger in order to restore lost pride.
Here is the video of the day
For more news and other stories visit www.crictracker.com.
Follow us on Telegram