Cricketing fraternity mourns the demise of "Kalaignar" Karunanidhi
Tamil Nadu is on high alert with his passing and a 7-day mourning has been announced.
Updated - Aug 7, 2018 8:37 pm
2.6K Views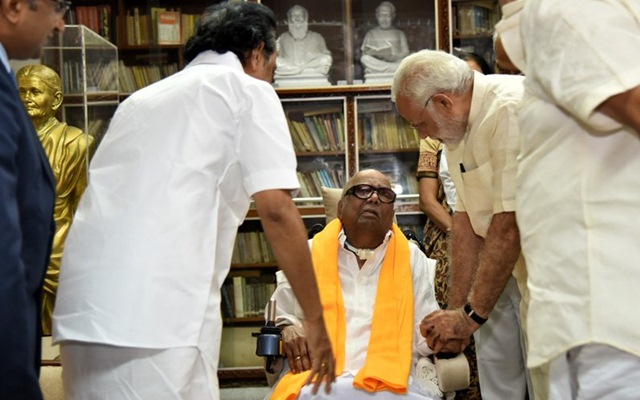 Former Tamil Nadu Chief Minister and DMK chief Karunanidhi passed away today which marks the end of a glorious era of Dravidian politics. Arguably one of the longest serving and most respected Indian politicians of all time, he was addressed with the sobriquet "Kalaignar", which means artist in Tamil.
Beginning his career as a writer in the Tamil film industry, Karunanidhi worked with some of the greatest personalities in the Dravidian politics including the immortals Annadurai, MGR, Jayalalitha and others. His demise also puts a full stop on the DMK patriarchy, which lasted nearly over 50 years.
Karunanidhi was a 13-time MLA in Tamil Nadu and one of the most renowned Chief Ministers in the country, having served the state on five separate terms at the helm. Often regarded as a fine orator, the 94-year-old's contribution in Tamil poetry was quite profuse as well.
Tamil Nadu on high alert; cricketing world pays their respects
Leaving an everlasting legacy behind, Karunanidhi passed away at 6.10 pm on Tuesday (7th August). Experts reckon that his demise now leaves a humongous void in Tamilian politics as they don't have any other leaders of his stature. Another personality who had a similar aura in Tamil Nadu was Jayalalithaa, who passed away in December 2016.
His mortal remains will be taken to Gopalapuram from Kaveri hospital, where he was admitted a few days back. Prime Minister Narendra Modi, Congress chief Rahul Gandhi and Chief Ministers from various states will be flying to Chennai tomorrow to pay their final respects to Karunanidhi, who will be cremated at the Marina beach.
Tamil Nadu is on high alert with his passing and a 7-day state mourning has been announced. All schools, colleges and office will not be functioning tomorrow. The Indian flag at the DMK office will be kept at a half mast as a mark of respect to the deceased.
Kalaignar had a lot of admirers in the cricketing fraternity as well, who have expressed their condolences on social media.
Here are the tweets from the cricketing fraternity:
It's sad to hear about the demise of Dr. M. karunanidhi, may his soul RIP and my condolences to his family and friends. 🙏

— Ashwin Ravichandran (@ashwinravi99) August 7, 2018
Deepest condolences to the family and loved ones of #Karunanidhi ji. pic.twitter.com/AUmwhO2T8K

— Mohammad Kaif (@MohammadKaif) August 7, 2018
I convey my deepest condolences to family members and admirers of #Karunanidhi ji on his demise. RIP

— VVS Laxman (@VVSLaxman281) August 7, 2018
Condolences to the family and supporters of #Karunanidhi ji. May everyone maintain peace in Tamil Nadu.

— Virender Sehwag (@virendersehwag) August 7, 2018
Sad news … RIP #Kalaingnar #kalaingarkarunanidhi 🙏🏻

— subramani badrinath (@s_badrinath) August 7, 2018
சூரியன் முழுமையாக அஸ்தமித்தது. தமிழ் தன்னுடைய முடிவுரையை எழுதியது. ஒப்பாரும் மிக்காரும் இல்லா @kalaignar89 தலைவா உங்களுடைய இழப்பு காலத்தால் ஈடு செய்ய முடியாதது இனி எப்படி கேட்பேன் அந்த காந்த குரலை #Kalaignar ஐயா.முத்தமிழின் மூத்த மகனுக்கு என் வீர வணக்கங்கள் #RIPKalaignar #கலைஞர்

— Harbhajan Turbanator (@harbhajan_singh) August 7, 2018
— Abhinav mukund (@mukundabhinav) August 7, 2018