Cricketing fraternity sends condolences to Krunal and Hardik Pandya for loss of father
The Indian skipper Virat Kohli also tweeted trying to console Pandya brothers in the situation. 
Updated - Jan 16, 2021 12:20 pm
1.4K Views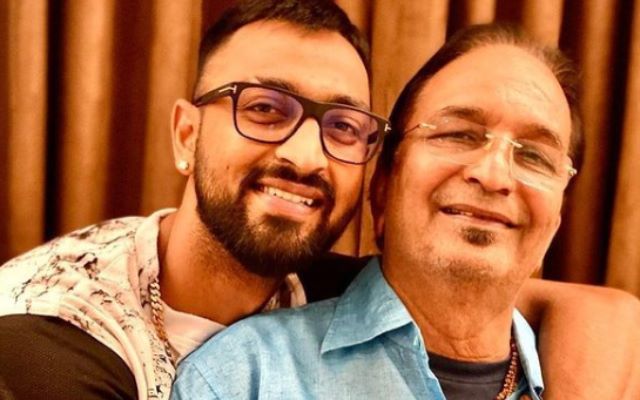 Follow us on Telegram
Hardik and Krunal Pandya's family suffered a huge loss as their father passed away on Saturday. It has been reported that their father passed away because of a cardiac arrest. He was 71 years old. Himanshu Pandya had been given a lot of credit by both his sons regarding their success. The two have often publicly revealed how close they are to their father.
Himanshu, too, was someone who has been heard appreciating the hard work his two sons have put in to become what they are. In fact, when Hardik had got caught up with the 'Koffee with Karan' controversy, his father had come to the forefront and defended his son. 
His elder son, Krunal, has reportedly left the biosecure bubble of the Syed Mushtaq Ali T20 Trophy, where he was leading the Baroda side. The news was confirmed by Baroda Cricket Association CEO Shishir Hattangadi. While on the other hand, Hardik is not playing any cricket at this moment as he is preparing for the upcoming series against England at home. 
After the news came in, many cricketers and players close to Hardik and Krunal, took to Twitter to pay their tributes and condolences to the Pandya family. Irfan Pathan, who was an integral member of the Baroda squad when the two brothers made their debuts has always shared a fond relationship with them. He paid his tributes via a tweet. The Indian skipper Virat Kohli, who has led both the brothers in international cricket, also tweeted trying to console them in the situation. 
Spoke to him a couple of times, looked a joyful and full of life person: Virat Kohli
Kohli wrote, "Heartbroken to hear about the demise of Hardik and Krunal's dad. Spoke to him a couple of times, looked a joyful and full of life person. May his soul rest in peace. Stay strong you two." The skipper is close to both the brothers, especially Hardik. They two were also seen at the captain's place spending the new year. 
Mumbai Indians icon and batting legend Sachin Tendulkar also took to Twitter to console the family. "Really sorry to hear about the demise of your father @krunalpandya24 & @hardikpandya7. Condolences to your family and friends. May God gives you strength in these difficult times," Tendulkar wrote. Hardik and Krunal have been part of the Mumbai Indians set up since 2015 and 2016 respectively.
Here are the tweets
Heartbroken to hear about the demise of Hardik and Krunal's dad. Spoke to him a couple of times, looked a joyful and full of life person. May his soul rest in peace. Stay strong you two. @hardikpandya7 @krunalpandya24

— Virat Kohli (@imVkohli) January 16, 2021
Really sorry to hear about the demise of your father @krunalpandya24 & @hardikpandya7.
Condolences to your family and friends.
May God give you strength in these difficult times.

— Sachin Tendulkar (@sachin_rt) January 16, 2021
Remember meeting uncle for the first time at motibagh. He was so keen for his sons to play good cricket. My condolences to You and family. May god give you strength to pass through this difficult time @krunalpandya24 @hardikpandya7

— Irfan Pathan (@IrfanPathan) January 16, 2021
Really sad to hear of the passing away of your father @hardikpandya7 and @krunalpandya24. My deepest condolences to you and your family on this untimely loss.  Take care and be strong

— Yuvraj Singh (@YUVSTRONG12) January 16, 2021
A loved ones passing away is never an easy moment for anyone. I sincerely admire the sacrifices uncle made for his sons @krunalpandya24 @hardikpandya7. Condolences to his family and dear ones at this tough time. #rip

— Yusuf Pathan (@iamyusufpathan) January 16, 2021
So sorry to hear the news about your father's demise @krunalpandya24 @hardikpandya7
Stay strong and lots of strength to both of you. May his soul RIP

— Hanuma vihari (@Hanumavihari) January 16, 2021
Terrible news for the Pandya family. Heart goes out to @hardikpandya7 and @krunalpandya24. You told me of the role your father played in you guys becoming the cricketers you did. Wish you strength.

— Harsha Bhogle (@bhogleharsha) January 16, 2021
My heartfelt condolences to the Pandya family . Losing a parent is unimaginable and the loss is irreparable . I am really sorry @hardikpandya7 @krunalpandya24 Stay strong .

— Harmanpreet Kaur (@ImHarmanpreet) January 16, 2021
Dear Hardik and Krunal, terribly sorry to hear about the passing of your father. Just can't imagine what you must be going through. Condolence to the entire family. GOD rest his soul😔

— Surya Kumar Yadav (@surya_14kumar) January 16, 2021
Really sad to hear of the passing away of your father @hardikpandya7 @krunalpandya24..May god give you strength to deal with this very difficult situation..My deepest condolences to the family..OM Shanti OM 🙏🙏 RIP uncle

— Harbhajan Turbanator (@harbhajan_singh) January 16, 2021
My deepest sympathies to @hardikpandya7 @krunalpandya24 and the entire family. Your father was a wonderful person, deeply shocked by his passing. May his soul rest in peace and may God give you strength to bear the irreparable loss🙏🙏

— Vinay Kumar R (@Vinay_Kumar_R) January 16, 2021
Terrible news , my heartfelt condolences to @hardikpandya7 @krunalpandya24 and their family . May their father rest in peace . Aum Shanti . 🙏🙏

— Mithun Manhas (@MithunManhas) January 16, 2021
Heartfelt condolences to @hardikpandya7 @krunalpandya24 and family. Lost the pillar of their strength. May his soul R.I.P. Om Shanti.

— Aakash Chopra (@cricketaakash) January 16, 2021
Follow us on Google News