Cricketing trends in Twitter today
Updated - Nov 10, 2016 4:19 pm
48 Views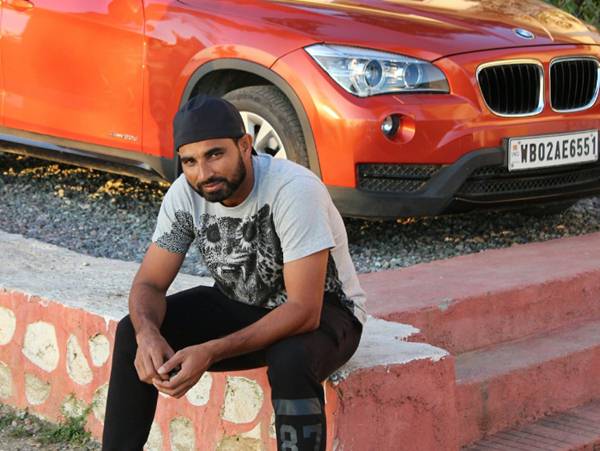 Follow us on Google News
Cricketing trends in Twitter today saw many lauding the traveling Britons on their first innings lead against India. However, in spite of toiling all day, Mohammad Shami took his BMW out for a ride on the town, something that was much deserved as far as the Indian pacer was concerned.
However, a few thousand miles away at Accrington, David 'Bumble' Lloyd was having the time of his life as the festivities began to unfold ever so slowly. Damien Martyn and his dog took a while to get acclimatize to the conditions at Bondi Beach in Sydney.
That said, here are some of the best tweets in today's edition of Cricketing trends in Twitter today.
1. Mohammad Shami and his ride pose for a quick picture following the grueling second day's play
Devisthal pic.twitter.com/9VoodlU7kP

— Mohammed Shami (@MdShami11) November 10, 2016
2. Angelo Mathews calls on the Twitterati to say hello to his old pal Upul Tharanga
Guys follow upul on @upultharanga44 .He's on twitter now. Say hi to him

— Angelo Mathews (@Angelo69Mathews) November 10, 2016
3. Wayne Parnell makes his long-awaited debut in the haven of the commentary box
Bit of fun and some seriously cool video work. Check out the link and don't forget to share. https://t.co/fiHvbPd9g7 ?????

— Wayne Parnell (@WayneParnell) November 10, 2016
4. Lisa Sthalekar and the girls get together after a massive amount of time
Great night @westin raising important ?? for the theroyalwomens hospital. Thanks @westpac for… https://t.co/Ky0a1vdXQD

— Lisa Sthalekar (@sthalekar93) November 10, 2016
5. Robin Peterson thanks one and all following the retirement route he has finally taken
@faf1307 @amlahash @jpduminy21 @JP21Project much appreciated guys

— Robin John Peterson (@robbie13flair) November 10, 2016
6. Usman Khawaja chances his arm in the nets ahead of the second Test
Just your part time bowler in the nets and carry on. Accompanied with the standard no ball ✌.… https://t.co/gCwqMBYMkz

— Usman Khawaja (@Uz_Khawaja) November 10, 2016
7. Isa Guha seems to like the way little Gautam Gambhir wields his bat
I think a typical Jimmy 'around the wicket swinging away from the left hander' would cause Gambhir the most trouble

— Isa Guha (@isaguha) November 10, 2016
8. Chris Gayle seems to be doing a bit of skype whilst cranking out the muscles
Revenge ? pic.twitter.com/acmyP2ydj4

— Chris Gayle (@henrygayle) November 10, 2016
9. Niall O'Brien seems to have a keen eye on proceedings unfolding at Rajkot
In the office for the day. Must remain focused lol @essentially_grp pic.twitter.com/Lmwb41M0g1

— Niall John O Brien (@niallnobiobrien) November 10, 2016
10. Ed Cowan and Kevin Pietersen have some issues on Twitter
So where can I now get my new material from? pic.twitter.com/5KyTI63I4i

— Ed Cowan (@eddiecowan) November 10, 2016
11. Murali Karthik simply cannot get enough of the satire jokes circulating themselves all over the internet
Been loving the jokes and Satire which has been coming out last 3 days.. Who makes these jokes and that too so quickly

— Kartik Murali (@kartikmurali) November 10, 2016
12. Russell Arnold goes back to school
You are the true #legends @BarkerCollege @batting4change @lbwtrust Look at your generosity working wonders in SL @FOGoodness Many Thanks ? pic.twitter.com/6LOoL0n5qN

— Russel Arnold (@RusselArnold69) November 10, 2016
13. David Lloyd takes part in the festivities unfolding at Accrington
A glimpse of @robkey612 ( back left) and his troupe after a long lunch on Bob's Hops @Trumpington2 @flintoff11 pic.twitter.com/rT2o4yMkiq

— David 'Bumble' Lloyd (@BumbleCricket) November 10, 2016
14. Graeme Smith is certainly proud after becoming a Don Bradman honoree
Emotional evening being made a Bradman Honouree. I Want to thank @CricketHOF & Australian people for the recognition and respect show to me. pic.twitter.com/tGTXDu0j8U

— Graeme Smith (@GraemeSmith49) November 10, 2016
15. Anjum Chopra is keeping one eye out for the Indian women playing at Vijayawada today
A good start to the series by India women @BCCIdomestic winning the 1st ODI against @windieswomen #INDvWI @paytm. Well done girls!

— Anjum Chopra (@chopraanjum) November 10, 2016
Follow us on Telegram