Cricketing Trends on Social Media today
Here is how the cricketers spent their day on Twitter and Instagram today.
Updated - Sep 4, 2018 10:16 pm
401 Views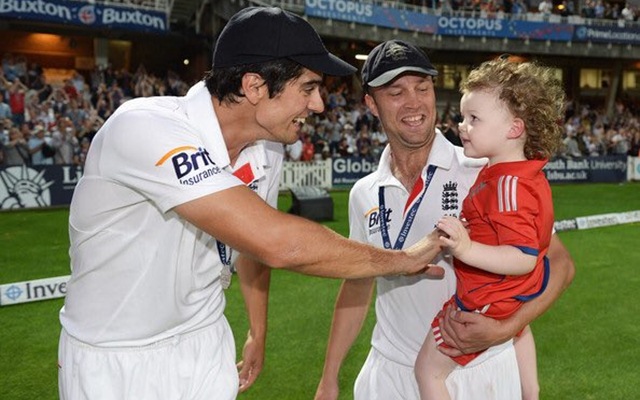 The cricketing trends on the social media revolved around a number of events. Indian wicketkeeper-batsman was deeply saddened by the collapse of the Majherhat bridge in Kolkata that injured many. James Anderson expressed his delight after playing golf with Alastair Cook, who announced his international retirement yesterday. In the meantime, JP Duminy, Jonathan Trott, and James Taylor wished Cook after he hung his boots.
Former English cricketer Michael Vaughan was unhappy with the pitch prepared for the match between Northants and Kent in Canterbury. Shoaib Akhtar was stunned after visiting the Kashmir valley for the first time. VVS Laxman was all praise for 71-year old medical oncologist for his dedication towards his work. Sachin Tendulkar wished former Proteas all-rounder Lance Klusener on the latter's 47th birthday.
Robin Uthappa was highly satisfied with the Indian contingent, which bagged 69 medals in the 2018 Asian Games in Jakarta. Chris Gayle uploaded an advertisement where he was seen playing poker. Azhar Mahmood congratulated Ehsan Mani after he became the president of the Pakistan Cricket Board (PCB).
1. Wriddhiman Saha saddened by Majerhat bridge collapse
Shocked to hear about #MajherhaatBridge collapse. My thoughts are with the families of victims. Unfortunate.

— Wriddhiman Saha (@Wriddhipops) September 4, 2018
2. RP Singh announces retirement; tweets an emotional message
My first Indian shirt signed by all my teammates back then. My cricketing journey has been nothing short of a dream. I'd like to thank everyone who supported me in my journey. 🙏 pic.twitter.com/EpkWoYSmVR

— R P Singh (@rpsingh) September 4, 2018
3. James Anderson plays golf with Alastair Cook
Nice to spend some quality time with Cooky today looking for golf balls. Thank you @WoburnGC. The Duchess course is tighter than a Yorkshireman but absolutely stunning 😍🏌️‍♂️⛳️ pic.twitter.com/OhqyfzpCIS

— James Anderson (@jimmy9) September 4, 2018
4. Michael Vaughan is disappointed by the nature of the pitch in Canterbury
55 overs gone at Taunton .. 15 Wkts fallen .. You can't can't tell me that's a pitch prepared for 4 days !!!! .. #JustSaying #CountyChampionship

— Michael Vaughan (@MichaelVaughan) September 4, 2018
5. Shoaib Akhtar is stunned by Kashmir Valley
My 1st ever visit to beautiful Kashmir valley & i am stunned to see the beauty of this valley am speechless.Come visit your self & see your self to experience it GOD bless Jammu & all Kashmir.. pic.twitter.com/hkyIiCyatx

— Shoaib Akhtar (@shoaib100mph) September 4, 2018
6. Sachin Tendulkar wishes his friend a very happy birthday
Wishing my dear friend @Amit_Bhatia99 a very happy birthday. Have a great one. Can't wait to see you on the greens! pic.twitter.com/f7uPpfB0YP

— Sachin Tendulkar (@sachin_rt) September 4, 2018
7. VVS Laxman hails medical oncologist
Dr Suresh Advani is a 71-year-old medical oncologist with 80 percent locomotor disability. When he was 8 he had suffered polio and became wheelchair-bound. Despite this, he works for 15 hours everyday, attending to around 100 cancer patients everyday. Truly inspiring 🙏🏻 pic.twitter.com/PXVJCZnlZ5

— VVS Laxman (@VVSLaxman281) September 4, 2018
8. Azhar Mahmood welcomes Ehsan Mani as the new PCB chairman 
Welcoming Sir #EhsanMani as Chirman PCB. A gentleman most deserving of this post. Wishing him all the best in this tenure & look forward to working together to better Pakistan Cricket. In sha Allah

— Azhar Mahmood (@AzharMahmood11) September 4, 2018
9. Sachin Tendulkar wishes Lance Klusener on his 47th birthday
Wishing #LanceKlusener, usuku olumnandi lokuzalwa! Unomnyaka omkhulu, umngane wami. 😜
He's famous for being fluent in Zulu language, so trying to wish him in Zulu 🤗 pic.twitter.com/ilECOePi0z

— Sachin Tendulkar (@sachin_rt) September 4, 2018
10. Nick Compton in TalkSports
Another busy morning with @talkSPORT talking all things England's top order and none other than Alastair Cooks retirement! #englandcricket pic.twitter.com/6CLWKb1Bef

— Nick Compton (@thecompdog) September 4, 2018
11. Brett Lee can't wait to come and watch Tim Cahill play for Jamshedpur FC 
Well done @Tim_Cahill on your signing with @JamshedpurFC
I can't wait to come and watch
You will absolutely love India! #jamshedpurfc #Legend #canplaysoccer 🇮🇳 🇦🇺 ⚽️@ProfDeano pic.twitter.com/QoHOLD3lTr

— Brett Lee (@BrettLee_58) September 4, 2018
12. JP Duminy praise Alastair Cook
In this beautiful game we play, powers of concentration is certainly one of the pillars that separate the men from the boys, none better than Alastair Cook.. Lead from the front and will certainly go down as one of the GOAT's of the Test Game. Congrats mate 🐐🐐#CookRetires

— JP Duminy (@jpduminy21) September 4, 2018
13. Jonathan Trott is finding it difficult to believe that Cok won't play for England again 
It'll be strange to see an England side without this guy in it. Some great moments on the field with Chef, but some better ones off it. A great servant and example to others around him. Sure he'll make a great sheep farmer too! One of the best… pic.twitter.com/r2tJfXiKYj

— Jonathan Trott (@Trotty) September 4, 2018
14. James Taylor also couldn't stop praising Cook
What a man and what a player! A role model to so many! It's phenomenal what he's achieved 👌🙌 #chef #cook #Legend https://t.co/Ff7rf19AZb

— James Taylor (@jamestaylor20) September 4, 2018
15. Robin Uthappa happy after India's performance in Asian Games 
Best ever performance at the #AsianGames2018 by our athletes. Congratulations to all the athletes who won & also to those who participated. Indian Sports is scaling new heights. More to come. 69 medals including 15🥇 24🥈 30🥉

— Robin Aiyuda Uthappa (@robbieuthappa) September 4, 2018
For more news and developments, stay tuned on CricTracker.com.