Cricketing Trends on Social Media Today
Here's how the cricketers spent their day on social media platforms.
Updated - Aug 11, 2020 11:05 pm
259 Views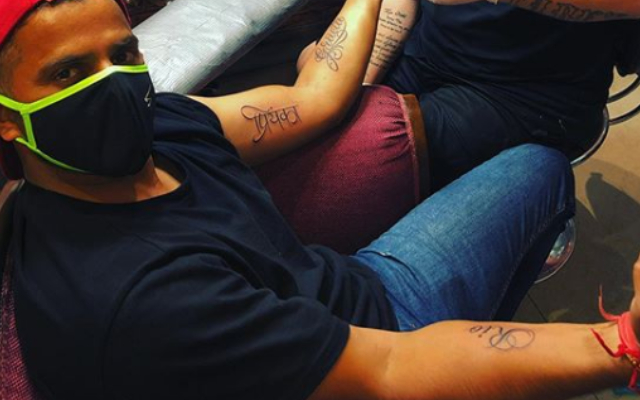 Follow us on Telegram
As the commencement of IPL 2020 is nearing with every passing day, franchises have been sharing various photos as well as videos on social media. To notch up the excitement ahead of the T20 extravaganza in the UAE, IPL teams have been sharing training clips and pictures of their players.
Ahead of the IPL, Kolkata Knight Riders shared training photos of their players, featuring skipper Dinesh Karthik and youngster Shubman Gill. Rajasthan Royals also shared a clip of their young stalwart Sanju Samson where he was seen sharpening his keeping skills.
Many players including Washington Sundar and Virender Sehwag shared their wishes on the account of Janmashtami. Sundar wished happiness, peace and prosperity to his fans on the auspicious day. Many cricketers also extended wishes to Bollywood star Suniel Shetty as he celebrated his 59th birthday on 11th August.
Twitter was also flooded with reactions after Russia President Vladimir Putin launched a coronavirus vaccine, said to be the world's first such vaccine. Russia dubbed its newly launched vaccine against coronavirus 'Sputnik V' as many cricketers including Ravichandran Ashwin reacted to the news.
Suresh Raina also surprised everyone after sharing photos of his recent tattoos. The CSK star got his wife and son's name tattooed and shared the news through his Instagram. A plethora of cricketers also rued the demise of famous lyricist and Urdu poet Rahat Indori.
1. Irfan Pathan extends birthday wishes to Suniel Shetty
Wishing a very happy birthday to one of the nicest soul I have known and glad to call him my friend.Anna have a great birthday @SunielVShetty #birthday #love #respect pic.twitter.com/BDKEOuBUZe

— Irfan Pathan (@IrfanPathan) August 11, 2020
2. Ravi Ashwin reacts to Russia developing COVID-19 vaccine
Does it make you feel positive, hearing that the #RussianVaccine is out?!
How does it feel?? #COVID19India #shareandcare

— Ashwin 🇮🇳 (@ashwinravi99) August 11, 2020
3. Suresh Raina trains on the field ahead of IPL 2020
Consistency is the key!🏏#Fitnessday #StayStrong pic.twitter.com/7ByVtTqoK8

— Suresh Raina🇮🇳 (@ImRaina) August 11, 2020
4. Mohammad Kaif rues the loss of poet Rahat Indori
"सफर की हद है वहाँ तक के कुछ निशान रहे|
चले चलो कि जहाँ तक ये आसमान रहे"

आसमान में आपकी चमक बनी रहे…आपकी शायरी से रोशनी बिखरती रहे…
RIP #RahatIndori pic.twitter.com/EMMRnHzSmQ

— Mohammad Kaif (@MohammadKaif) August 11, 2020
5. Ravi Shastri expresses grief over the loss of Rahat Indori
One of the most loved contemporary Urdu Poet #RahatIndori Sahab has passed away today. RIP Rahat Sahab 🙏 pic.twitter.com/mreqE4VLOW

— Ravi Shastri (@RaviShastriOfc) August 11, 2020
6. Manoj Tiwary extends birthday wishes to Suniel Shetty
Many many happy returns of the Paa G @SunielVShetty 🎂 Although u have given several hit movies in ur career but for me which comes straight to my mind is d movie Bhai 👍 Wish u a super-duper one. God bless Paa g pic.twitter.com/dOZXI69qNa

— MANOJ TIWARY (@tiwarymanoj) August 11, 2020
7. Virender Sehwag wishes everyone Janmashtami
Govind bolo Hari Gopal bolo ,
Radha Raman Hari Govind bolo !
श्री कृष्णा जन्माष्टमी की ढेरों शुभकामनाएं #Janmashtami pic.twitter.com/e2ZVOjpr42

— Virender Sehwag (@virendersehwag) August 11, 2020
8. Wriddhiman Saha extends birthday wishes to Suniel Shetty
Happy Birthday Anna! @SunielVShetty Hope you had an amazing day! pic.twitter.com/0htK4ezo9A

— Wriddhiman Saha (@Wriddhipops) August 11, 2020
9. Irfan Pathan condoles the demise of Rahat Indori
दो गज सही लेकिन मेरी मिल्कियत तो है,ए मौत तूने मुझको ज़मींदार कर दिया! #rahatindorisahab #innalillahiwainnailaihirajioon

— Irfan Pathan (@IrfanPathan) August 11, 2020
10. Suresh Raina shares his new tattoos
11. KKR shares pictures of some 'happy faces'
Happy days call for happy faces! 📸
Every reason to smile now as #IPL is back! 💜#CantWait 🔥@DineshKarthik @RealShubmanGill @abhisheknayar1 @rinkusingh235 #KKR #KolkataKnightRiders #Cricket #IPL2020 #KorboLorboJeetbo pic.twitter.com/RvfyPO4YOt

— KolkataKnightRiders (@KKRiders) August 11, 2020
12. Mumbai Indians share a hilarious picture of Rohit and wife Ritika
Same two same! 👉💙👈#OneFamily @ImRo45 pic.twitter.com/i8e7c1tJlI

— Mumbai Indians (@mipaltan) August 11, 2020
13. David Warner lauds Kane Williamson and Bhuvneshwar Kumar
Two peas in a pod 🧡 💪#OrangeArmy #SRH | @davidwarner31 pic.twitter.com/QciYJBdYGL

— SunRisers Hyderabad (@SunRisers) August 11, 2020
14. Mohammad Kaif extends birthday wishes to Suniel Shetty
An actor, fitness freak and a sportsman at heart with a heart of gold. Happy Birthday @SunielVShetty Anna

— Mohammad Kaif (@MohammadKaif) August 11, 2020
15. Manoj Tiwary extends Janmashtami wishes
May Lord Krishna's flute invite the melody of love into your life. Wishing you all a very Happy Janmashtami 😊
Have a wonderful day ahead 👍 pic.twitter.com/itEHEdx9yk

— MANOJ TIWARY (@tiwarymanoj) August 11, 2020
Follow us on Google News