Cricketing Trends on Social Media today
Here is how the cricketers spent their day on Twitter and Instagram today.
Updated - Oct 12, 2019 8:59 pm
2.1K Views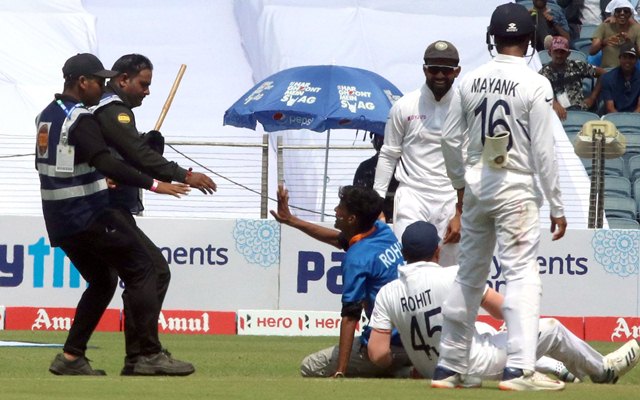 Follow us on Google News
The cricketing trends on social media revolved around a number of events. As the second Test between South Africa and India is underway the whole day was surrounding the game which is being played at the MCA Stadium in Pune. On Saturday, the Indian bowlers showed brilliance in their traits, due to which the Proteas had to bow down in front of them.
The biggest positive for Faf du Plessis was the performance of their tail. They came strong and fought against the hosts' bowling for more than forty overs with Keshav Maharaj turning out to be the hero for the visitors. Firstly, he achieved a milestone of taking 100 Test wickets and then knitted a brilliant knock of 72 runs and put on a strong partnership with Vernon Philander.
Weird Incident taking place in Pune
Meanwhile, a weird incident took place during the encounter as an unknown spectator from the crowd crossed the boundary rope and ran towards Rohit Sharma. The occurring wasn't taken lightly by the cricketers and they came out on social media in order to raise their opinion over the awkward instance that occurred during the match.
On the other hand, Sanju Samson scored a double ton, playing for Kerala versus Goa in the Vijay Hazare Trophy. Earlier, he didn't have a century in List-A cricket tally but on Saturday, the 24-year-old pounced on the double. He was greeted with fans and even Congress Leader Shashi Tharoor asked the Indian selectors to take note of him.
1. Mohammed Shami and his little dancer
Little dancer 💃 💃💃 pic.twitter.com/pacSZpZSgU

— Mohammad Shami (@MdShami11) October 12, 2019
2. Aakash Chopra praises Sanju Samson for his double ton in List-A Cricket
Sanju Samson didn't have a List-A hundred for the longest time…the day he gets it, he makes it a double. That's an incredible feat. A Double-Ton in a 50-over cricket takes some doing….well played 👏👏

— Aakash Chopra (@cricketaakash) October 12, 2019
3. Suresh Raina posts a picture of him attending a NBT festival
I thoroughly enjoyed my session on overall fitness and mental strength at NBT Arogyam Festival. @NavbharatTimes pic.twitter.com/r8tOx91zb1

— Suresh Raina🇮🇳 (@ImRaina) October 12, 2019
4. JP Duminy posts a motivational message for South Africa in the ongoing Test
Coming up against the no1 test side in the world in their home conditions is a tough task in itself. We've come up short many times in india but one things for sure, we've never been short on resilience. Proud of our boys no matter the result. keep fighting Proteas #ProteaFire🔥

— JP Duminy (@jpduminy21) October 12, 2019
5. Aakash Chopra posts a message over a fan incident that took place today in Pune
A fan ran out to the centre of the pitch to touch Rohit's feet. A humbling moment for the player, I guess. A moment to remember for the fan. But Rohit lost his balance…fell on the ground. People found it funny…but think—what if Rohit picked up an injury during that incident?

— Aakash Chopra (@cricketaakash) October 12, 2019
6. Irfan Pathan posts a picture of him alongside VVS Laxman and Jatin Sapru
Or kiska reaction esa tha jab aaj tail lambi partnership chal rahi thi?? 😂 #INDvsSA pic.twitter.com/PySd6MQouV

— Irfan Pathan (@IrfanPathan) October 12, 2019
7. Wriddhiman Saha posts a picture of him taking a brilliant catch of Theunis de Bruyn
Stonger together. pic.twitter.com/t9RLzg17MQ

— Wriddhiman Saha (@Wriddhipops) October 12, 2019
8. Yuvraj Singh posts a message to Stop use of Plastic 
Heartbreaking to see them suffer this way. Plastic is choking our planet, we need to find ways to eliminate it. Let's learn from these innocent birds and be a part of the Solution not part of the pollution. #StopOceanPlasticPollution #ClimateChangeIsReal pic.twitter.com/RMDjqQPL6t

— yuvraj singh (@YUVSTRONG12) October 12, 2019
9.Shreyas Iyer posts a dashing picture of him 
Drip life 😎 pic.twitter.com/gNDEUSf2zR

— Shreyas Iyer (@ShreyasIyer15) October 12, 2019
10. Dean Jones posts a tweet over Sheffield Shield match
How many teams in SS that have passed 500 in first innings and won? Say in last 10 years… I always thought 450 is enough and expect to chase a few in the 2nd innings. https://t.co/g4whaiqULL

— Dean Jones AM (@ProfDeano) October 12, 2019
11. Mohammad Azharuddin in Hyderabad
12. Dinesh Karthik posts a tweet to give a focus on the hashtags used in front of his name
#asuran #AsuranBloodBath look at these hashtags associated with asuran 😂🤣. Thanks 😋 https://t.co/KN45jxrroB

— DK (@DineshKarthik) October 12, 2019
13. Iqbal Abdullah focussing on the process
Focus on the process… not the result… pic.twitter.com/qqR1Y5qzpn

— Iqbal abdullah (@iqqiabdullah) October 12, 2019
14. Sreesanth posts a message as he feels proud of the performance given by  Sachin Baby
My happiness has no boundaries..so so proud of my brothers @IamSanjuSamson @sachinbabyy ..keep going strong and alwys remember sky is not the limit anymore..🇮🇳✌🏻❤️🙏🏻✈️🤗🤗🤗🤗Jai hind pic.twitter.com/go8rcC14N3

— Sreesanth (@sreesanth36) October 12, 2019
15. Laurie Evans thanks Sussex cricket club for making his birthday special video
Thanks guys 🦈 https://t.co/skMpajNqVe

— Laurie🏏Evans🏌️‍♂️ (@LaurieEvans32) October 12, 2019
Follow us on Telegram