Cricketing Trends on Social Media Today
Here is what the cricketing community was talking about in the last 24 hours.
Updated - Mar 17, 2019 8:55 pm
1.7K Views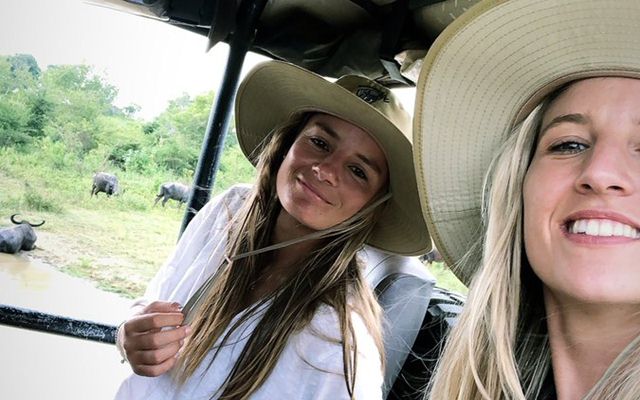 There wasn't any significant cricketing action on Sunday. Most of the players are gearing up for the IPL while South Africa and Sri Lanka will play the T20I series next. Thus, the cricketing trends revolved around a wide array of topics. JP Duminy wrote that he was privileged to represent South Africa for many years. As he played his last ODI at home, the left-handed batsman put up an emotional tweet.
Shahid Afridi and Sir Viv Richards spoke about the Christchurch shooting where the toll of deaths rose up to 50. Bangladesh Test skipper Mahmudullah Riyad put up a tweet after reaching home safely. He expressed his sentiment after witnessing the horrific scenes first-hand. Suresh Raina, Sachin Tendulkar and Irfan Pathan wished India's star badminton player Saina Nehwal on her birthday.
1. JP Duminy posted an emotional tweet after playing his last ODI in South Africa
Thank you Lord for your Goodness. 🙏 Been a privilege to play in the green&gold for so many years. Here's to many more fond memories. Thanks to my teammates, coaches, support staff, family, friends and fans for the special send off with my brutha @ImranTahirSA #ProteaFire pic.twitter.com/8ohlD3Ii5u

— JP Duminy (@jpduminy21) March 17, 2019
2. The lack of respect from some footballers towards the officials is horrifying
You see the behaviour of some footballers and their aggression towards the officials, and it makes a lot of sense why some fans think they can carry on like thwhy do.

The lack of respect is horrifying!

🤮🙈

— Kevin Pietersen🦏 (@KP24) March 17, 2019
3. Suresh Raina wishes Saina Nehwal on her birthday
Happy birthday @NSaina , have a fantastic year ahead! pic.twitter.com/zuVcmIcQ7n

— Suresh Raina🇮🇳 (@ImRaina) March 17, 2019
4. Ajit Agarkar shared a few pictures from his golf session
5. Danielle Wyatt went on a jungle safari
No safari without a hat 🤪 I could watch animals all day 😍😍😍 pic.twitter.com/x6gsrrrqht

— Danielle Wyatt (@Danni_Wyatt) March 17, 2019
6. Mark Wood had a great experience watching his first game at Twickenham
I might live closer to Murrayfield, but loved my first game at Twickenham. All the action was at our end!!! The national anthem was the loudest I've heard at a sporting event. Great experience #carrythemhome @EnglandRugby 🏉 pic.twitter.com/noLYJUQ0DG

— Mark Wood (@MAWood33) March 17, 2019
7. Salute Albie Morkel tweeted Tabraiz Shamsi after the veteran cricketer played his final game
Salute @albiemorkel …not only a great player and human being but an amazing leader too! #ThankYou 🙏 https://t.co/3tHBVpIybu

— Tabraiz Shamsi (@shamsi90) March 17, 2019
8. Irfan Pathan calls Saina Nehwal the pride of our nation and wishes on her birthday
Very happy brithday to pride of our nation @NSaina have a great year ahead 🏸

— Irfan Pathan (@IrfanPathan) March 17, 2019
9. Karun Nair is eager to join the Kings Den
Last day at home before I join the @lionsdenkxip team! Super excited to catch up with the 🦁s and begin IPL 2019! pic.twitter.com/Xm0pPTgZlx

— Karun Nair (@karun126) March 17, 2019
10. Shahid Afridi has got a special request for the organisers of the PSL
As we mourn the loss of innocent lives in the #ChristChurchTerrorAttack & 9 Pakistanis' Shahadat in it. Request the organizers of #HBLPSL to observe one minute silence as a token of respect and would also be better if they can honor them by limiting the concert to National songs.

— Shahid Afridi (@SAfridiOfficial) March 17, 2019
11. Sachin Tendulkar tweeted for Saina on her birthday and wished her a speedy recovery
Happy birthday to our very own Olympic medalist, @NSaina. Hoping for your quick recovery so you can continue to inspire the youth. pic.twitter.com/SpesUTGjqc

— Sachin Tendulkar (@sachin_rt) March 17, 2019
12. Love is the answer. Not hate tweeted Sir Viv Richards after the Christchurch attacks
LOVE, IS THE ANSWER. NOT HATE… #WESTANDWITHYOU pic.twitter.com/xhwKzdKyqw

— Sir Vivian Richards (@ivivianrichards) March 17, 2019
13. Ishant Sharma shared a few clicks from the media interaction session
It's a great feeling to be playing for my home team, looking forward to a great season!! #ThisIsNewDelhi #IPL2019 #DelhiCapitals pic.twitter.com/1NmT77lAPv

— Ishant Sharma (@ImIshant) March 17, 2019
14. Mahmudullah Riyad puts up a post after reaching home safely
Alhamdulillah! Last night we got back to home safe & sound. May the almighty Allah gives strength to those who lost their near ones in that mosque attack. I'm felling blessed that I'm still alive.15/03/19, probably I won't be able to forget in my life. Allah is so kind. pic.twitter.com/XJiyp3jLXW

— Mahmudullah Riyad (@Mahmudullah30) March 17, 2019
15. All the boxes ticked for Mayank Agarwal and Karnataka
Prefect way to end the 2018-19 domestic season with another trophy added to the collection with this wonderful team .
Ranji trophy ✅
Irani trophy ✅
Vijay Hazare trophy ✅
Syed Mushtaq Ali trophy ✅ pic.twitter.com/3ZGAzWYXSE

— Mayank Agarwal (@mayankcricket) March 17, 2019