Cricketing trends on Social Media today
Here is what the cricketing community was talking about in the last 24 hours.
Updated - Oct 17, 2018 10:09 pm
408 Views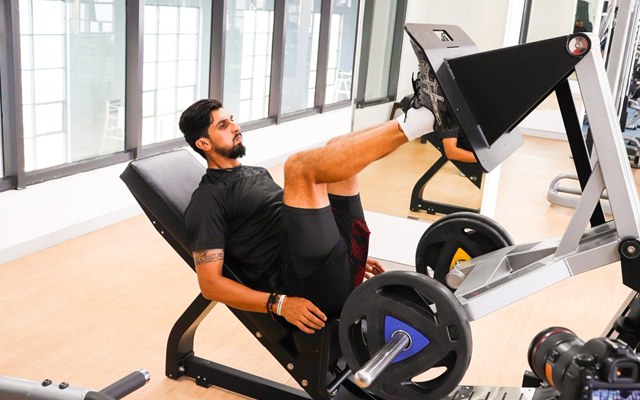 Follow us on Google News
The cricketing trends on social media today was full of wishes and praises for some youngsters and other veterans. It was former Indian captain Anil Kumble's birthday today and the likes of Irfan Pathan, Brett Lee even Shikhar Dhawan and Ajinkya Rahane wished Jumbo. Others like Shahid Afridi and Tom Moody still had their focus on the Pakistan vs Australia Test match.
Ishan Sharma and Dawlat Zadran were busy training while Robbie remembered being the man with the golden arm. The likes of RP Singh sent across his best on the occasion of Durga Asthami. While Wasim Akram went to a Ministry with Sanga and Mahela. All that and a lot more in the trends of the day.
1. Shahid Afridi was clearly impressed with Mohammad Abbas' bowling against the Aussies on day 2 of the Test
Brilliant bowling Mohammad Abbas. We have found a real gem in him, really hope he continues to perform this way. Wonderful work on UAE pitches. Pakistan should aim for a lead in excess of 400, we have the bowling to win this one. Keep going strong boys! 🇵🇰🇵🇰🇵🇰 #PAKvAUS

— Shahid Afridi (@SAfridiOfficial) October 17, 2018
2. Wasim Akram along with his family, Kumar Sangakkara and Mahela Jayawardene visited the Ministry of Crab in Sri Lanka
Had the pleasure of visiting @MinistryOfCrab in Colombo Sri Lanka. Thank you @MahelaJay @KumarSanga2 @MuniDharshan for an awesome dining experience. I totally got my crab 🦀 on pic.twitter.com/KfvpYm6T41

— Wasim Akram (@wasimakramlive) October 17, 2018
3. Identify a young Rishabh Pant in this picture
Find me??? pic.twitter.com/ZAQfMDaicY

— Rishabh Pant (@RishabPant777) October 17, 2018
4. Ishant Sharma training his legs, the crucial asset for a fast bowler
Some Strength Training today.
…love doing this Leg Press workout as it not only rocks your quadriceps, hamstrings & glutes but also your core! pic.twitter.com/oK81LN2LOq

— Ishant Sharma (@ImIshant) October 17, 2018
5. Mohammad Hafeez thanks everyone who took time out to wish him on his birthday
Thank u all for wishes on this special day , love u all & stay blessed pic.twitter.com/glm2UH7n0O

— Mohammad Hafeez (@MHafeez22) October 17, 2018
6. Robin Uthappa was a man with the golden arm, this is just a throwback photo of him honing his skills
7. Irfan wishes Anil Bhai a very happy birthday and hopes he continues to spread positivity
Wishing jumbo birthday wishes to you dear @anilkumble1074 bhai. May you keep spreading positivity as always #birthday

— Irfan Pathan (@IrfanPathan) October 17, 2018
8. Lee also wished Jumbo on his birthday
Happy birthday champion @anilkumble1074
Many happy returns 🙏🏻

— Brett Lee (@BrettLee_58) October 17, 2018
9. Rahane put up a picture with the former Indian coach who he referred to as one of India's greatest bowlers
Happy Birthday to one of India's greatest bowlers! @anilkumble1074, wish you an incredible year ahead! pic.twitter.com/sxYs0gby6t

— ajinkyarahane88 (@ajinkyarahane88) October 17, 2018
10. Master blaster wishes spin wizard Shane Warne the best for his book No Spin
.@ShaneWarne, one of the best spinners to play the game, spins the tale of his life and decides to name it #NoSpin 😉 All the best, Warnie! pic.twitter.com/h9XuBVpMNw

— Sachin Tendulkar (@sachin_rt) October 17, 2018
11. Rahul wishing everyone on the occasion of Durga Asthami
Jai mata Di 😊❤️🙏 pic.twitter.com/PlGxZMIum0

— Rahul Sharma (@ImRahulSharma3) October 17, 2018
12. Afghanistan's Dawlat Zadran trained with Indian pacer Ishant Sharma
Practice day with Indian pacer Ishant Sharma 😊 @ImIshant @rashidkhan_19 @MohammadNabi007 pic.twitter.com/5SWVVRfvoR

— Dawlat Zadran (@dawlat_zadarn) October 17, 2018
13. Tom Moody wants to credit Pakistan for showing such immense character after the shocking start they had to this Test
Credit to Pakistan, showed character after a shocking start, they've been relentless since! Australia have their work cutout now! Hard to constantly chase the game in these conditions. #PakVAus

— Tom Moody (@TomMoodyCricket) October 17, 2018
14. Durga Ashtami wishes from RP
Happy #DurgaAshtami to everyone. May Maa Durga Bless & Protect all of us🙏 pic.twitter.com/jHdycVIhrd

— R P Singh (@rpsingh) October 17, 2018
15. Gabbar wished his inspiration Anil Kumble on his birthday
Happy birthday, @anilkumble1074 Bhai, you are an inspiration to all of us. Hope that you always have happiness in your life. :)🤘

— Shikhar Dhawan (@SDhawan25) October 17, 2018
Follow us on Telegram