Cricketing trends on social media today
Kevin Pietersen has tweeted that the WTC Final should not have taken place in the UK.
Updated - Jun 21, 2021 10:18 pm
356 Views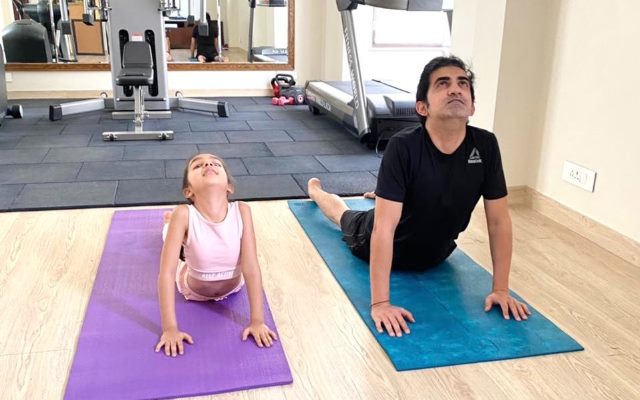 Follow us on Telegram
Day 4 of the World Test Championship (WTC) final between India and New Zealand was completely washed out, and former England batting legend Kevin Pietersen is not happy about it. Pietersen has tweeted that such an incredible and one-off cricket match should not take place in the UK. He has suggested that the WTC Final should be held in Dubai as it promises guaranteed weather.
Today is also the occasion of International Yoga Day, and a number of Indian cricketers have offered their thoughts on Yoga. While VVS Laxman feels that Yoga adds years to one's life, Harbhajan Singh has opined that Yoga is about self-acceptance.
Gautam Gambhir has tweeted that kids are more excited about Yoga, while Siddharth Kaul has thanked his Yoga coach. Also, the Board of Control for Cricket in India (BCCI) has donated a sum of INR 10 Crores to the Indian athletes for their Olympics preparation, and Mohammad Azharuddin has stated that the BCCI has undertaken a great initiative.
And finally, today also marks the 12th anniversary of Pakistan's historic triumph in the final of the 2009 T20 World Cup, and a few Pakistan cricketers have tweeted about the same.
1. VVS Laxman feels that Yoga adds life to people's years
Yoga adds years to your life , and life to your years.

Wishing you a very happy #InternationalDayOfYoga pic.twitter.com/tuUHahNs3Q

— VVS Laxman (@VVSLaxman281) June 21, 2021
2. Saeed Ajmal is reliving Pakistan's historic triumph in the 2009 World T20 final
#OnThisDay in 2009, Pakistan won T20 World Cup at the Lord's Cricket Ground.
On the 12th anniversary of the historic triumph, relive the moments with the squad members guide us through Pakistan's T20 world title 🏆.

Scorecard: https://t.co/jQ1NT1Qn9S#WeHaveWeWill pic.twitter.com/8Um6Fa44qa

— Saeed Ajmal (@REALsaeedajmal) June 21, 2021
3. Harbhajan Singh offers his thoughts on International Yoga Day
Yoga/ stretching is not about self improvement. It's about self acceptance #YogaDay #InternationalDayOfYoga pic.twitter.com/PqtC1Jmn6x

— Harbhajan Turbanator (@harbhajan_singh) June 21, 2021
4. Harmanpreet Kaur wants Milkha Singh to keep his wings alive
You dint run today….. You flew …..
Milkha Singh Ji.
But this time you aren't coming back.. 😥
Bohot kuch sikha k gaye ho tusi. Hamesha yaad rahega.
Wherever you are today, keep your wings alive.
Rest in peace Legend . pic.twitter.com/wyQnUvyzZQ

— Harmanpreet Kaur (@ImHarmanpreet) June 21, 2021
5. Gautam Gambhir tweets about a positive change on the occasion of International Yoga Day
Kids now are more excited about Yoga than we were at their age! Positive change! #InternationalDayOfYoga pic.twitter.com/2jVCcO0S3z

— Gautam Gambhir (@GautamGambhir) June 21, 2021
6. Siddharth Kaul wishes everyone on the occasion of International Yoga Day
On this International Yoga Day, I would like to thank my Yoga Coach @manojyoga01, who has been helping me understand my body and get help make it more flexible and stronger. HAPPY International Yoga Day.#internationaldayofyoga #happiness #Mondaythoughts #YogaAsanasWithSBI pic.twitter.com/ywZUiZyfp1

— Siddharth Kaul (@iamsidkaul) June 21, 2021
7. Mohammad Azharuddin lauds the BCCI for its initiative
Great initiative by BCCI. India has a strong potential to get many more Olympic medals. https://t.co/Sq9wlElrss

— Mohammed Azharuddin (@azharflicks) June 21, 2021
8. Suresh Raina wants people to indulge in the harmony of nature
On this #InternationalDayOfYoga let's indulge in the harmony of nature, uniting the mind & body, thoughts & actions. It's a reminder for all of us to include yoga in our everyday routine & involve the younger generations too for a holistic approach to health & well-being. pic.twitter.com/iA2spCA6dt

— Suresh Raina🇮🇳 (@ImRaina) June 21, 2021
9. Kevin Pietersen feels that the WTC Final should not have been held in the UK
It pains me to say it, but a ONE OFF & incredibly important cricket game should NOT be played in the UK.

— Kevin Pietersen🦏 (@KP24) June 21, 2021
10. Dinesh Karthik has tweeted a picture of an asana and has asked the fans to name it
So what do you call this asana? 😋#InternationalDayOfYoga pic.twitter.com/aZg5Pdh2zA

— DK (@DineshKarthik) June 21, 2021
11. Deepti Sharma compares Yoga and cricket
Just like Cricket ,yoga is also about a balance between mind and the body.
Hence I love practicing it🧘‍♀️🧘‍♀️
It soothes my mind and my body too!
If you haven't tried yet, you should try it today.#InternationalDayOfYoga#YogaDay #YogaDay2021 pic.twitter.com/cgfKojXOxn

— Deepti Sharma (@Deepti_Sharma06) June 21, 2021
12. Kevin Pietersen opines that Dubai should have hosted the WTC Final
If it was up to me, Dubai would always host a one off match like this WTC game.
Neutral venue, fabulous stadium, guaranteed weather, excellent training facilities and a travel hub!
Oh, and ICC home is next to the stadium.

— Kevin Pietersen🦏 (@KP24) June 21, 2021
13. Dhawal Kulkarni feels that Yoga is the journey of the self
Yoga is the journey of the self , through the self , to the self . #InternationalDayOfYoga pic.twitter.com/YGX45gcJ1H

— Dhawal Kulkarni (@dhawal_kulkarni) June 21, 2021
14. Shahid Afridi tweets that he will remember Pakistan's 2009 World T20 triumph for the rest of his life
An unforgettable moment that I will remember for the rest of my life! The 2009 WT20 victory was not only a win on the field but it was a win that gave immense joy to Pakistan when the country needed it most. https://t.co/Nz3nEcw8iq

— Shahid Afridi (@SAfridiOfficial) June 21, 2021
15. Dimuth Karunaratne is not happy to see the biggest Test match getting washed out
Very disappointing to see the biggest Test match in the history of game getting washed out. Hopefully we can have a result in next 2 days 😔😔#WTCFinal #WorldTestChampionship #ICCWTCFinal #WTC2021

— 𝑫𝒊𝒎𝒖𝒕𝒉 𝑲𝒂𝒓𝒖𝒏𝒂𝒓𝒂𝒕𝒉𝒏𝒂 (@IamDimuth) June 21, 2021
Follow us on Google News