Cricketing Trends on Social Media today
Here's how the cricketers spent their day on Twitter and Instagram today.
Updated - Oct 21, 2019 8:17 pm
426 Views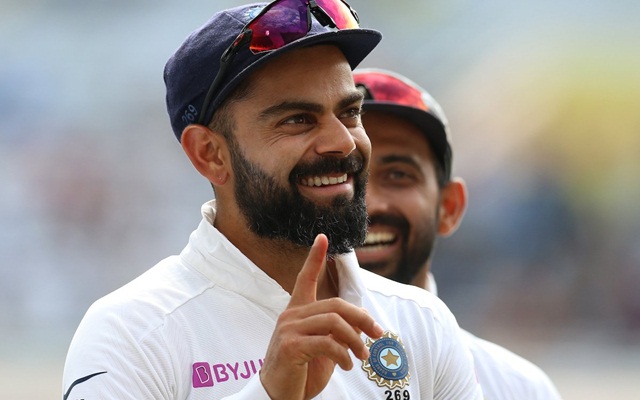 Follow us on Google News
The cricketing trends on social media revolved around a number of events. Today India entered in the third day of the final Test against South Africa. This is the second time in the series that Team India successfully imposed follow-on the visitors. The hosts' bowlers took a total of 16 wickets in the whole day.
Umesh Yadav scalped a total of 5 wickets and Mohammed Shami assisted him well grabbing five wickets across two innings. With Maharashtra elections taking place today many cricketers posted their pictures after they put their valuable votes like Sachin Tendulkar, Ramesh Powar. On Sunday the drafts for the inaugural season of The Hundreds took place and players like Sandeep Lamichhane looked happy to get picked up by the Oval Invincibles.
Sourav Ganguly also posted a picture on him from the inauguration of Indian Super League 2019 wearing the jersey of Atletico Kolkata. Shane Watson came out with a clip in which he looked pretty excited for the upcoming season of the T10 league. Mandeep Singh from Punjab posted a team picture of Punjab playing in Vijay Hazare Trophy 2019-20. Former Australian Brad Hogg recalled his past days and showed some of his bowling drills.
1. Mandeep Singh posts a picture of him along with his Punjab team
Proud of this unit. Only onwards and upwards from here ☝️💪🤙 #punjabteam pic.twitter.com/NHTxr7gOeN

— Mandeep Singh (@mandeeps12) October 21, 2019
2. Anil Kumble thanks for reviving fond memories
Thanks @sachin_rt for bringing back fond memories. 👍🏼 https://t.co/xtkEE9sYPq

— Anil Kumble (@anilkumble1074) October 21, 2019
3. Bishan Singh Bedi criticized South Africa performance
Pathetic Proteas…they will have contributed hugely in bringing down the highest form of International Crkt..nothing to take away frm India's total clinical domination though..even a token resistance frm the Visitors in Ranchi might have helped Test Crkt hold its chin up..!!!

— Bishan Bedi (@BishanBedi) October 21, 2019
4. Kedar Jadhav posts a picture of him after voting 
Done voting 😊 pic.twitter.com/oNPFd92Toi

— IamKedar (@JadhavKedar) October 21, 2019
5. Darren Lehmann looks happy with Northern Super Chargers squad for the Hundreds
Great fun putting the northernsuperchargers squad together for thehundred . Great fun and hope everyone enjoys seeing the teams play . Thoughts on our squad? https://t.co/LgIbJ2Wg44

— Darren Lehmann (@darren_lehmann) October 21, 2019
6. Kevin Pietersen posts a picture of him enjoying his retirement life
Monday… pic.twitter.com/4Ts8f81rBM

— Kevin Pietersen🦏 (@KP24) October 21, 2019
7. Sandeep Lamichhane posts a pic along with young talent at Chitwan
𝘽𝙖𝙘𝙠 𝙖𝙩 𝙞𝙩 𝙬𝙞𝙩𝙝 𝙩𝙝𝙚 𝙗𝙤𝙮𝙨. 𝙋𝙤𝙨𝙞𝙩𝙞𝙫𝙚 𝙫𝙞𝙗𝙚𝙨 𝙞𝙣 𝙩𝙤𝙙𝙖𝙮'𝙨 𝙩𝙧𝙖𝙞𝙣𝙞𝙣𝙜 𝙨𝙚𝙨𝙨𝙞𝙤𝙣 𝙬𝙞𝙩𝙝 𝙨𝙤𝙢𝙚 𝙜𝙧𝙚𝙖𝙩 𝙮𝙤𝙪𝙣𝙜 𝙩𝙖𝙡𝙚𝙣𝙩𝙨 𝙖𝙩 𝘾𝙝𝙞𝙩𝙬𝙖𝙣. pic.twitter.com/3WtQI34aiF

— Sandeep Lamichhane (@IamSandeep25) October 21, 2019
8. Spinner Ramesh Powar posts a pic of him after putting a vote in Maharashtra elections
Our vote counts
#votekarmaharashtra #AssemblyElections2019 pic.twitter.com/DKY4MtDnpO

— ramesh powar (@imrameshpowar) October 21, 2019
9. Parthiv Patel thanks Parimal Nathwani for his appreciating posts on Twitter
Thank you sir… https://t.co/YEE8vCZbOT

— parthiv patel (@parthiv9) October 21, 2019
10. Sachin Tendulkar posts a picture of him along with his family after voting
मतदान करणे आपल्या सर्वांचे कर्तव्य आहे. माझं मत मी नोंदवलं आहे, आपण सर्व सुद्धा मतदान करून या लोकशाहीच्या सोहळ्याचा भाग व्हा.

Happy to have voted & fulfilled my responsibility. Let's turn out in large numbers to vote & be part of a vibrant democracy.#MaharashtraAssemblyPolls pic.twitter.com/S1zQXtqEQc

— Sachin Tendulkar (@sachin_rt) October 21, 2019
11. Bishen Singh Bedi looked happy with Nadeem's first wicket
What a splendid 1st Test wkt fr #Nadeem…he did #Bavuma twice..in the air..& then off the pitch…excellent spectacle..!! Well done Nadeem..!!

— Bishan Bedi (@BishanBedi) October 21, 2019
12. Sourav Ganguly posts a picture of him on the inaugural evening of ISL
The start of Indian Super League pic.twitter.com/BGrhBxExFd

— Sourav Ganguly (@SGanguly99) October 21, 2019
13. Sandeep Lamichhane happy with his inclusion in Oval Invincibles for The Hundred
Another dream has came true today for Nepal and my beautiful people and I am honored to be the part of #OvalInvincibles for #TheHundred. Thanks everyone for your prayers, love and support. #RiseAndRise @CricketRaman @TalhaAisham @SayaCorps #Legacy pic.twitter.com/Mmqv1DEEOc

— Sandeep Lamichhane (@IamSandeep25) October 21, 2019
14. Shane Watson is excited for T10 League
The countdown for the @T10League is on. It really is such a fun tournament to play. We have some serious match winners in our team. #deccangladiators pic.twitter.com/UUdzW4H3Fz

— Shane Watson (@ShaneRWatson33) October 21, 2019
15. Brad Hogg posts a video of showing his bowling drills
Righty-o, we had a look at the batsmen, and you all wanted me to do a similar vlog on bowlers. So here you are. First up, the quicks. Same drill – divided the list into 3 categories – current, during my era, and before I started playing. Anyone I've missed out? Comment below! pic.twitter.com/qsTN4eXI9a

— Brad Hogg (@Brad_Hogg) October 21, 2019
Follow us on Telegram