Cricketing Trends on Social Media today
Here is how the cricketers spent their day on Twitter today.
Updated - Feb 22, 2020 7:52 pm
99 Views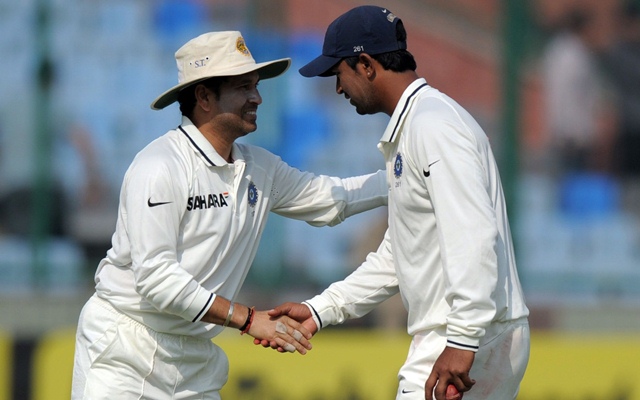 As the Ranji Trophy 2019-20 Quarter-finals continued the trend of enthralling the audience, one incident that hogged the limelight on Day 3 was the delivery bowled by Jammu & Kashmir's Mujtaba Yousuf. The left-hander bowled a sublime delivery as the batsman nicked the ball to the wicketkeeper.
Former India all-rounder, who has been associated with the Jammu & Kashmir team since recent times, shared the clip of the delivery while lauding Mujtaba's brilliant bowling. Pathan also extended wishes to Jammu for their last and final day of the Quarter-final against Karnataka.
Meanwhile, BCCI acknowledged Pragyan Ojha's six-wicket haul against West Indies in Mumbai. BCCI shared the video of Ojha's brilliant performance and wishes him luck for his life and future after retirement. Pragyan Ojha was showered with wishes as many Indian stalwarts including Sachin Tendulkar extended wishes to the leg-spinner after he called it a day. Mumbai Indians also thanked Ojha for the memories which he created while donning the franchise's jersey in four seasons.
Kamran Akmal, who was trending lately on social media for his English goof-up, smashed a brilliant ton in PSL 2020. A plethora of cricketers including Hassan Ali and Inzamam-ul-Haq extended wishes to the wicketkeeper-batsman.
Gujarat skipper Parthiv Patel achieved a massive feat in the ongoing Ranji Trophy after the wicketkeeper joined the elite club of 300 dismissals. Former India pacer RP Singh congratulated Parthiv for his feat by sharing a picture with the wicketkeeper-batsman.
The fiery spells bowled by Shoaib Akhtar are lethal enough to topple any world-class batsman. Pakistan Cricket shared a throwback video stating that it was the very same day in 2003 when the Pakistan speedster bowled at 100.2 mph in a World Cup game against England.
1. Irfan Pathan lauds Mujtaba's delivery
To get current Indian batsman out at the age of 19 is a top effort by #Mujtaba in an on going #ranjitrophy quater final. Don't forget to apprciate the catch by #fazilrashid Big day tomorrow for #JammuKashmir team pic.twitter.com/wzzVxu6Lct

— Irfan Pathan (@IrfanPathan) February 22, 2020
2. BCCI extends wishes to Pragyan Ojha
As Pragyan Ojha bids adieu to cricket, we relive his Top Test bowling performance, a 6-wkt haul against West Indies in Mumbai. 🔝🙌 #TeamIndia

Good luck for the future, @pragyanojha 👏👏 pic.twitter.com/uj0iYjhWOF

— BCCI (@BCCI) February 22, 2020
3. Wahab Riaz hails Kamran Akmal for his ton
Privilege to witness that innings by @KamiAkmal23 bhai unbelievable striking and a treat to watch. First win for @PeshawarZalmi on to the next one now! #YellowStorm #HumZalmi #PSL2020 pic.twitter.com/T35DiQ69yT

— Wahab Riaz (@WahabViki) February 22, 2020
4. RP Singh congratulates Parthiv Patel
Congratulations @parthiv9 in joining the 300 dismissals club in #RanjiTrophy as a keeper! pic.twitter.com/guOOpHMrCq

— R P Singh रुद्र प्रताप सिंह (@rpsingh) February 22, 2020
5. Mumbai Indians extend wishes to Pragyan Ojha after his retirement
It has always been a pleasure to be a part of this team and it's legacy 😇 https://t.co/rgLXj2Fku9

— Pragyan Ojha (@pragyanojha) February 22, 2020
6. Aakash Chopra to do PSL analysis
A long video. My first piece on PSL coming tomorrow 🙏 https://t.co/9fTLrJsHiY

— Aakash Chopra (@cricketaakash) February 22, 2020
7. Pakistan Cricket shares a throwback video of Shoaib Akhtar
#OnThisDay in 2003 @shoaib100mph registered his name in the record books by bowling the fastest delivery officially recorded at 100.2 MPH in @cricketworldcup game against England.pic.twitter.com/D7cf8QDuoe

— Pakistan Cricket (@TheRealPCB) February 22, 2020
8. ICC shares a funny clip of Jemimah Rodrigues
More like JeMEMEah Rodrigues 😏pic.twitter.com/D3u7J0ET3T

— ICC (@ICC) February 22, 2020
9. Cheteshwar Pujara extends birthday wishes to his daughter
Happy birthday sweetheart, you make us the happiest. We adore you ❤ pic.twitter.com/ulddEax9Ua

— cheteshwar pujara (@cheteshwar1) February 22, 2020
10. Ravichandran Ashwin congratulates Ojha on a memorable career
Congratulations @pragyanojha on a memorable playing career, it was a pleasure playing with you from the under 16 days. All the best for your next innings buddy. 👍🏻

— Ashwin Ravichandran (@ashwinravi99) February 22, 2020
11. Sanjay Manjrekar scrutinizes India's performance against New Zealand
India didn't bat too well, their bowling hasn't looked as potent but one of their great strengths of never letting their shoulders sag came to the fore late in the day. India back in the game for sure!#starsports#IndvNz

— Sanjay Manjrekar (@sanjaymanjrekar) February 22, 2020
12. Aakash Chopra hails Ishant Sharma's performance against New Zealand
Before the start of the Test, I was a little concerned/sceptical about Ishant's match-fitness but it's quite evident why the team didn't have any doubts. Three key wickets for the big man. #NZvInd

— Aakash Chopra (@cricketaakash) February 22, 2020
13. Harmanpreet Kaur thanks fans for their love and support
The Night turned into our favour and I am humbled and honoured to see the support we got from all the fans and people who cheered for us..
Thank you for your love and support.. 🇮🇳🇮🇳🇮🇳🇮🇳 pic.twitter.com/viSy4g2GP4

— Harmanpreet Kaur (@ImHarmanpreet) February 22, 2020
14. Bishan Singh Bedi opines on Test cricket
Test Crkt is ever so soul searching…!!!

— Bishan Bedi (@BishanBedi) February 22, 2020
15. Wahab Riaz extends birthday wishes to his wife
Happy birthday to my soul-mate, life partner and wife @ZaynabWahabviki thank you for always sticking with me throughout everything ❤ pic.twitter.com/812p3FITXo

— Wahab Riaz (@WahabViki) February 22, 2020