Cricketing Trends on Social Media today
Here is how the cricketers spent their day on Twitter and Instagram today.
Updated - May 22, 2019 9:38 pm
1.7K Views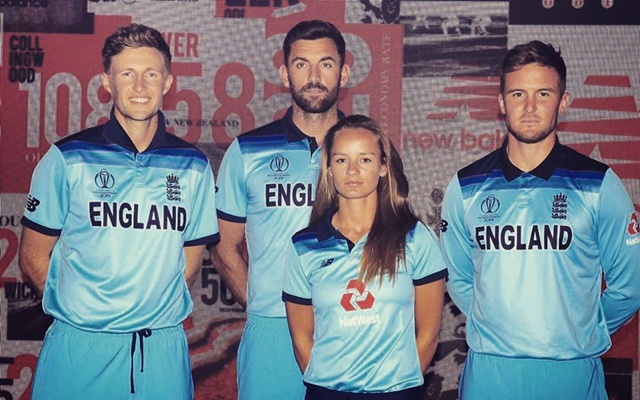 The cricketing trends on the social media revolved around a number of events. Fast bowler S Sreesanth posted a couple of pictures with his loved ones. India is all set to take part in the forthcoming World Cup in England and Wales. The Indian team set off in their journey yesterday and most of them shared team pictures before setting off for the UK.
The Men in Blue are scheduled to play their first match against South Africa on June 5 at the Rose Bowl in South Africa. Pakistan captain Sarfaraz Ahmed turned 32 today and he was showered with wishes from his teammates. He is also the skipper for the World Cup where his team will start its campaign versus the Jason Holder-captained Windies on May 31 at Trent Bridge in Nottingham.
Shadab Khan said that Sarfaraz earlier won the nation the U19 World Cup and has the potential of leading the national team to a number of victories. The likes of Umar Akmal and Wahab Riaz also wished the skipper. Wahab had more reasons to cheer as he got into the Pakistan squad for the WC, starting May 30.
The England World Cup kit-launch took place yesterday. Danielle Wyatt posted a picture where she was seen posing with Joe Root, Jason Roy and Liam Plunkett. Brad Hogg requested South Africa to not 'choke' in the mega event in his analysis video.
The draft for the 2019 Caribbean Premier League (CPL) took place today and Tabraiz Shamsi expressed his delight prior to the drafts that will take place in London. Fast bowler Siddarth Kaul believes that our own thoughts are the biggest source of motivation.
1. Sreesanth with his loved ones 
Had a wonderful time with my lovely ,lively angels…❤️❤️❤️❤️😘😘😘😘😘😘😘blessings pic.twitter.com/RGvE1Qx6ig

— Sreesanth (@sreesanth36) May 22, 2019
2. Virat Kohli in the UK 
Touchdown UK! pic.twitter.com/wnhtLalg8V

— Virat Kohli (@imVkohli) May 22, 2019
3. Chahal also ready for World Cup
Touchdown London 💪🇮🇳 CWC19 pic.twitter.com/Ll23zqKs63

— Yuzvendra Chahal (@yuzi_chahal) May 22, 2019
4. Shadab wishes Sarfaraz 
Happy birthday Kaptaan @SarfarazA_54. He captained our country to the under-19 world cup victory, he captained our country to the Champions Trophy victory. I wish he leads us to many more triumphs. #PakistanZindabad pic.twitter.com/hFzxQ83FZB

— Shadab Khan (@76Shadabkhan) May 22, 2019
5. Wyatt in England's kit launch
5. Umar Akmal wishes Sarfaraz 
Happy birthday @SarfarazA_54 bhai 🎂 On your special day wishing and praying that you get the most special gift of winning the world cup May Allah bless you and the team to make it happen InshaAllah 🙌🏽 pic.twitter.com/jvOyidrIdg

— Umar Akmal (@Umar96Akmal) May 22, 2019
6. Brad Hogg analyses 
#CWC2019: SOUTH AFRICAAA – why do you always choke? Not this year, please.

This team has fabulous bowling attack, and their batsmen aren't all that bad either.

Can they do the impossible this year? That's on today's episode of #HoggsVlog. After all it's #hoggytime! pic.twitter.com/TcJgXeVm09

— Brad Hogg (@Brad_Hogg) May 22, 2019
7. Riaz wishes Sarfaraz as well
Happy Birthday Saifi Aaj kay din aik pyari si muskurahat apnay fans kay liye? 😜 @SarfarazA_54 pic.twitter.com/OAn87qjkw6

— Wahab Riaz (@WahabViki) May 22, 2019
8. Kumble's wildlife message 
The Coppersmith Barbet, is a bird with crimson forehead and throat, known for its metronomic call that sounds similar to a coppersmith striking metal with a hammer. Nature is magical indeed. #Bengaluru Karnataka. #WildlifeWednesday pic.twitter.com/wH6ZnZl8V7

— Anil Kumble (@anilkumble1074) May 22, 2019
9. Kevin Pietersen in Africa 
Last nights fines meeting!

Africa really is kak! 😁 pic.twitter.com/MZuro4R38Y

— Kevin Pietersen🦏 (@KP24) May 22, 2019
10. Sthalekar away from the chaos 
Nice to escape the city noise!!! pic.twitter.com/Ao2AVCJH1Q

— Lisa Sthalekar (@sthalekar93) May 22, 2019
11. Kuldeep all set for the World Cup
Lets go! Off to England for the World Cup ✈️ #TeamIndia 🇮🇳 pic.twitter.com/kyszJGxOL0

— Kuldeep yadav (@imkuldeep18) May 22, 2019
12. Ravi Shastri praying 
Om Sai Ram 🙏 pic.twitter.com/IiJMFopO14

— Ravi Shastri (@RaviShastriOfc) May 22, 2019
13. Siddarth Kaul's motivational quote 
The biggest source of motivation are you own thoughts, so think big and motivate yourself to win. 💪🏼🙏🏻 pic.twitter.com/r0wndLLjkw

— Siddharth Kaul (@sidkaul22) May 22, 2019
14. Mohammed Shami off for the World Cup
Finally ✈️✈️✈️ for World Cup #cricket #iccworldcup2019 #uk #london @vijayshankar260 @BCCI pic.twitter.com/pahY8L8o0j

— Mohammad Shami (@MdShami11) May 21, 2019
15. Shamsi ready for the CPL 
I love how I can be totally free, entertain and express myself.

The @CPL and the people of the Caribbean Islands will always hold a special place in my heart ❤#BiggestPartyInSport #HappyMemories pic.twitter.com/ok2Y1ocM9F

— Tabraiz Shamsi (@shamsi90) May 21, 2019