Cricketing Trends on Social Media today
The trends were mainly about the on-going Test matches.
Updated - Nov 23, 2019 8:48 pm
372 Views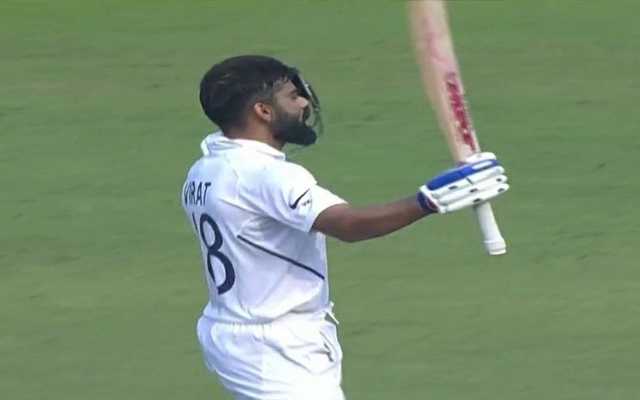 The cricketing trends today mostly revolved around three on-going Test matches: India vs Bangladesh, Australia vs Pakistan and New Zealand vs England. As India cruised to the series victory in the iconic Eden Gardens Test against Bangladesh, former Indian cricketer VVS Laxman lauded the crowd gathered at the stadium. Laxman shared a video of fans where he acknowledged their efforts for backing the Indian bowling attack too.  In a country where batsmen are often seen stealing the limelight, Laxman was pleased to see the support which the Indian bowlers got from the audience.
As Eden Garden hosted India's first-ever pink-ball Test, Sourav Ganguly shared a picture where he seemed overwhelmed by a full house at the stadium, even on the second day of the Test match. Harbhajan Singh also tweeted about the Eden Gardens Test, where the off-spinner lauded the support of Kolkata police.
Pakistan registered their name into the record books as they clinched the Emerging Asia Cup 2019. The Men in Green defeated Bangladesh by 77 runs in the final of the tournament. Many eminent personalities from the cricket fraternity lauded their achievement, including Pakistan's former skipper Inzamam ul Haq.
Ahmed Shehzad, who celebrated his 28th birthday today, was wished by Pakistan Cricket. The right-hander has been sidelined from the national side for quite a while now and is eager to bounce back on the international stage. He was also wished by several other prominent personalities including Shoaib Malik and Aleem Dar.
Former England captain Michael Vaughan heaped praises on India's skipper Virat Kohli after he slammed his 27th century in the second Test against Bangladesh. The 31-year-old became the first Indian to slam a Day-Night Test ton and also broke a plethora of records in his innings. Vaughan also lauded Marnus Labuschagne, who steered Australia's batting attack by playing a brilliant knock of 185 runs against Pakistan.
Along with Kohli, BJ Watling also grabbed the headlines by smashing his eighth Test century. Watling ended the day on 119, having arrived at the crease on Friday with New Zealand on 127 for 4. The wicket-keeper steered New Zealand in a commanding position against England.
Jasprit Bumrah is currently out of the Indian team as he is recovering from a stress fracture in his lower back. The speedster is recovering to bounce back into the national side. Bumrah shared a picture with the caption: "That post-workout happiness feeling." South Africa speedster Dale Steyn also revealed his weekend plans ahead of his MSL match tomorrow. Steyn tweeted that he'll be training and surfing before his upcoming MSL game.
1. VVS Laxman was pleased to see fans backing Indian bowlers
Amazing to see Indian fans backing our bowlers as much they've backed the batsmen. This bowling attack is just too good and Eden is again in for a treat .. #IndvBan pic.twitter.com/M2mHVb1pZ2

— VVS Laxman (@VVSLaxman281) November 23, 2019
2. Inzamam-ul-Haq congratulates Pakistan for winning Emerging Asia Cup 2019
Excellent show of grit and determination by young lads of Pakistan U23 emerging team in ACC. A heartiest congratulation to the entire team, coaching & support staff on being the champions of #ETAC2019. Keep shining for Pakistan. #RiseAndRise https://t.co/WTlmFJZxbl

— Inzamam ul Haq (@Inzamam08) November 23, 2019
3. Sourav Ganguly seemed overwhelmed by a full-house at Eden Gardens
Another full house at Eden @bcci pic.twitter.com/1pVBPyykTt

— Sourav Ganguly (@SGanguly99) November 23, 2019
4. Ahmed Shehzad celebrated his 28th birthday
Thank u🤗 https://t.co/02V2t92bOi

— Ahmad Shahzad 🇵🇰 (@iamAhmadshahzad) November 23, 2019
5. Michael Vaughan is in awe of Indian skipper Virat Kohli
Red Ball … White Ball … Now Pink Ball … @imVkohli is the best Batsman across all formats in this era … #100 #INDvBAN

— Michael Vaughan (@MichaelVaughan) November 23, 2019
6. Jasprit Bumrah gearing up for his return
That post workout happiness feeling. 💪🦁 pic.twitter.com/uSzTKv6tHf

— Jasprit Bumrah (@Jaspritbumrah93) November 23, 2019
7. BJ Watling puts New Zealand in a commanding position against England
An eighth Test century from BJ Watling 👏👏

Only Jonny Bairstow has scored more runs than Watling as a designated wicketkeeper in Tests this decade. #NZvENG pic.twitter.com/E86nrhA30y

— Wisden (@WisdenCricket) November 23, 2019
8. Harbhajan Singh acknowledges the work of Kolkata police at Eden Gardens
Not a single event is possible without the support of local police..kolkota police thank you for doing a great job to make this #PinkBallTestMatch a successful story #kolkotapolice 🙏 @VVSLaxman281 pic.twitter.com/vv6sYLsk3U

— Harbhajan Turbanator (@harbhajan_singh) November 23, 2019
9. India's head coach Ravi Shastri shares a picture with MC Mary Kom
A true legend – Magnificent Mary @MangteC 🙏 pic.twitter.com/84XICPkFoI

— Ravi Shastri (@RaviShastriOfc) November 23, 2019
10. Ambati Rayudu pointed out the corruption prevailing in the HCA
Hello sir @KTRTRS, I request u to plz look into nd address the rampant corruption prevailing in hca. Hw can hyderabad be great when it's cricket team is influenced by money nd corrupt ppl who hav numerous acb cases against them which are being swept under the carpet.

— Ambati Rayudu (@RayuduAmbati) November 23, 2019
11. Jonty Rhodes met Rahul Dravid and acknowledged his work at the NCA
Amazing to meet up with former great #RahulDravid #MrDepedable #TheWall who is still doing great work by looking out for future Indian cricket stars with his role at NCA and U/19 pic.twitter.com/xCPqw33rTx

— Jonty Rhodes (@JontyRhodes8) November 23, 2019
12. Michael Vaughan lauded Marnus Labuschagne's knock against Pakistan
He is going to score plenty over the next few years … https://t.co/d1bsooO5jd

— Michael Vaughan (@MichaelVaughan) November 23, 2019
13. Adam Gilchrist praised 16-year-old Naseem Shah as he scalped his first Test wicket
Well played @davidwarner31 but geez there's a lot to like about the kid, Naseem Shah https://t.co/5y1KBYF8M9

— Adam Gilchrist (@gilly381) November 23, 2019
14. Adam Gilchrist also praised Sourav Ganguly's efforts for scheduling first D/N Test and Virat Kohli for his ton
Outstanding work @SGanguly99 and @imVkohli 👍 https://t.co/mN3ddZ0DLq

— Adam Gilchrist (@gilly381) November 23, 2019
15. Aakash Chopra shared an interesting fact that India have never been dismissed once in five Tests this year
So…India hasn't been dismissed even once in the five home Tests this year. And only one Test went into the fifth day and that too courtesy some rain delays. #Domination #Unstoppable

— Aakash Chopra (@cricketaakash) November 23, 2019