Cricketing Trends on Social Media Today
Here's how the cricketers spent their day on social media platforms.
Updated - Jun 24, 2020 9:27 pm
327 Views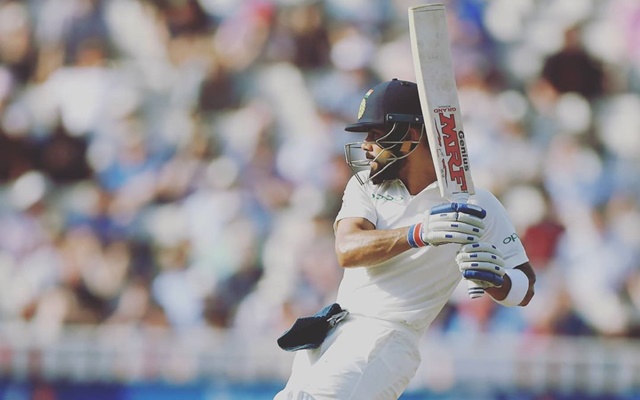 Current India skipper Virat Kohli is often regarded as a better batsman in limited-overs format. However, Kohli's love for the Test format is not a secret. The prolific batsman, many a time, has expressed his fondness for the traditional format of the sport.
It's the red ball which tests a batsman's technique and his resilience on the field. Kohli took it to Instagram and expressed gratitude for donning the whites for India. He even hailed the Test format as 'intense'.
Meanwhile, the news of 10 Pakistan players being tested COVID-19 positive has been doing rounds on social media. However, Mohammad Hafeez, who was one of the positive tested players, underwent the test again and tested negative this time. He himself informed his fans about the same and thanked the Lord for keeping him and his family safe.
Hardik Pandya, whose return to the national side was dented due to COVID-19 outbreak, is currently spending time with his family amid no cricketing action. The all-rounder shared a picture while playing a game of carrom with his brothers including Krunal Pandya. The Pandya brothers were set to don the Mumbai Indians jersey in IPL 2020. With no cricket in the picture, the duo has been sharing many photos and videos while being at home.
Meanwhile, Chris Green, whose bowling action was deemed illegal at the start of this year, has been cleared to bowl again. The tweaker expressed his excitement to brace the field again through his tweet.
1. Hardik Pandya enjoys a game of carrom with his brothers
Nothing like a great game of carrom with my brothers 🤗 Brings back a lot of memories #PandyaBrothers pic.twitter.com/seSj8dVXmi

— hardik pandya (@hardikpandya7) June 24, 2020
2. Chris Green excited to get back on the field
Thanks for all your messages and support. Can't wait to get back out on the field and enjoy doing what I love best!!! 💚🏏 pic.twitter.com/NhPf1GrJ6a

— Chris Green (@chrisgreen_93) June 24, 2020
3. Aakash Chopra shares a video of a fan bowling like Jasprit Bumrah
Run-up like Bumrah….par Jassi Jaisa Koi Nahin 🤗🙌👏 #AakashVani pic.twitter.com/D4v6SaTWaW

— Aakash Chopra (@cricketaakash) June 24, 2020
4. Mohammad Hafeez tests negative in his second test
After Tested positive COVID-19 acc to PCB testing Report yesterday,as 2nd opinion & for satisfaction I personally went to Test it again along with my family and here I along with my all family members are reported Negetive Alham du Lillah. May Allah keep us all safe 🤲🏼 pic.twitter.com/3WKOkXisdp

— Mohammad Hafeez (@MHafeez22) June 24, 2020
5. Virender Sehwag shares a heartwarming picture
The most precious things in life. A father clicking a picture of her daughter after gifting her a new dress.
Struggles Innocence, Love and Cherishing the simple things= A very beautiful life. pic.twitter.com/aQL4t2Mmru

— Virender Sehwag (@virendersehwag) June 24, 2020
6. Kris Srikkanth reminisces 1983 World Cup final
Come and watch the 1983 world cup final along with me at 6.30 P.m IST on star sports Tamil! Cant wait to relive the memorable moments from that historic final! #1983worldcup https://t.co/ftp9s6xKER

— Kris Srikkanth (@KrisSrikkanth) June 24, 2020
7. Irfan Pathan shares a hilarious picture of bowling action
Close enough???? 😂😂😂 #bowling #action pic.twitter.com/aCGNctd8DO

— Irfan Pathan (@IrfanPathan) June 24, 2020
8. Rajasthan Royals share batting pictures of Jofra Archer
.@JofraArcher, the death overs specialist. 😏

Practice ➡️ Perfect pic.twitter.com/4oIe01NeNR

— Rajasthan Royals (@rajasthanroyals) June 24, 2020
9. David Warner and his daughter react to an unbelievable skipping clip
Impressive this till your daughter asks if I can do it. 😂😂 not a chance. Great work akash #skipping #fun pic.twitter.com/8cS3GMUQj3

— David Warner (@davidwarner31) June 24, 2020
10. Mohammad Kaif shares a touching video of a soldier
Priceless!
Desh ke ASLI hero 🙏🏼🙏🏼🙏🏼 pic.twitter.com/my121meQcw

— Mohammad Kaif (@MohammadKaif) June 24, 2020
11. Kings XI Punjab shares a picture of Gayle-Shami duo
Sadde do anmol ratan 🤩

How'd you define this jodi?#SaddaPunjab @MdShami11 @henrygayle pic.twitter.com/4ywT7BsIrB

— Kings XI Punjab (@lionsdenkxip) June 24, 2020
12. Virat Kohli shares pictures of himself while donning the whites
Nothing comes close to playing an intense game in whites. What a blessing to be able to play test cricket for India. 🇮🇳💙 pic.twitter.com/43OxdpYcFz

— Virat Kohli (@imVkohli) June 24, 2020
13. Dwayne Bravo reveals he is going to release a song for MS Dhoni on his birthday
14. Mushfiqur Rahim sweats it out at home
Gym day 💪🏻💪🏻💪🏻 pic.twitter.com/gtA7ce1dxs

— Mushfiqur Rahim (@mushfiqur15) June 24, 2020
15. Sri Lanka Cricket reminisce their famous victory against England
#ThisDayThatYear in 2⃣0⃣1⃣4⃣ 🏆 pic.twitter.com/BMwLcxzDGk

— Sri Lanka Cricket 🇱🇰 (@OfficialSLC) June 24, 2020