Cricketing Trends on Social Media Today
Here's how the cricketers spent their day on social media platforms.
Updated - Jul 31, 2020 8:56 pm
397 Views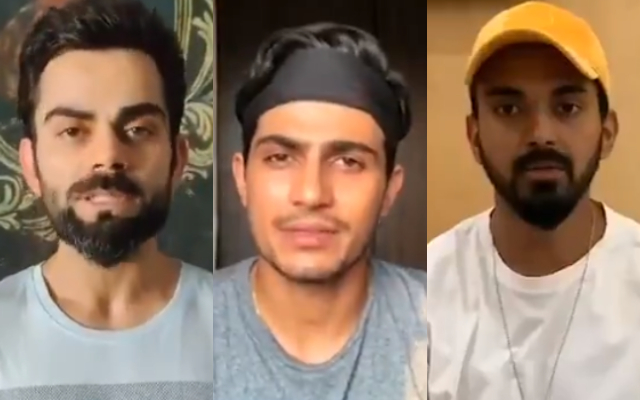 Twitter was flooded with several cricketers extending wishes on the occasion of Eid ul-Adha. After Eid ul-Fitr, which takes place at the end of the holy month of Ramadan, Eid al-Adha is the second major festival which is celebrated by Muslim families all across the globe. Many cricketers including Rashid Khan, Mushfiqur Rahim and Shai Hope extended wishes to their fans through Twitter and Instagram.
Mohammad Amir's wife Narjis also extended wishes to the pacer through social media. Amir recently had arrived in England ahead of the much-anticipated T20I series. The pacer is expected to play a vital role for the Men in Green in English conditions.
Meanwhile, several India stars also stepped up to help Bihar and Assam flood victims. Along with the COVID-19 pandemic, the two states have also been battling with devastating floods. In Bihar, over three lakh people have been evacuated thus far and more than 25,000 have been put up at 19 relief camps. Whereas in Assam, a total of 208 relief camps have been set up in which over 37,000 people have taken shelter.
Amid these trying times, Indian skipper Virat Kohli along with other stalwarts like KL Rahul, Sania Mirza, Yuzvendra Chahal, Harmanpreet Kaur and Kuldeep Yadav rose to the occasion. Each sportsperson decided to auction their prized possession to raise funds for the flood-affected victims. Kohli, for the auction, put up a pair of bats used by him while playing for India.
1. Mohammad Amir's wife wishes him Eid
Eid Mubarak @iamamirofficial you already have my heart and than u wear blue dress and send me a pic, one thing to say ek hi dil hai kitni bar jeeto ge😍😍😍 #MASHALLAH #STAYBLESSED #MISSU pic.twitter.com/3f5vRnzbQS

— Narjis amir (@narjiskhan25) July 31, 2020
2. Sohail Tanveer extends Eid wishes to everyone
Eid Mubarak to all muslim celebrating today..

— Sohail Tanveer (@sohailmalik614) July 31, 2020
3. Wahab Riaz passes on Eid wishes to his followers
Wishing all my followers a blessed Eid from us. May this day bring lots of happiness into your lives #EidAlAdha pic.twitter.com/bW99CYfMLr

— Wahab Riaz (@WahabViki) July 31, 2020
4. Virat Kohli and other stars come forward in support of Bihar and Assam flood victims
Our countrymen need us in these troubled times. Let's do our part in helping them.
@theawarefound @imVkohli @klrahul11 @MirzaSania @yuzi_chahal @imkuldeep18 @Wriddhipops @RealShubmanGill @ImHarmanpreet https://t.co/Js0sNFZ0Hl pic.twitter.com/9xJwVbpL6f

— Cornerstone (@cornerstoneway) July 31, 2020
5. Rashid Khan extends Eid wishes
Eid Mubarak pic.twitter.com/TPmzSeUoox

— Rashid Khan (@rashidkhan_19) July 31, 2020
6. Shai Hope shares 'Eid Mubarak' for his fans and followers
#EidMubarak to you and your loved ones 🙏🏽

— Shai Hope (@shaidhope) July 31, 2020
7. Mushfiqur Rahim extends Eid wishes along with his picture
Assalamualaikum all…May ALMIGHTY ALLAH accepts all our quarbani along with all our good deeds and give us reward in duniah and hereafter
🤲🤲🤲🤲🤲 -MR15 pic.twitter.com/4QgLP7zzxv

— Mushfiqur Rahim (@mushfiqur15) July 31, 2020
8. Pakistan cricket team shares pictures while celebrating Eid Ul Adha
Pakistan cricket team is celebrating #EidAlAdha today! pic.twitter.com/i6fNxSd0km

— Pakistan Cricket (@TheRealPCB) July 31, 2020
9. ICC shares about Adil Rashid being on the verge of a milestone
Adil Rashid is only three wickets shy of becoming the first England spinner to reach 150 ODI wickets 🙌

Will he get to the mark during the #ENGvIRE series? pic.twitter.com/lVbXLSrVcG

— ICC (@ICC) July 31, 2020
10. Sohail Tanveer shares an "Eid selfie" with Imran Tahir
Eid selfie with immi bhai @ImranTahirSA 🏃‍♂️ pic.twitter.com/LcXc68gcl9

— Sohail Tanveer (@sohailmalik614) July 31, 2020
11. Quetta Gladiators share picture of Sarfaraz Ahmed and Naseem Shah on the special occasion
Gladiators looking dapper 😎
🔛#EidAlAzha 🌙@SarfarazA_54 | @iNaseemShah #PurpleForce #ShaanePakistan🇵🇰 pic.twitter.com/SWoS5p2Tjl

— Quetta Gladiators (@TeamQuetta) July 31, 2020
12. Suresh Raina shares a selfie post his workout
Post work out vibes 🤘 pic.twitter.com/a69Jvm5lPY

— Suresh Raina🇮🇳 (@ImRaina) July 31, 2020
13. Shadab Khan extends Eid wishes on behalf of Pakistan cricket team
Eid Mubarak to everyone from me and the Pakistan team. Stay safe, stay blessed and remember to help the less fortunate on this Eid. pic.twitter.com/I9nKp3NA1n

— Shadab Khan (@76Shadabkhan) July 31, 2020
14. Babar Azam celebrates Eid Al Adha with his Pakistan teammates
A very happy #Hajj and #EidAlAdha Mubarak to everyone. May the remembrance of Prophet Abraham (pbuh) sacrifice continue to be the guiding light for all of us. Be extra kind to those in these moments who are not there yet. I wish you enough light and shine. pic.twitter.com/4DGgfiilz0

— Babar Azam (@babarazam258) July 31, 2020
15. Mohammad Amir shares selfie with his Pakistan teammates
EID MUBARAK TO ALL MUSLIMS 😊😊😊 pic.twitter.com/P57BD2NdoQ

— Mohammad Amir (@iamamirofficial) July 31, 2020