Cricketing trends on social media today
Here's a look at what the cricketing fraternity has been up to.
Updated - Oct 26, 2017 11:44 pm
4.3K Views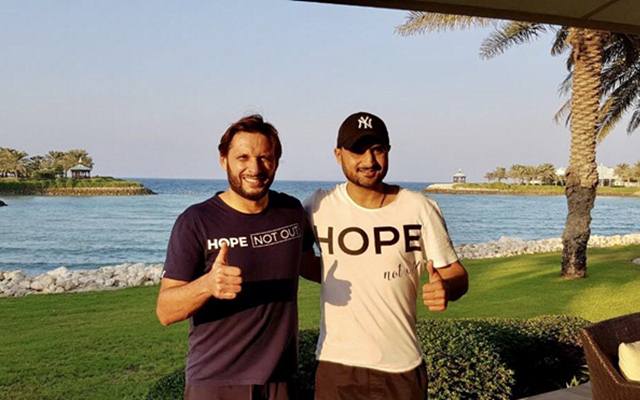 The cricketing trends on social media today saw the cricketers from all over the world interact with their followers across platforms. Herschelle Gibbs seemed mesmerized by the beauty of Rwanda where he tried to promote the game cricket using 'cricket builds hope' campaign. Harbhajan Singh showed his full support for Shahid Afridi's Hope Not Out campaign. Saeed Ajmal praised the beautiful playing conditions at Abbottabad.
Suresh Raina thanked his followers who helped him reach the 11 million mark while Rashid Khan posted a picture of him with Raina as a memory from the Asia Cup 2016. David Warner's wife made sure her husband was made to feel special on his birthday eve. RP Singh congratulated his Gujarat captain Parthiv Patel, Piyush Chawla and many others post their win in the Ranji Trophy.
Rohit Sharma was all set to board the flight to Lucknow with mates Shardul Thakur and Dinesh Karthik for a cracking finale of the New Zealand ODI series. Praises started to pour in from Charlotte Edwards and Ed Cowan after witnessing the inning from Rachel Haynes. Subramanium Badrinath seemed elated to see Dinesh Karthik into the side and believes he is the ideal number four for India. Ravi Bopara posted a hilarious lesser known fact about protections. That said, let us go through the cricketing trends in social media today.
1. Bhajji shows full support for Afridi
Humanity first..#Hopenotout such great work they r doing for the humanity.. lovely to be part of.. more power to @SAfridiOfficial & team pic.twitter.com/uOZ4gzAW2i

— Harbhajan Turbanator (@harbhajan_singh) October 26, 2017
2. Gibbs mesmerized by the beauty of Rwanda
✈️ bit later to this beautiful venue to help raise funds for cricket in @RwandaCricket #cricketbuildshope pic.twitter.com/qR8i0ve93n

— Herschelle Gibbs (@hershybru) October 26, 2017
3. Ajmal mesmerized by the beauty of Abbottabad
Training session in Abbottabad beautiful cricket ground pic.twitter.com/xRfTMu7KB5

— Saeed Ajmal (@REALsaeedajmal) October 26, 2017
4. 11 M followers for Raina
11 make a team & 11M make my family, thank you for all the love and support! ?✌️???✅

— Suresh Raina (@ImRaina) October 26, 2017
5. One from the vault from Rashid Khan
#Memories @asiaCup with great man @ImRaina ???? pic.twitter.com/Gl97p8sSQj

— Rashid Khan (@rashidkhan_19) October 26, 2017
6. David Warner being treated in a special way by wife Candice
7. RP Singh pleasing his captain Parthiv
Well done skipper @parthiv9 . Congratulations @ManpreetCJuneja , Chirag , Piyush, hardik for excellent performance against J&K.@BCCIdomestic

— R P Singh (@RpSingh99) October 26, 2017
8. Interesting development from Australia
Ed Cowan, Maxi Klinger, Cam White and Shooshy, all cut for being too old. The Chappell playground; it's a real thing #ripdomesticcricket

— Brett Geeves (@brettygeevz) October 26, 2017
9. This will leave you in splits
— Ravi Bopara (@ravibopara) October 26, 2017
10. Birthday wishes for Raveena Tandon
Wish you a very happy birthday @TandonRaveena .May you stay strong and blessed.

— Virender Sehwag (@virendersehwag) October 26, 2017
11. Warne thanked Advanced Hair Studios
12. Badri pleased to see DK
A sedate but an Important innings for @DineshKarthik , has earned his place, with No4 being up for grabs ,its a good time to seal it.

— subramani badrinath (@s_badrinath) October 26, 2017
13. Edwards lauds Haynes
Brilliant innings from @RachaelHaynes. Big chase for England #WomensAshes

— Charlotte Edwards (@Lottie2323) October 26, 2017
14. And so does Cowan
Lovely sound coming off @RachaelHaynes' cricket bat this arv. Power mixed with timing. This is going to be way too many for the poms.

— Ed Cowan (@eddiecowan) October 26, 2017
15. Rohit gears up for Kanpur
Flight mode on ✈️ ? @imShard @DineshKarthik pic.twitter.com/iJuGmSWYU4

— Rohit Sharma (@ImRo45) October 26, 2017