Cricketing Trends on Social Media today
Here's how the cricketing fraternity spent their day on social media.
Updated - Jun 12, 2018 8:36 pm
987 Views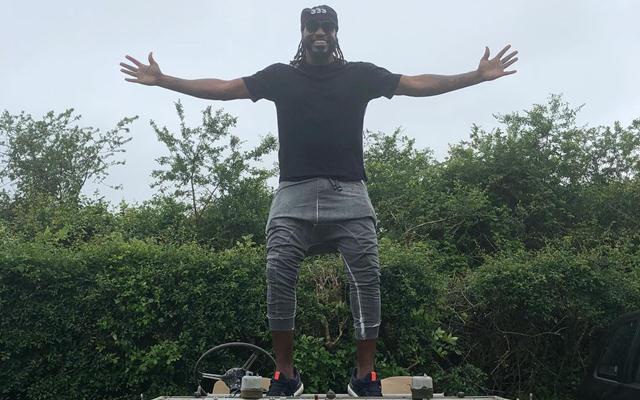 The cricketing trends on social media today saw the cricketers from all over the world interact with their followers across platforms. Gautam Gambhir lashed out on the former Indian cricketers Bishan Singh Bedi and Chetan Chauhan who were against Navdeep Saini playing for Delhi back in 2013. He was now selected in the Indian team for the upcoming historic Test against Afghanistan after Mohammed Shami failed to clear the yo-yo fitness test which has been mandatory by BCCI.
Yuzvendra Chahal recalled the day when he had received the ODI cap from the legend MS Dhoni exactly two years ago. He has been the vital cog of the line-up ever since then and has bamboozled prominent batting line-up along with his partner Kuldeep Yadav. India is banking on the duo in the upcoming ICC Cricket World Cup in 2019. The likes of R Ashwin and Ravindra Jadeja are unlikely to make a comeback to the One-Day International side now after their performance.
Chris Gayle continued to enjoy his time away from cricket as he was in the party mood on Tuesday. He was recently in India to ply his trade in the Indian Premier League (IPL) and played for the Kings XI Punjab (KXIP). He struggled after the initial period when he managed to smash the bowlers. Harbhajan Singh informed his followers about the release of the new episode of Bhajji Blast, the candid show in which he has enjoyed the time with Murali Vijay and also termed it as his favourite episode.
1. Gambhir lashes out
My 'condolences' to few DDCA members, @BishanBedi @ChetanChauhanCr on selection of 'outsider' Navdeep Saini to India squad. Am told black armbands are available in Bangalore too for INR 225 per roll!!! Sir, just remember Navdeep is an Indian first then comes his domicile @BCCI

— Gautam Gambhir (@GautamGambhir) June 12, 2018
2. Chahal remembers
Coming from a small town of Jind in Haryana,I never thought I would go on n represent my country.But If you dream big, work hard with sincerity,dreams do come true.2 yrs ago on this day,my dream came true whn I gt my India cap frm the legend itself @msdhoni #twoyearsbleedingblue pic.twitter.com/4Gwo76YNhh

— Yuzvendra Chahal (@yuzi_chahal) June 12, 2018
3. Flintoff ice skating
4. Aakash on India TV
Today On IndiaTv, At 7PM, #CricketKiBaat, @samiprajguru Ke Saath….covering everything from the #IndvAFG Test to India's tour of England. #AakashVani pic.twitter.com/5l1y0cHAXt

— Aakash Chopra (@cricketaakash) June 12, 2018
5. Gayle chilling
6. Niall praising Durham
Durham on the brink of a wonderful win after being bowled out first dig for 90 odd… similar turn around to their win early in season following on against Leicester. Shows the team has real spirit and skill. Nice to see after such a tough period for the club 👍

— Niall John O Brien (@niallnobiobrien) June 12, 2018
7. Bhajji Blast
My fav episode
Check out the this episode of #QuickHealBhajjiBlastWithCSK where @harbhajan_singh throws some Doosras to @mvj888!https://t.co/VHoUh5iGBT@quplaytv @chennaiipl @quickheal @JWMarriottPune @SUMITDUTTMANNAN #QuickHealBhajjiBlastMurali pic.twitter.com/U2A0wfa46J

— Harbhajan Turbanator (@harbhajan_singh) June 12, 2018
8. Sid poses for a selfie
9. Parny wishes his wife
10. Sehwag salutes the lady
A superwoman for me. She lives in Sehore in MP and the youth have so much to learn from her. Not just speed, but the spirit and a lesson that no work is small and no age is big enough to learn and work. Pranam ! pic.twitter.com/n63IcpBRSH

— Virender Sehwag (@virendersehwag) June 12, 2018
11. Gough's trip
12. Cutting enjoying
13. Mitch thanks
Thanks everyone for the awesome birthday messages – really appreciate it and had a great day with friends and family 👌😊🎉🎁🎈

— Mitchell McClenaghan (@Mitch_Savage) June 12, 2018
14. Anjum's thoughts
A person having a positive mindset is difficult to defeat #TuesdayThoughts

— Anjum Chopra (@chopraanjum) June 12, 2018
15. Kaif tweets
A wise man can always be found alone. A weak man can always be found in a crowd. #KaifSyrup pic.twitter.com/UmPHId7VDg

— Mohammad Kaif (@MohammadKaif) June 12, 2018