Cricketing trends in twitter today
Updated - Jan 30, 2017 12:46 am
77 Views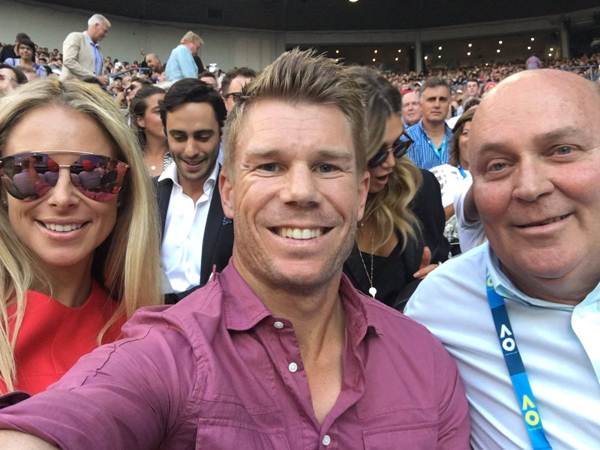 Follow us on Telegram
Today's edition of cricketing trends is bound to be loaded with tweets from the thrilling last over clash between India and England at the VCA Stadium in Nagpur. Ashish Nehra and Jasprit Bumrah bowled inspired spells to clinch a nail-biting thriller for the Men in Blue. The whole cricketing fraternity congratulated the hosts on a nerve-wracking win.
While Matt Prior wondered why the DRS is not being used in the T20 series, Stuart Broad had a great lunch on a weekend. While Virender Sehwag was enjoying his time in the commentary box, James Taylor was having a wonderful time in a beautiful place at Madrid.
Roger Federer won the 5th Australian Opens in his career defeating Rafael Nadal in the Final at Melborune. It was an emotional moment for Federer to win the title at the age of 35. The cricketing fraternity congratulated both on a cracker-jack of a match.
That said, here are some of the best tweets in today's edition of Cricketing trends in Twitter today.
1. Pat Symcox enjoying his weekend 
Just a little beauty this evening…@cutmaker @roblouw6 to end off a great weekend of sport. #Proteas #Federer #Blitsbokke #SunMet2017 pic.twitter.com/XwH1DOzX3n

— Pat Symcox (@PatSymcox77) January 29, 2017
2. VVS Laxman congratulates Team India on a terrific win 
Congrats Team India on winning a thriller?Loved the way 2 youngsters @klrahul11 & Bumrah contributed?Can't forget #Nehraji ? #INDvENG

— VVS Laxman (@VVSLaxman281) January 29, 2017
3. Matt Prior wonders why DRS is not being used in the T20 series 
Not sure I'm whining. U win some u lose some but if u must lose at least lose for the right reasons. If technology is there use it ?? https://t.co/YsAydG2mnE

— Matt Prior (@MattPrior13) January 29, 2017
4. A great turnaround by Nehra & Bumrah
A great turnaround by #Nehra & #Bumrah, secured the win in time. Keep winning! #INDvENG

— sachin tendulkar (@sachin_rt) January 29, 2017
5. Save the tiger
Another Tiger killed in the Nagarhole reserve 5th death in less thn 3 weeks in Karnataka Locals suggest he was poached elsewhere. #SaveTiger pic.twitter.com/FyViKIcV17

— Yusuf Pathan (@iamyusufpathan) January 29, 2017
6. Stuart Broad enjoying on a Sunday evening 
Cricket on the tele, delightful Sunday beef, little taste of the ?shall we get the fire ? on @catandwickets ?! #IndvsEng pic.twitter.com/rFcPLPFZqV

— Stuart Broad (@StuartBroad8) January 29, 2017
7. Andrew Flintoff reminds everyone to watch the Freddy Down Under Show on Sky Sports 
Just a gentle reminder episode 3 of #FreddieDownUnder is on @sky1 at 8pm if you fancy it , don't worry if not ! Please retweet ??

— andrew flintoff (@flintoff11) January 29, 2017
8. Virender Sehwag enjoying his commentary time 
With kamla @sureshnmenon in #Commentary#INDvENG pic.twitter.com/9MVTI9Q9Kt

— Virender Sehwag (@virendersehwag) January 29, 2017
9. James Taylor enjoys his time in Madrid 
#SquadGoals #Madrid?? what a spot! pic.twitter.com/ObkGlLcX20

— James Taylor (@jamestaylor20) January 29, 2017
10. Sheer display of class by both Federer and Nadal
Sheer display of class by both Federer and Nadal. What a game it was! Congratulations @rogerfederer! #AusOpen

— Harbhajan Turbanator (@harbhajan_singh) January 29, 2017
11. Once again Roger Federer proves why he is the very best 
Once again @rogerfederer proves why he is the Greatest Ever ! Salute to the #legend . pic.twitter.com/j9NESk0YHm

— zaheer khan (@ImZaheer) January 29, 2017
12. David Warner enjoys his time at the Australian Open Finals 
Thanks to this legend @Busta569 for making our first grand slam final a memorable one. Very grateful thanks Barry. @CandyFalzon #AusOpen pic.twitter.com/wUfUwhaO86

— David Warner (@davidwarner31) January 29, 2017
13. Herschelle Gibbs had his best lunch in 2017
thee best lunch so far this year at @HarbourHouseZA kalk bay!?#nowforanap #viewsfordays pic.twitter.com/UPb1W5bFx8

— Herschelle Gibbs (@hershybru) January 29, 2017
14. Faf du Plessis thank I Store in South Africa for the sweetest headphones 
Off to Durbs we go .Thanx @MyiStoreSA for the shweet earphones pic.twitter.com/Q9LJFpScWS

— Faf Du Plessis (@faf1307) January 29, 2017
15. Not only in Test cricket.. but even the locals in Antigua tried to see if Dean Jones could play on the backfoot
Not only in Test cricket.. but even the locals in Antigua tried to see if I could play on the back foot! pic.twitter.com/vguewjDJXj

— Dean Jones (@ProfDeano) January 29, 2017
Follow us on Google News