Cricketing trends in Twitter today
Updated - Nov 26, 2016 3:31 pm
26 Views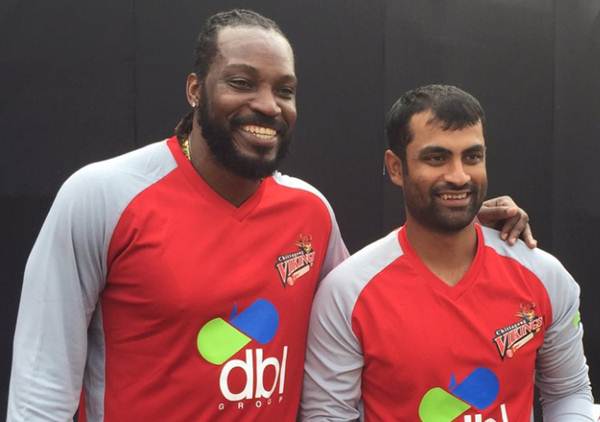 Cricket fans had a busy day today as they spent their time enjoying the two Test matches taking place in completely different places. Jonny Bairstow led England's revival against Indian and garnered praises from his teammates. While Bairstow had a fun time on-field, former skipper Michael Vaughan, who today invited his followers for a Q&A had an interesting time discussing cricket with a 'muppet'. Also, it was a special day for Karnataka opener Karun Nair who received his Test cap today and received plenty of congratulatory messages. One of them was his senior Robin Uthappa who looked extremely happy with the youngster's achievement.
In Australia, Mitchell Starc produced all round performance also received appreciation in the Twitter space. After the end of an exciting day of cricket at Adelaide, Shane Warne was all set to enjoy his dinner. Rohit Sharma paid tributes to the martyrs of the 26/11 terrorist attack.
Darren Gough, the former England fast bowler, who recently underwent a surgery was still watching scars heal. Virender Sehwag was yet again having a fun time cracking jokes on Twitter while South African Wayne Parnell was enjoying his travel time.
1.Michael Vaughan discusses cricket with a muppet… 
Because it's been a fantastic pitch .. Fair battle between Bat & Ball you Muppet … https://t.co/21by6tntA2

— Michael Vaughan (@MichaelVaughan) November 26, 2016
2. Jonny Bairstow has developed a liking for Indian bowling 
Well played Jonny! Runs when the team really needed them despite bad tummy & only 3 hours sleep! #INDvENG

— Mark Ramprakash (@MarkRamprakash) November 26, 2016
3. Through the eyes of Aakash Chopra
Analytical look at the first day #IndvsEng for @ESPNcricinfo Have a read… https://t.co/rg6kKmwDcS pic.twitter.com/R5LVtD3yr4

— Aakash Chopra (@cricketaakash) November 26, 2016
4. Enjoying the tour life 
Never get tired of landing in Cape Town. ??✈️ #mothercity #tourlife #lifestyle #capetown @ Cape… https://t.co/g0w2yrDKS1

— Wayne Parnell (@WayneParnell) November 26, 2016
5. Pie and chips for dinner 
Day 3 of the cricket is over, now dinner time = pie & chips ! Yum… ✔️✔️ https://t.co/HvCZHYEgw5

— Shane Warne (@ShaneWarne) November 26, 2016
6. Loose motion or promotion… You decide
Which motion do you want to get ? Loose-motion or promotion ?
How to get a promotion ? Find out in #virukefunde
– https://t.co/vAitomrbVH pic.twitter.com/svjcIetRuA

— Virender Sehwag (@virendersehwag) November 26, 2016
7. Wounds need to dry 
Bandages are off ?think I need some ☀️ pic.twitter.com/z3qFy9gBkj

— Darren Gough (@DGoughie) November 26, 2016
8. RIP…Greatest fan
Remember going to her place to spend time with her. I know her blessings will always be with me but will miss her … RIP #MarySerrao https://t.co/yOO2KeWniR

— sachin tendulkar (@sachin_rt) November 26, 2016
9. Soopa batting…Just like WG Grace
Soopa battin by @jbairstow21 and @josbuttler just like WG!! pic.twitter.com/vuXKRRTStQ

— simon hughes (@theanalyst) November 26, 2016
10. Robin Uthappa cheers his mate 
Congratulations kulla @karun126 ????make the most of it bro!! Rooting for you!!???

— Robin Aiyuda Uthappa (@robbieuthappa) November 26, 2016
11. Good question that
Can anyone tell me where all The Seagulls that used to frequent the Adelaide oval have gone….???

— Shaun Pollock (@7polly7) November 26, 2016
12. Johan Botha feeling proud
The small things are the big things, thank you to @tnfcricket for… https://t.co/BfCQsetmhu

— johan botha (@johan_botha) November 26, 2016
13. Deano is confused
Can anyone give me the collective noun for a group of English Captains? I am sitting next to Hussain, Atherton and Botham!

— Dean Jones (@ProfDeano) November 26, 2016
14. Happy to meet his partner 
Looking forward to opening with @TamimOfficial28 ? pic.twitter.com/5dg0vp9Cz8

— Chris Gayle (@henrygayle) November 26, 2016
15. A tribute to the martyrs 
Remembering the real heroes who laid their life and saved Mumbai from the terror night #26/11 pic.twitter.com/Oz5Ch7fS4H

— Rohit Sharma (@ImRo45) November 26, 2016