CricTracker Exclusive: Dale Steyn backs Kagiso Rabada to carry on his legacy
While donning the coloured jersey in 125 ODIs, Steyn scalped 196 wickets at an impressive economy of 4.87.
Updated - Dec 5, 2019 11:04 am
1.8K Views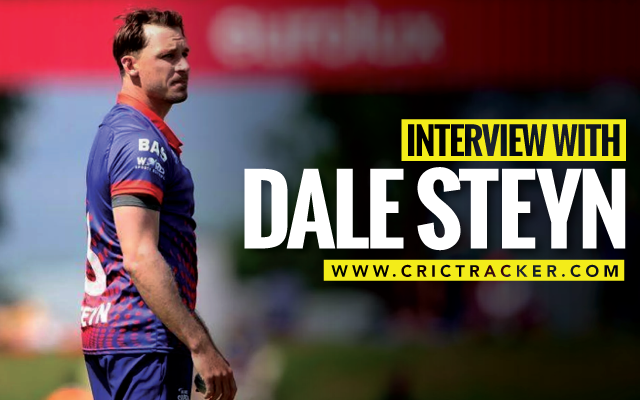 The sight of Dale Steyn capitulating the opposition's batting force with his sheer pace and pin-perfect accuracy is etched in the memory of every cricket fanatic. After breaking to the South African side with the experience of just seven First-class games under his belt, Steyn set the stage ablaze with his ability to swing the ball both ways.  A brawny run-up, exceptional use of out-swingers and ability to clock 150 kmph– Steyn left no stones unturned in dismantling the opposition line-ups with his expertise.
After scalping only eight wickets in his debut three-match Test series against England, the speedster was dropped from the side. However, it didn't halt Steyn's path as he eventually paved his way to becoming one of the most decorated pacers for his nation.
Dale Steyn rightfully carried forward the legacy of Makhaya Ntini and Shaun Pollock after their departure. He soon became the fastest Protea to take 100 Test wickets and ended up with 249 wickets at the end of his 48th Test. Following his phenomenal 2008 season where he scalped 86 wickets in just  14 games, Steyn was awarded ICC Player of the Year award. Currently, he is continuing his alliance with the Cape Town Blitz in the MSL 2019, where he has been delivering some impressive spells.
The 36-year-old proved his forte in all formats of the game and emerged as one of the pillars of the Proteas bowling line-up. While donning the coloured jersey in 125 ODIs, Dale Steyn scalped 196 wickets at an impressive economy of 4.87. His forte was not limited with the white ball as the pacer proved his mettle in the longer format too. In a phenomenal Test career spanning over 93 Tests, the pacer gathered 439 wickets including 26 five-wicket hauls and five 10-wicket hauls.
Even after bidding adieu to Test cricket and crippling with injuries since the past couple of years, Dale Steyn still remains as one of the prolific bowlers with the white ball. The veteran also has the experience of playing in various domestic leagues across the globe including the IPL.
Speaking exclusively to CricTracker, Steyn opened up regarding his competitive comeback after being sidelined from the game due to a shoulder injury. He also shared his experience of donning the Cape Town Blitz jersey in the MSL 2019. In a move that seemed surprising for many RCB fans, the Bangalore-based franchise parted ways with Steyn ahead of IPL 2020. He also expressed about making a comeback in the upcoming IPL season.
Here are the excerpts:
Question: You are making a comeback to competitive after a decent amount of time. How's your body feeling and most importantly, your shoulder?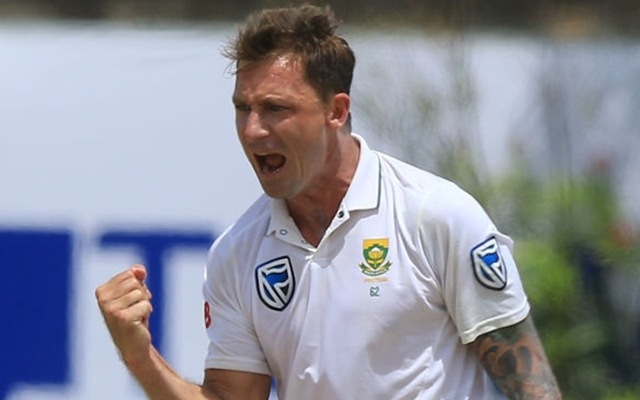 Answer: Great
Steyn's injury woes- Steyn has been plagued by multiple injuries over the last 3 years during which he played only 13 ODIs. South Africa's World Cup 2019 was affected a lot after Steyn suffered a second shoulder injury after arriving in England. Despite being marred with injuries, the pacer has been garnering a lot of attention due to his impressive bowling spells in the MSL 2019.
Question: What prompted you to retire from Tests? Do you think you could've played the format for a bit more time?
Answer: The idea of bowling 45 overs in a Test, over 24 balls in a T20 was a little overwhelming and the fact that it has come to a time in the Proteas set up that if I wasn't able to fulfill the role I had done for years then I'd rather walk away.
Question: South Africa has produced some excellent fast bowlers. With the national team currently in transition, which current bowler do you think can replace you or replicate your feat?
Answer: Kagiso Rabada is heading in that direction, he is a phenomenal bowler, set on his own path, he is doing his own thing. Future players such as Sisanda Magala in white-ball cricket, Anrich Nortje in terms of pure base.
Rabada's impressive record- Kagiso Rabada, who is currently playing for Jozi Stars has the potential to carry the legacy of South African speedsters. The 24-year-old has represented the Proteas in 40 Tests and has scalped 183 wickets including four 10-wicket hauls. Anrich Nortje is also a vital part of the Blitz bowling attack. Nortje, who was ruled out of the World Cup 2019 due to a thumb fracture, will be eager to join the likes of Steyn and Rabada in the 2020 T20 World Cup.
Question: Your views on Quinton de Kock as the skipper? How was your experience of playing under him so far in MSL 2019?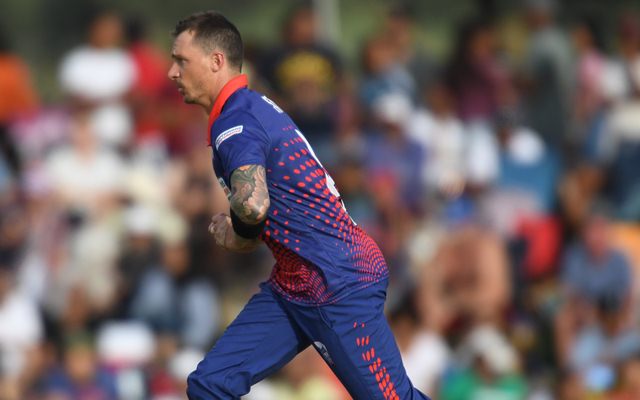 Answer: Think he is really good, a man of few words, you don't feel like you under any pressure. He leads by example, scores runs with the bat and speaks when he needs to speak, allows the environment to be chilled.
De Kock leads the side by example- Under the leadership of Quinton de Kock, the Cape Town Blitz have gathered 17 points from eight matches by winning four games. The left-handed wicket-keeper is one of the sought-after players in several domestic T20 leagues. Steyn has also delivered phenomenal performances so far and has picked up 11 wickets in his last five matches. Blitz are in contention to clinch their maiden MSL trophy after finishing as runner-ups last year.
Question: You made a comeback to the IPL this year. Though it was only for two matches, how was it like playing with Virat Kohli and RCB?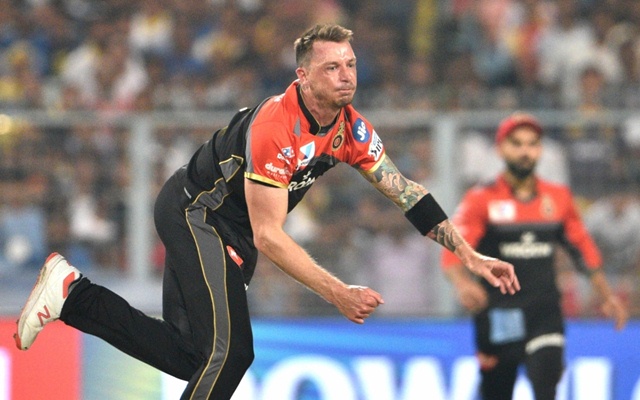 Answer: Always fun
After being released by RCB- After crippling with a shoulder injury last season, RCB parted ways with the speedster. However, there are chances that the Virat Kohli-led side will buy him back at the upcoming IPL 2020 auction. Steyn was able to play only two matches for RCB in IPL 2019 due to his injury. He was an integral part of the franchise for three years from 2008 to 2010. Along with RCB, many franchises will be interested in snapping him up for the next season.
Question: How important is MSL for South Africa cricket?
Answer: Very important to expose the young talent to Proteas players and international players and also give the fans something domestically to watch, compared to some of the previous years.
Question: Which young player impressed you the most in MSL 2019?
Answer: Sisanda Magala
Magala's impressive record- Yet to break into the national side, 28-years-old Magala has been a vital part of Cape Town Blitz for two seasons. The South African first-class cricketer was the leading wicket-taker in the 2016 Africa T20 Cup. Following his heroics in the Africa T20 Cup, Blitz decided to acquire his services in the inaugural edition of MSL. In 80 first-class matches, the 28-year-old has scalped 224 wickets at an economy of 3.45.
Question: What are your thoughts about the current Indian pace attack in Tests? And who is your favourite among the pacers?
Answer: I think having an aggressive captain helps. We see pitches in India not spinning as much as before so that helps, sends a good message to the fast bowlers that they don't just prepare pitches for spinners. Makes it worthwhile and you can see that through the years of IPL, the fast bowlers have gotten faster and stronger and now they have the opportunity to showcase their skills instead of being sidelined by spinning wickets.
Question: With two back to back T20 World Cups coming up, are you aiming to play both the events?
Answer: I'm aiming to finish the MSL and we'll take it from there.
The Steyn-Rabada duo- After missing the ICC World Cup 2019, Steyn will be hoping to hoping to lead his side in both the marquee events. With the likes of Kagiso Rabada, he is expected to form a lethal bowling attack of the Proteas.
Question: Looking forward to playing in the IPL next year?
Answer: Yes, if I'm bought in the auction, I love India.
IPL journey- Steyn's love for India is not a secret. The South African has expressed his fondness for the Indian conditions on multiple conditions. Steyn has represented four IPL franchises yet in the tournament– Royal Challengers Bangalore, Deccan Chargers, Sunrisers Hyderabad and Gujarat Lions. The right-arm pacer has scalped 96 wickets in 92 IPL matches at an impressive economy of 6,76. He has the seventh-best economy rate in the history of IPL.
Watch Dale Steyn's cheeky run-out attempt to dismiss AB de Villiers in MSL 2019