CricTracker Exclusive – I only got to play regularly after MS Dhoni retired: Wriddhiman Saha
Saha has no regrets for being underutilized, no regrets for never being in the headlines. All that he wants is to see his team win.
Updated - May 27, 2021 12:04 pm
1.7K Views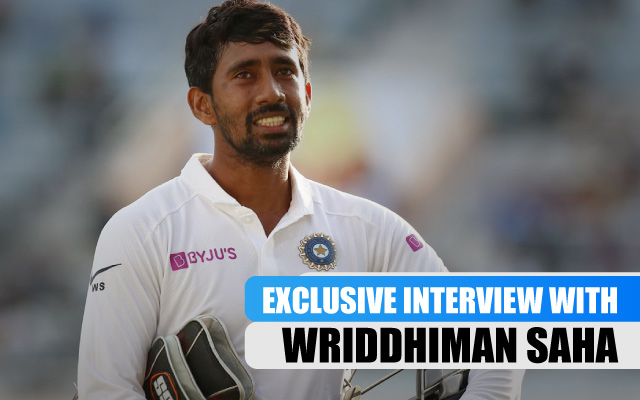 11 years have passed since he made his Test debut. India skipper Virat Kohli feels he is the best wicketkeeper in the world. Ravichandran Ashwin lauds him for his smartness. His agility even at 36 is good enough to give an 18-year-old a run for his money. He is many more things, but what he is not is a superstar. Wriddhiman Saha has been the man who quietly gets the job done.
The legendary MS Dhoni overshadowed him throughout his career. It took a ban on Dhoni for slow-over rate for Saha to play his second Test. It came two years after his first. The one next took nearly three years. This time as Dhoni was injured. Not until he hung his boots did Saha had a place of his own in the Indian team. The patient and calm believer that he was, he waited half a decade for his moment to arrive.
But it was not meant to last that long. Losing time in recovery after injuries in another nation is allowed, but in India, where every spot in the team has five contenders, all more capable than the other, injuries could well be full stops to entire careers. That it did not happen with Saha despite many injuries was for the sheer mastery of his at his art. But what it did mean was losing the tag of the first-choice wicketkeeper, this time, to a certain Rishabh Pant. When Saha missed out on action, Pant did what no other Indian keeper had done: scoring tons in England and Australia.
Despite all this, Saha has no regrets for being underutilized; no regrets for never being in the headlines. All that he wants is to see his team win. Even if it comes at the cost of him not getting chances. India is set to travel to the UK for the World Test Championship final and the five-Test series versus England. All that Saha feels for it is "Let's see if I get a chance". That and a lot more underneath, as CricTracker caught up with him for an exclusive chat before he flew to Mumbai to join the team bubble.
Excerpts
You must have heard "Saha is just unlucky" for different reasons enough times to lose the count by now. Do you feel your career coinciding with someone like MS Dhoni has been unlucky for you?
Not really. I believe in giving performances and completely trusting the management. Whoever performs will get the chances. I have always believed that a team needs to get the combination right and, in that process, some will miss out too. But the aim is to make the team win and it does not matter who sits out as long as that happens.
Jab Mahi bhai team mei the toh sabko pata tha ki har match Mahi bhai khelne wala hai. (When MS Dhoni was in the team, everyone knew that he will be the one playing all the games). But I was prepared to grab every chance. My debut Test (against South Africa, 2010) was a similar situation. [I] was told I am not playing but suddenly I had to play. So ever since then, I made it a point to practice as if I was going to play every game. I knew that I won't, but I ensured to be prepared, just in case. I still do the same.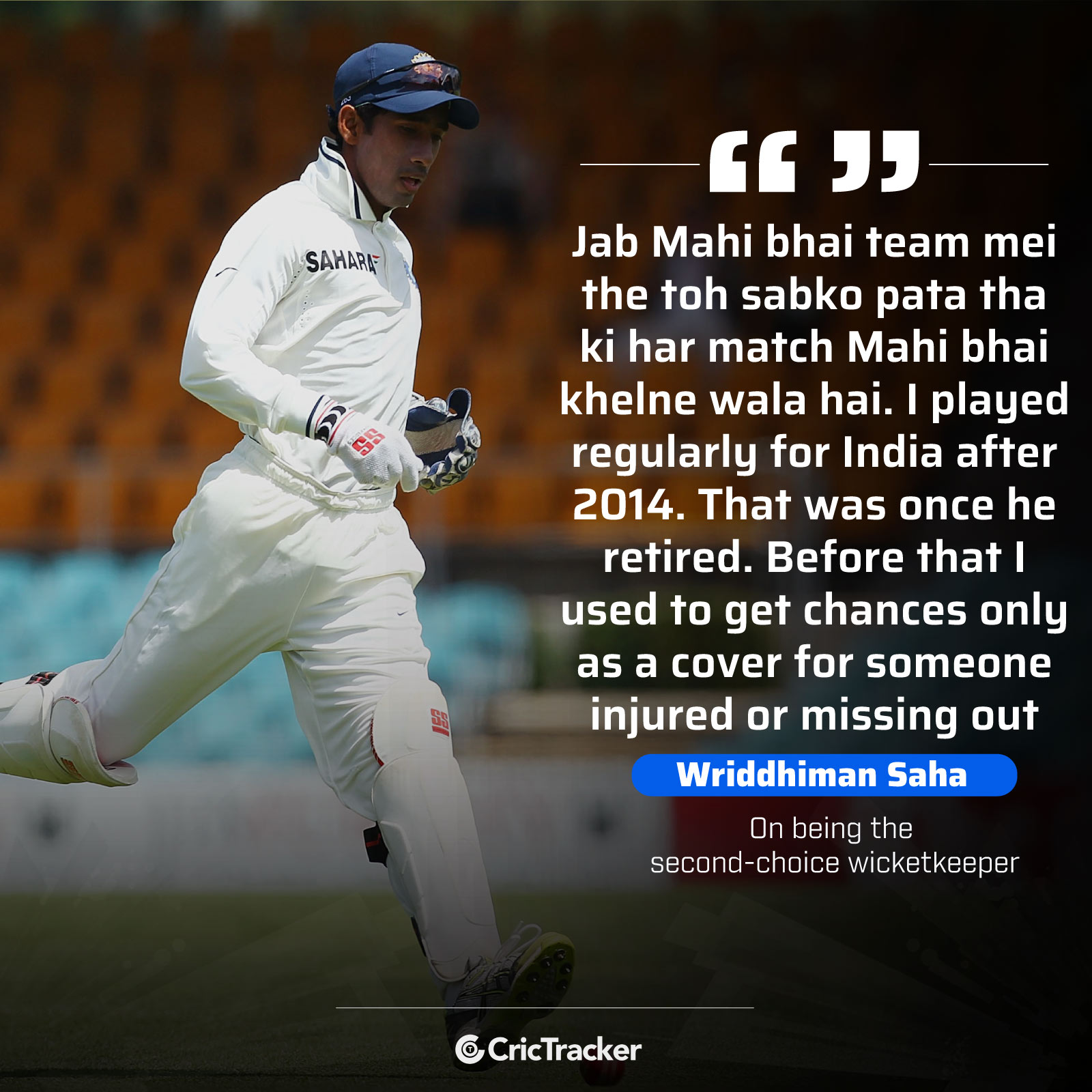 Your debut Test came way back in 2010. The next Test match did not come until 2012. And you waited for nearly three years for your third. What went through your mind at that time and how did you explain things to yourself?
All the games I played that time were only when Mahi bhai got injured. He was once suspended in 2012, that is how I got to play my second Test. I used to get chances only as a cover for someone injured or missing out.
It is crucial to play regularly, because only then can one show their potential and make an impact. I tried my best in whatever chances I was given, but not getting regular games made it hard for me. Any player who gets back-to-back games will always be high on confidence.
I played regularly for India after 2014. That was once after Mahi bhai retired. I continuously played until 2018, got half-centuries and centuries, and scored well. It is simple, if you get a game once in two years, it won't work. But that is all for the team management to decide.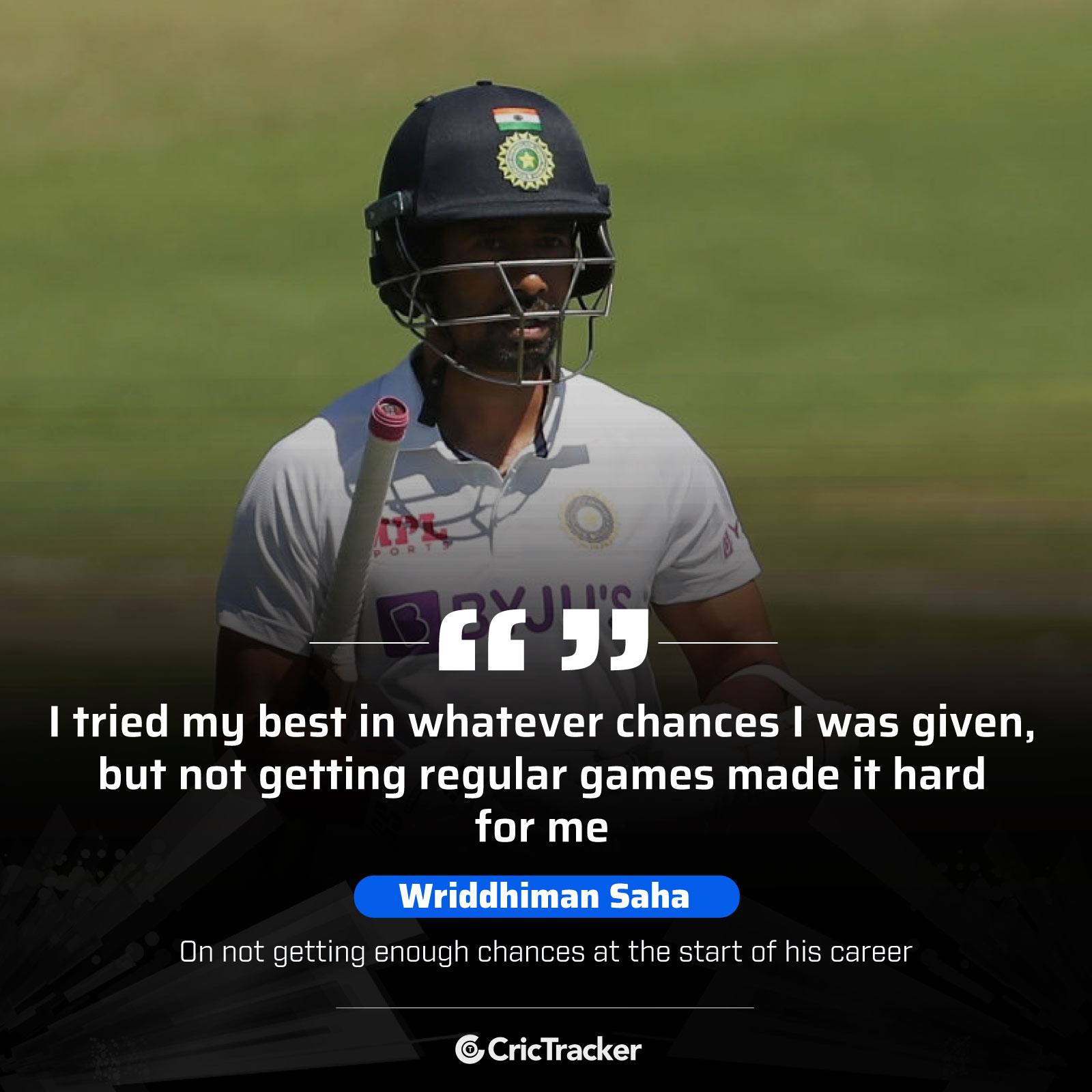 Test performance by year
| | | | | | | | | |
| --- | --- | --- | --- | --- | --- | --- | --- | --- |
| Year | Matches | Inns | 100s | 50s | Runs | Avg. | Catch | Stumpings |
| 2010 | 1 | 2 | 0 | 0 | 36 | 18 | 0 | 0 |
| 2012 | 1 | 2 | 0 | 0 | 38 | 19 | 2 | 0 |
| 2014 | 1 | 2 | 0 | 0 | 38 | 19 | 2 | 0 |
| 2015 | 8 | 13 | 0 | 2 | 255 | 23.18 | 10 | 5 |
| 2016 | 9 | 11 | 1 | 2 | 366 | 40.67 | 17 | 2 |
| 2017 | 11 | 14 | 2 | 1 | 423 | 42.3 | 34 | 3 |
| 2018 | 1 | 2 | 0 | 0 | 8 | 4 | 10 | 0 |
| 2019 | 5 | 4 | 0 | 0 | 74 | 24.67 | 17 | 1 |
| 2020 | 1 | 2 | 0 | 0 | 13 | 6.5 | 0 | 0 |
| Total | 38 | 52 | 3 | 5 | 1251 | 29.09 | 92 | 11 |
You have met with multiple injuries on your way. Some have ruled you out for months at times. How difficult is it to make a comeback in an overly competitive team like India after not being around for such long periods?
The longest I was out after picking an injury was the one of my shoulder in 2018. I faced some hamstring niggles too, but that only takes 2-3 weeks [to heel]. But the shoulder injury took a long time. It was before the England series. That is when DK [Dinesh Karthik] and Rishabh [Pant] came in.
Rishabh played well after that, got a century in England (The Oval) and then against Australia (Sydney) and he helped the team in overseas conditions. From there on, I had to wait to get inside. But that's the nature of any sport: you play when you perform. Injuries are a part of the journey and comebacks are always difficult.
By your own admission, you are a keeper first and then a batter. What is the major reason behind that thinking?
Bachpan se rahi hai yeh thinking [laughs]. The reason is straightforward. I love keeping so much. Ever since I started to play, keeping was the number one thing for me and batting or anything came later in the list. That is how it will always be for me, at least.
Indian wicketkeepers with more than 100 Test dismissals
| | | | | |
| --- | --- | --- | --- | --- |
| Player | Innings | Catches | Stumpings | Dismissals |
| MS Dhoni | 166 | 256 | 38 | 294 |
| Syed Kirmani | 151 | 160 | 38 | 198 |
| Kiran More | 90 | 110 | 20 | 130 |
| Nayan Mongia | 77 | 99 | 8 | 107 |
| W Saha | 70 | 92 | 11 | 103 |

The need for versatility in cricket has increased to a different level now. Keepers often grab the spotlight these days with their batting exploits. How do you feel when you are discussed purely for keeping?
No, I do not think about this at all. My priority is always the team and I pay less attention to any opinions. Batting-wise, I mostly get chances in really bad situations, and I hardly have time. Getting in [to bat] when the team is looking to declare or batting with the lower-order, in such situations, it is not possible for me to play freely or for my personal records.
I can easily try to secure my wicket and remain not out, but if the team wants quick runs in a Test before declaring, my duty is to do that. In that attempt, I have often lost my wicket. I know I have not scored a lot of runs; my average is not good [laughs], but I have played some great knocks in those situations as well, so it is acceptable for me.
As you missed out due to injuries, Rishabh Pant solidified his position in the team as a first-choice keeper. Having already lost opportunities earlier, do you have any regrets about not managing to hold that tag for too long in the team?
I have come to terms with it. [In] the initial part of my career, I was always the second-choice keeper [after MS Dhoni]. Injuries are unavoidable and when one player goes out, it is a chance for someone else. Rishabh has been delivering extremely well for the team, but I had my time. The four years from 2014 to 2018, I was the first-choice keeper. Now, it is Rishabh. Whatever the management decides, I know it will be for the benefit of the team.
As a senior wicketkeeper, what are your thoughts about Rishabh Pant, the keeper?
The more he plays, the better he will become. Playing continuously has helped him in getting that confidence and momentum. In his initial days, he used to make mistakes, but he has worked hard and has improved immensely. He is only going to get better with time.
You have kept wickets brilliantly regardless of who has been the bowler. But who do you feel is the toughest bowler to keep against?
If I consider all the formats, picking Rashid Khan has been difficult because of his quick-arm action, so it is a challenge to keep against him. From the Indian team, R Ashwin is tough. He has got plenty of variations, so [it] becomes hard to judge.
What according to you is the major cause behind Bengal not contributing as much to international cricket in terms of giving more players?
Consistency. A team needs to be consistent to produce players. We have got plenty of talented cricketers and some of them have even played for India A. Ishan Porel, Abhimanyu Easwaran, Anustup Mazumdar.
If a team regularly plays and qualifies for semi-finals and finals in domestic tournaments, the selectors notice that and look to pick players from such teams. That is the reason why Mumbai, Karnataka have given so many cricketers.
There has been something missing that keeps us from getting to the top. I am happy that the last 1 or 2 years have been good for Bengal cricket and hopefully, more cricketers will represent India in the future.
Apart from red-ball cricket, you have plenty of IPL experience. Did you ever have ambitions of representing India in the shortest version of the game?
Always. I always wanted to play T20Is for the country and more ODIs. But who will play, who will not, which format you get to play, all this depends on the management and selectors. I respect their decisions. I enjoy the shorter format a lot so I always try my best in the domestic games and IPL.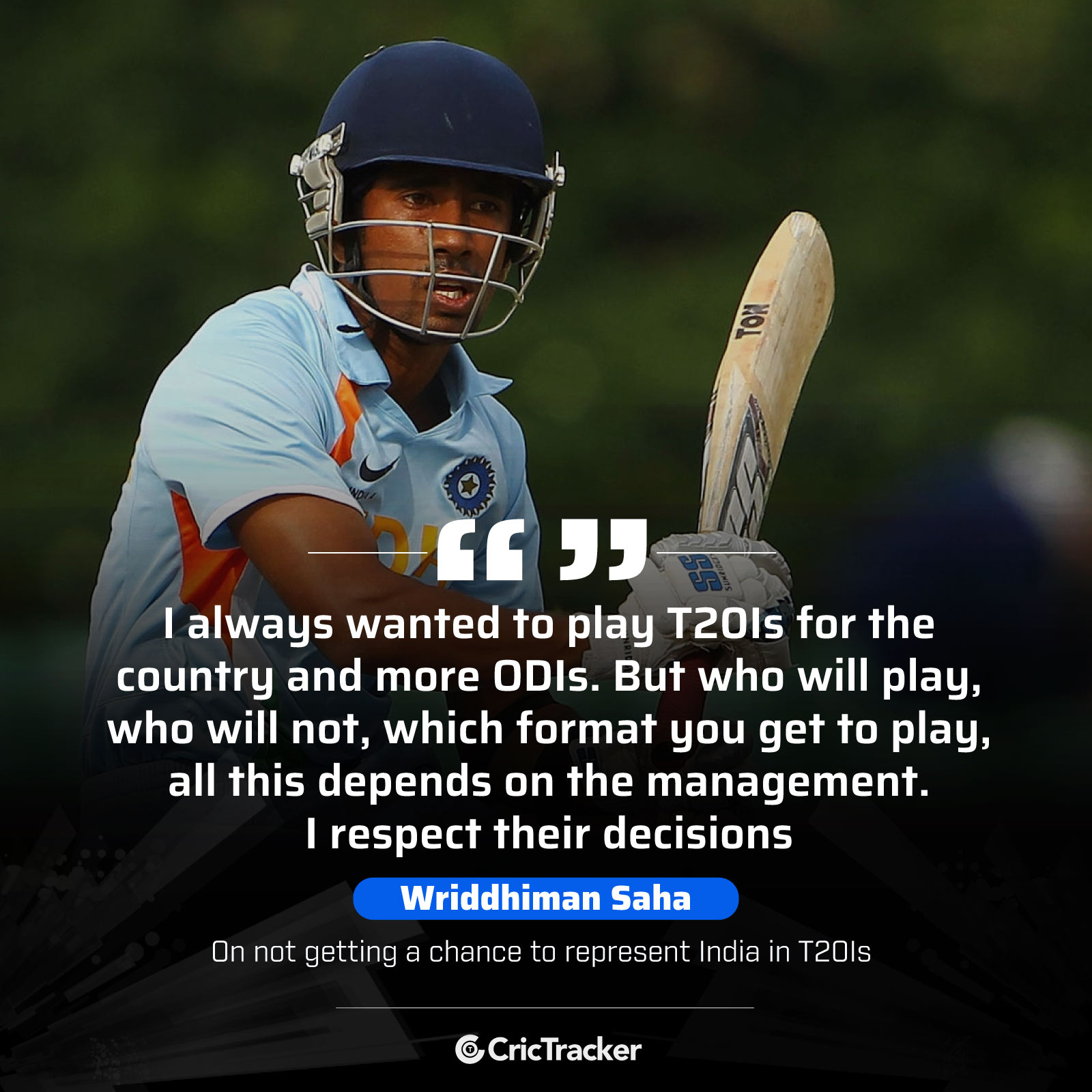 India's top-order is nearly a no-entry zone regardless of the format, while your role in the IPL majorly has been at the top of the order. Is there a reason that despite knowing this you have not tried to display your credentials by playing somewhere else in the order? 
This all depends on what the team needs. I have played at the top-order because my team has asked me to play that role. In domestic cricket too, I have mostly been a top-order player. But I have been in the middle-order for Chennai, Kolkata, and Punjab in the IPL. The team combination of these teams demanded me to play there. I like playing at the top because making use of the field restrictions is my strength. In the recent past, that is what my role has been. I will not pick any position only to show how I can perform.
Position-wise performance in IPL
| | | | | | | | |
| --- | --- | --- | --- | --- | --- | --- | --- |
| Position | Inns | 50s | 100s | HS | Runs | Avg | SR |
| Opening | 22 | 3 | 0 | 93* | 597 | 29.85 | 139.49 |
| No. 3 | 23 | 3 | 0 | 59* | 457 | 20.77 | 130.2 |
| No. 4 | 11 | 1 | 1 | 115* | 352 | 35.2 | 136.96 |
| No. 5 | 8 | 0 | 0 | 46* | 155 | 31 | 108.39 |
| No. 6 | 18 | 0 | 0 | 42 | 203 | 13.53 | 107.98 |
| No. 7 | 18 | 1 | 0 | 59* | 222 | 37 | 153.1 |
| No. 8 | 1 | 0 | 0 | 1 | 1 | 1 | 50 |
| Overall | 101 | 8 | 1 | 115* | 1987 | 25.15 | 131.24 |
On the contrary, your batting position in the Tests is much lower. What is the secret behind anchoring efficiently with the tailenders?
Test cricket is entirely different. I only back my batting strength there because the most crucial aspect in the longer format is building partnerships. As far as batting with the tail is concerned, I keep faith in my partner at the other end. You often try to keep as much strike as possible [while batting with the tail], but one cannot secure the strike every time. So, just rotate the strike and try to get a boundary whenever the chance comes. That is how one builds partnerships.
Walk us through the 36 all-out in Adelaide. What was the mood of the team?
At Adelaide, we dominated the game for the majority part and things were under control for the first two days. It was only one hour of lack of application and bad cricket that cost us the game. We had taken a lead in the first innings and if we could have put on even 150, the game would have been ours.
But there was not much talk in the dressing room because everyone knew what went wrong. The entire team knows the potential of each other so instead of looking at what happened, we focused on the process and the result just followed later.
You were given a chance ahead of Rishabh Pant in the Adelaide Test. Did you expect that?
I scored a vital half-century in the practice game before that Test. Rishabh also got runs. So, no one knew who was going to play. Before the match, I was told tu khel raha hai (you are playing). As I did well before the game, I was not worried about anything. But none of us knew who was going to play that game.
You have kept wickets for India in both the pink-ball Tests (Bangladesh and Australia). What are the takeaways?
During the twilight phase, the visibility reduces and spotting the ball becomes slightly more difficult. During daytime and once all the floodlights are on, the ball is easily visible, but the transition phase is somewhat tricky. That applies to even fielders and batters.
There are bigger challenges lined up with the WTC final and England series ahead. How are you preparing for it both as a batter and keeper?
In a Test series like this, every game counts. I also think that there is an advantage of playing at home for England. But at the end of the day, one has to score runs and take wickets. That does not change. In the last three to four away series, we have performed as a team and we all have that in our mind. When we last travelled to England, all the games were close. We know what we are capable of as a team. It will be challenging but we can adapt.
England is always challenging for any wicketkeeper. No exception. The pace friendly conditions make it difficult but if one follows the ball with concentration, it can all be sorted out. I will prepare for it like I always do. Let's see if I get a chance to play.
Saha's Home-Away record in Test cricket
| | | | | | | | | |
| --- | --- | --- | --- | --- | --- | --- | --- | --- |
| Venue | Inns | 100s | 50s | HS | Runs | Avg. | Catches | Stumpings |
| Home | 30 | 2 | 2 | 117 | 678 | 30.82 | 40 | 4 |
| Away | 22 | 1 | 3 | 104 | 573 | 27.29 | 29 | 6 |
| Overall | 52 | 3 | 5 | 117 | 1251 | 29.09 | 92 | 11 |
Do you feel New Zealand has an edge with a two-match series lined up right before the WTC final?
It is always better to have match practice. New Zealand will be better prepared in that sense. So, yes, they will have an advantage, but it all comes down to better execution of plans on the given day. The team that will do better, will always win.
There has been plenty of guessing going around the fate of the IPL. What do you think was different between IPL 2020 and 2021, and how do you see the 14th edition being conducted?
As a player, I would want it to be conducted, but going by everything that I have been hearing recently, it is extremely hard to find a window. But it was the correct call to postpone it because players had started falling ill. There was a lapse certainly because everyone was in a bubble. No one knows how the virus managed to get inside.
In 2020, there was no such problem after the tournament started. We tried to follow all the norms, but no one knows if the ground staff and other members followed the rules in the same manner. There was definitely something missing in 2021. That is the difference I felt.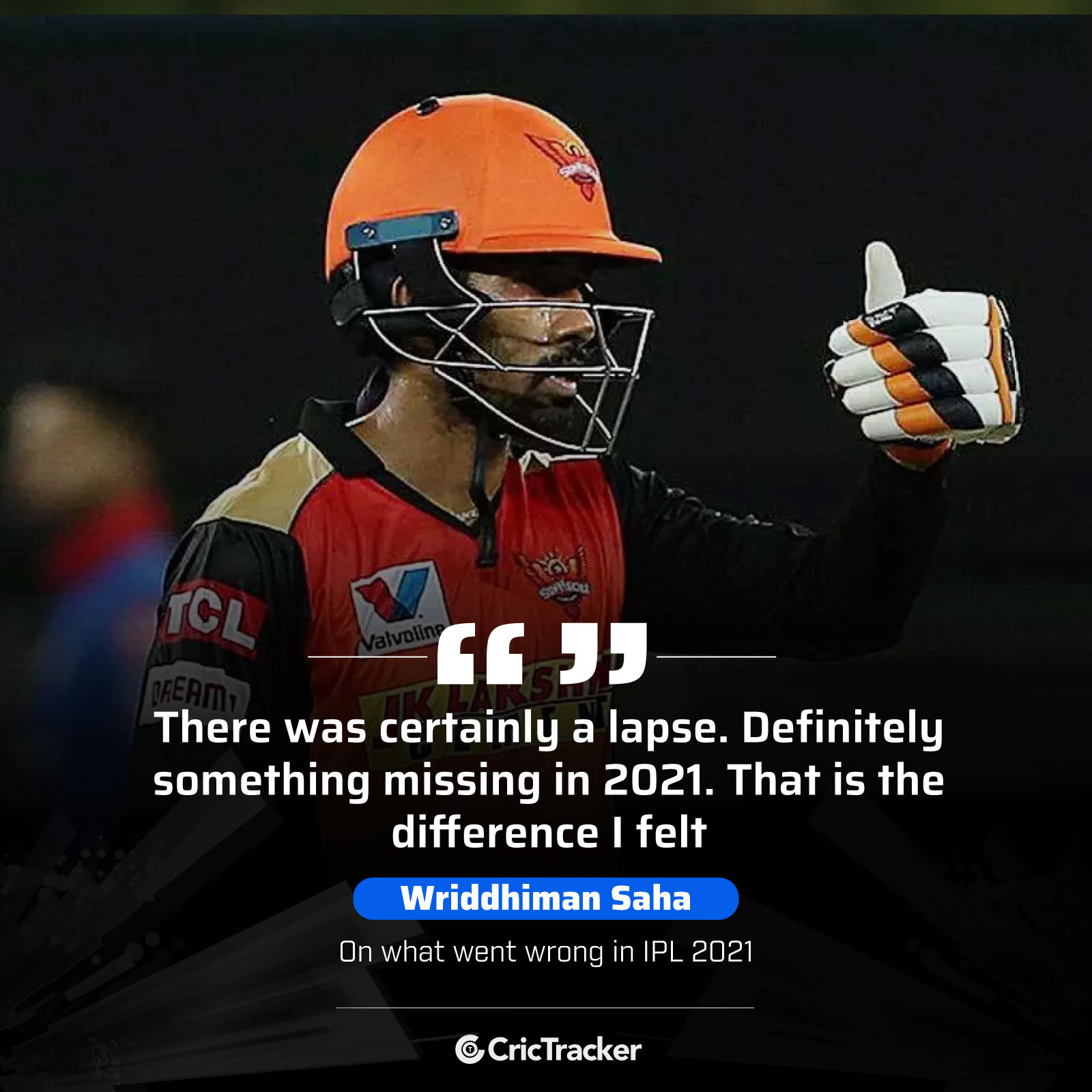 What was your experience while recovering from Covid-19?
I had mild symptoms. My nose was blocked and I lost taste. I had fever for the first couple of days, but I did not face too many issues. Initially my family and I was worried, but luckily, I did not have as many symptoms. I have recovered completely now, but need to see how the body reacts after resuming training.
Where do you feel things went wrong for the Sunrisers Hyderabad in 2021? Could SRH have maintained the qualification streak?
The main problem was that our middle-order did not click. The bowlers and the fielders performed well, but the batting was not up to the mark. In leagues like these, everyone in the team needs to perform. But we could have still qualified. We faced these issues in 2020 too, and we lost too many games at the start. But then came back and qualified eventually with consecutive wins.
Another Indian team will be up against Sri Lanka when you will face England in another corner of the world. What are your thoughts on this? 
Look at the population of India [laughs]. India is a crazy nation when it comes to cricket. So many people pursue it here. I believe we can easily make three to four international teams. I am sure that both the teams will be able to perform and give a tough fight.
What next for you, then? 
Now the focus is on the upcoming tour. We will be travelling to Mumbai and join the team bubble. There are a lot of restrictions, but we will practice and train in the gyms at the hotel because no one will be allowed to go outside. The first few days, in fact, we cannot even leave our hotel rooms. Even after going to England, there will be more quarantine [laughs].
How do you spend time in such long spells of quarantines?
[Laughs] Room ke andar hi khaao, room ke andar hi training karo, room ke andar hi so jao (Eat, train, and sleep inside the room). I just try to get in touch with friends on call, do video calls to family members. Rest of the time, Television, Netflix, Hotstar, and Amazon Prime are the best pastimes.
A favourite show you would want to name?
I like any show related to science-fiction and comedy. I can watch that anytime.
What will be your advice to young cricketers and ones who want to pursue wicketkeeping?
I have always believed in staying positive in life. There will be ups and downs, but if you stay positive, the chances of success increase. At times, things won't work, but then you need to follow this rule even more strongly. The other thing I always focus on is maintaining my work ethic.
My advice to any aspiring wicketkeeper will be to keep following the ball and keep with soft hands.
Follow us on Telegram