CricTracker Exclusive - I was expecting the India call-up: Abhimanyu Easwaran
In an interaction with CricTracker, the 25-year-old opened up on a host of things.
Get every cricket updates! Follow us on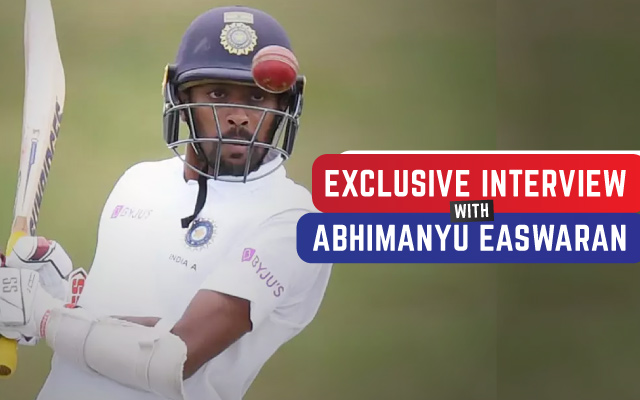 A laborious student of the game who has chosen the hard way to prove his credentials, Abhimanyu Easwaran is proud after having earned a call-up as a reserve for India's Test team that is set to travel the UK for the World Test Championship final, which will be followed by a gruelling five-Test series against England.
Having risen the ranks in the domestic circuit through his consistent performances for his Ranji team Bengal, Easwaran's journey has been a perfect story of a father's dream being completed by his son. In an interaction with CricTracker, the 25-year-old opened up about a host of things including his journey from Dehradun to Bengal as an 11-year-old, his father's contribution in his life, the impact of Sourav Ganguly and Rahul Dravid on his career and the preparations for the upcoming tour.
Excerpts:
It must be a brilliant feeling to get on the flight to England as an India Test reserve but narrate how you felt when you got the news about the selection.
I was expecting the call-up. I was really happy when it was confirmed because I think getting into the Indian team is a proud achievement. Everyone in my family was really happy and proud as well. So [I am] very satisfied.
Tell us more about your journey from Dehradun to Bengal. What prompted you to leave your hometown and go to a different city, mingle into a different culture, and how did it turn out?
I was just 11 years old at that time so I was really small to understand these things and pay attention. But it was my father's decision to take me to Bengal to get me better opportunities. Uttarakhand was not affiliated with the BCCI at that time so my father wanted me to get the best chance to play the game. So, we travelled to other cities as well like Delhi, Nagpur before I came to Calcutta. I got that [opportunities] there by playing club cricket and local tournaments. I really enjoyed my time playing cricket because that is what I wanted to do.
Your father established the Abhimanyu Cricket Academy. Tell us about the atmosphere there and how much did that help you.
My father started that at a young age and the academy has been running for a very long time now. It has got world class facilities and it is a great place to learn. [It has] got everything that one needs at one place and I always train and practice at the Academy whenever I am at Dehradun during my breaks. I have been very lucky to have got such facilities and such an academy to play cricket ever since a young age.
Did your father's close association with the game contribute to your liking towards the sport and take it as a profession?
Yeah, obviously. He has been passionate about the game himself and I found my interest in cricket since an early age, so I even learnt it from him. I used to watch him play as a kid and that is how I got introduced to the game. He was playing club cricket when I was around 4-5 years old, so I used to accompany him. All that certainly inspired me and I started loving the game more.
Mohun Bagan has defeated Bhowanipur Club by 6 wickets and clinch CAB First Division One Day Tournament trophy. Man of the Match Abhimanyu Easwaran scored unbeaten 167.#JoyMohunBagan #cricket pic.twitter.com/XQ8kuXNLY8

— Mohun Bagan (@Mohun_Bagan) April 27, 2021
Sourav Ganguly has served as CAB's President while you have represented Bengal. What role did he play and what interactions did you have during his tenure?
I consider myself extremely lucky that I was able to have interactions and spend time with him. Just to have him watch us practice was a great feeling and he was really supportive towards all the cricketers, was extremely proactive in ensuring that we had everything we needed. He always pushed me to score as many runs as I can and score with consistency… and he did that for every cricketer. So, he kept motivating us to improve our performance.
We often hear that leadership responsibility changes a batsman. Share about your task as the captain of Bengal after taking that role from a senior player like Manoj Tiwary.
I think the opportunity to lead a team like Bengal was a big one and it was a great learning experience for me. I had done that in club cricket but this chance was different so I surely enjoyed playing the role and there were a lot of chances to learn the different aspects of the game. Manoj bhai was really supportive. We have played a lot together and he guided me always. There was support from other seniors in the team as well, so all those experiences helped me a lot.
After the breakthrough Ranji 2018-19 season, a sudden dip arrived in 2019-20. As a professional, how do you handle such setbacks, given form is never guaranteed in any sport.
There are phases in life when you face such lows in your career and things do not happen as per plans. You want to contribute to the team always but it does just not work at times. I think that is the time for you to believe more in yourself, because three, four, or five innings will not change you as a player. I just tried to keep believing in myself; tried to improve my game, and I knew that it will take one good knock to come back. And during that phase, I enjoyed my team's success, because Bengal reached the Ranji finals (in 2019-20).
Contrasting performance in two seasons
| | | | | | | | |
| --- | --- | --- | --- | --- | --- | --- | --- |
| Season | Matches | Innings | Runs | H.S. | Average | 100 | 50 |
| 2018-19 | 6 | 11 | 861 | 201* | 95.66 | 3 | 3 |
| 2019-20 | 10 | 17 | 258 | 62 | 17.20 | 0 | 1 |
Apart from the occasional hiccups, you have been scoring truckloads of runs in the domestic setup. Did you feel that a national call-up was round the corner? Or you feel it should have arrived even earlier?
The focus was always to play for the country and I always wanted to be a part of the Indian team. I did feel that I should have been a part of the team when I was scoring all those runs but I did not keep the selection in my mind because that was truly not in my hands. I kept my attention on performing consistently because I knew the selection will happen, so I did not take pressure on my mind, kept myself relaxed, and aimed at continuing with my performances.
Overall career snapshot
| | | | | | | | |
| --- | --- | --- | --- | --- | --- | --- | --- |
| Format | Matches | Innings | Runs | H.S. | Average | 100 | 50 |
| FC | 64 | 111 | 4401 | 233 | 43.57 | 13 | 18 |
| List A | 62 | 61 | 2875 | 149 | 48.72 | 6 | 18 |
| T20 | 19 | 18 | 471 | 107* | 33.64 | 1 | 2 |
We hear it often that some innings change an individual. Do you feel the 186 against Hyderabad when you single-handedly fought the opposition and the famous 183 not out during the record run-chase against Delhi in Ranji's 2018/19 season were those kinds of knocks?
I do believe that there are innings that change you as an individual, but the best part about these innings was that I played according to the situation. I scored 186 against Hyderabad in 2018, and that came in a tough situation, and the 183 was against Delhi a few days later. That one was special because we were chasing a big target, some 340 runs in the fourth-innings [323 runs] and we won the match eventually. That was truly a special knock and it gave me a lot of confidence.
I later got a double-century (201) in the same season against Punjab on a slow-turning track, where we were dismissed early in the first innings. So those kinds of innings do make you feel special as you fight to contribute to the team.
Walk us through your experience with India A stints. How has that experience helped you grow as a professional?
I feel it has [helped] a lot. When you are playing for India A, that is one level above the domestic level and that level I think is a bridge between domestic and international cricket. So, the fact I was playing against international players was a brilliant chance. I travelled outside India and played in West Indies, New Zealand, and England, and the experience of foreign conditions gave me a lot of confidence and helped me grow professionally.
4000 FC runs at 50 with 13 100s. Big match runs in Duleep Trophy & for India A. He's 23, has a rock solid technique & an unflappable temperament. With KL Rahul sodhapifying badly, India must blood Abhimanyu Easwaran to open the batting in test cricket, the kid will serve us well.

— Wear Mask, Take Vaccine, Stay Home (@SriniMaama16) September 8, 2019
During your participation at that level, you have played alongside many senior players. How much have those opportunities helped you in terms of gaining exposure?
Yes, definitely. Because many international and senior players play there at times. I got a chance to play with Ajinkya Rahane, Cheteshwar Pujara, there. Watching them prepare for the game and just having the opportunities like sharing the dressing room apart from playing alongside them and following their game has taught me a lot.
You have had the privilege of learning the game from Rahul Dravid. What have you learned from him?
He has been a great mentor and my idol. Having someone who has played the game for so long is the best you can ask for. He has made many of us learn the small things that come after the experience of playing the game for years. He made me understand the technicalities of the game, taught me to be professional… helped a lot in improving me with the mental aspects of the game, and the best part is that he is been so approachable, always just one call away to help anyone with any problem or give any advice.
You have previously been a part of the team against England as a reserve. What conversations did you have with the established names in the international circuit?
The dressing room environment was just great. I had a great chance to experience that, talk and spend time with Rohit Sharma, Virat Kohli… it was really great. Against England, the best part was how the team bounced back. We lost the first Test in Chennai, so everyone was angry that the team lost at home. But there was nothing negative inside the dressing room and everyone backed each other because they knew we could do it. To be 0-1 down and then comeback to win the series 3-1 was something phenomenal, so I really enjoyed being a part of the team at that time.
The challenge this time will be different as India will be travelling to England. The pace-friendly conditions, facing the Dukes ball – harder texture and pronounced seam, unlike SG or Kookaburra. How are you preparing? Also given that a chance might just come as it did for T Natarajan in Australia.
It will be a challenging tour but I am preparing well for it. We are trying to have different drills and trying to practice early in the morning to get as close to the conditions that I will face in England. The ball swings and seams there a lot longer [duration] as compared to India, so I am trying to practice on grassy pitches with some moisture.
[On getting a chance] I just want to be completely prepared and give my best to any chance that comes on my way. I have played alongside the players who went to Australia and gave such match-winning efforts so it is really inspiring.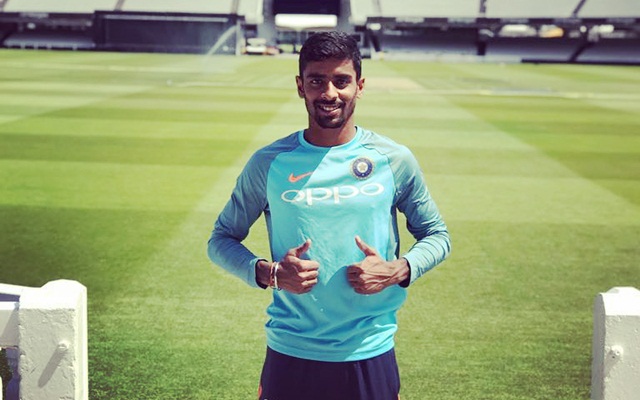 COVID has thrown an entirely different dimension of bio-bubbles into the sport. How has your experience with this new normal been?
Bubble-life has been tiring for sure because we need to take care of a lot of things. You cannot move freely, just sit in your hotel rooms, but it is now a part of the process, so just following it.
Thousands of young cricketers will be watching you. What is that one golden advice for them to scale heights like you?
I will recommend two things: one is to enjoy your cricket because that is the most important part for any player. That is why you play the sport. And the second is to be honest, and give your 100 per cent to the game. If you ensure that, success will follow.
Free Hit with Abhimanyu
Favourite shot: Straight drive
Favourite cricketing memory: [Laughs] Hard to pick, but I will choose my knock against Orrisa. I scored 88 and 39 on an extremely difficult batting track.
Favourite actor and actress: Amir Khan and Deepika Padukone
Favourite cuisine: Indian always
Beaches or mountains: Beaches
Guilty pleasure: I am not revealing that here! [Chuckles]