CricTracker Exclusive – MS Dhoni knows how to handle players and get the best out of them: Krishnappa Gowtham
K Gowtham has been a pivotal player for Karnataka in domestic cricket for the past few years.
Updated - Feb 19, 2021 6:59 pm
1.8K Views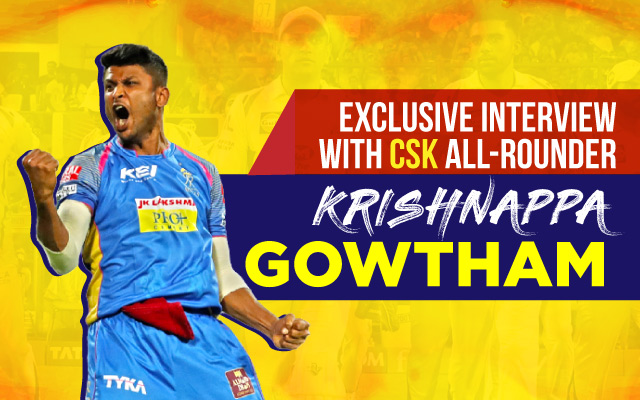 On August 23, 2019, Bellary Tuskers and Shivamogga Lions were going head to head in a Karnataka Premier League match at the M Chinnaswamy Stadium in Bengaluru. A certain lower-order batsman was sent in at no. 3 as a pinch-hitter in a rain-marred match. He launches an assault on the bowlers, never seen in the league before. He scores 134 runs off just 56 deliveries, whacking 13 sixes and seven fours on his way. 
As his team goes to defend the total, the ball is tossed to him and he can't do anything wrong. He picks up eight wickets in the four overs which he bowls. This effort is almost god-like and hardly any player has ever had a match like this. But, unfortunately, the tournament doesn't fall under official T20 matches.
The man who did all of that on that evening was recently picked up by Chennai Super Kings for a mammoth INR 9.25 crores. That is the highest ever bid for an uncapped player. The name is Krishnappa Gowtham. As he celebrated getting picked by CSK, CricTracker caught up with the all-rounder for a small chat. 
Gowtham's 'dream becomes true' moment
Even though he isn't exactly a youngster, he was as excited as any other player would be to play under MS Dhoni. The former Indian captain is a master when it comes to handling spinners and the move of going all-in for the off-spinner seems quite obvious, given that they didn't have any to start off with. 
Upon being asked how he feels upon being picked by the team led by MSD, Gowtham said, "It's a dream come true for me, I would say that I have always looked up to him for the way he carries himself and the way he thinks about the game." His excitement was visible in his voice but he went on to say that his family was very much pleased as he was getting picked for CSK. 
"They were happy for me and extremely excited. They were largely happy because I went to Chennai and I will be part of the CSK franchise." Gowtham who has been a regular feature in the IPL off-late further revealed that he has had several chats with MSD before, where the veteran has talked about his game and given him tips to enhance it. "Whenever I have got an opportunity during the IPL games, I have asked him about how to improve my game. He has also given me tips and he is always around for any youngster."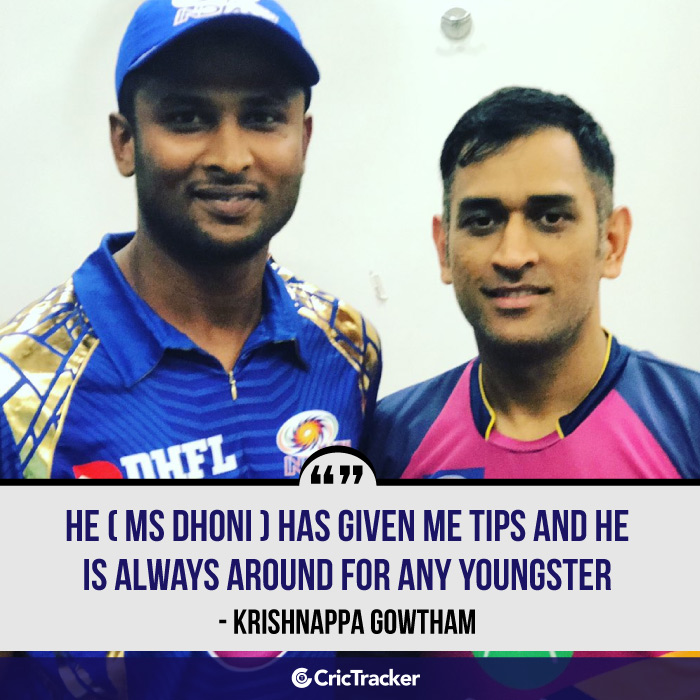 Getting picked for such a huge contract can be sometimes overwhelming for players. But, for Gowtham, it is not something new. The last time his name had gone under the hammer, he had been picked up by Rajasthan Royals for INR 6.2 crores. In the 2018 IPL season, his line and length had been quite impressive and who can forget his 11-ball 33 against Mumbai Indians where he took on Jasprit Bumrah. 
You don't put a number on your head and go out to play: K Gowtham on big IPL contracts
Upon being asked how he handles the pressure of such a huge contract, the Karnataka player's reply seemed to be coming from a person who has enough experience of handling pressure. "No, not really (does big money pressure get to him). See, as a professional cricketer, you can't take the pressure of these things. You need to handle these kinds of things. You don't put a number on your head and go out to play. You go out there and try to do your best on any given day."
K Gowtham has not just been someone who is a dasher in a T20 match and can bowl off-spin. He has tremendous numbers in first-class cricket, which has pushed him up the ranks and made him a first-choice for India A teams. He is currently with the Indian Test team as a reserve player. Upon being asked if the players were watching the IPL auction, Gowtham revealed that the timing didn't allow them. "We have just travelled and come down. We had reached the hotel around 15 or 20 minutes back. We are all in our own rooms and watching it on television. We didn't watch it together."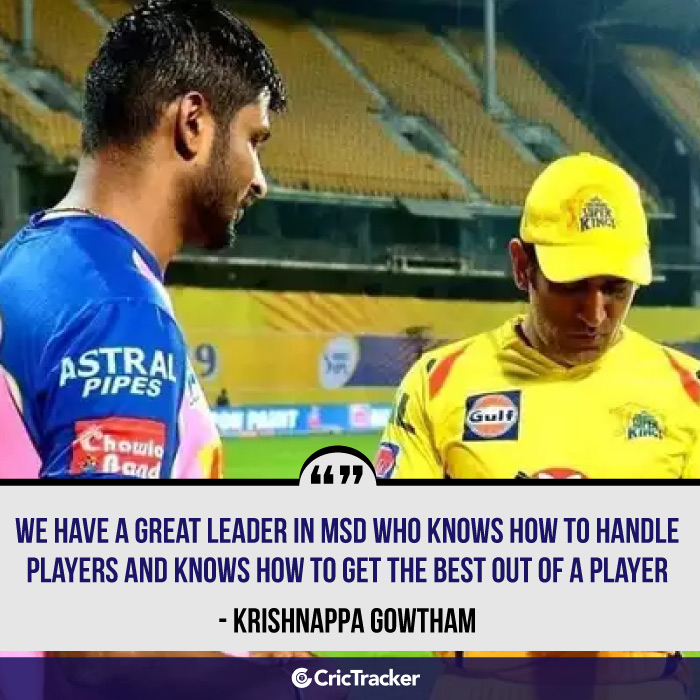 Gowtham's addition has made CSK look much stronger in terms of balance and skills. Talking about the team's balance, he said, "We have a really good team I believe. We have a good blend of players. We have all kinds of variety of players and we have covered all the basics I believe. We also have really good overseas players coming in. On top of that, we have a great leader in MSD who knows how to handle players and knows how to get the best out of a player. So, I think we have a pretty balanced side."
The aspiration to learn from the IPL 2021
Gowtham's nature has been praised by his teammates and his outlook towards life seemed commendable when he was asked if there was anyone specific he wanted to meet on the CSK side. However, the 32-year-old seems to be looking forward to being with all the players, in order to learn something or the other. "I think I am excited to be around everyone. It is a good time to mingle around with all these great players and get to know each other. I would want to get the experience out of every international player on the side. We even have some good domestic players and you know they can also try something. You can also take it from them and try to learn more from them. Looking forward to it," Gowtham said.
The all-rounder also shied away from pointing out the moment in which it all changed for him. He believes that his mindset towards the game has evolved over the years and made him the player that he is today. "I can't point out any such turning point in my career. In cricket, some days are going to be good and some days are going to be bad. I think my mindset has changed more than anything. The way I used to approach the game before is totally different from what I do now," he concluded.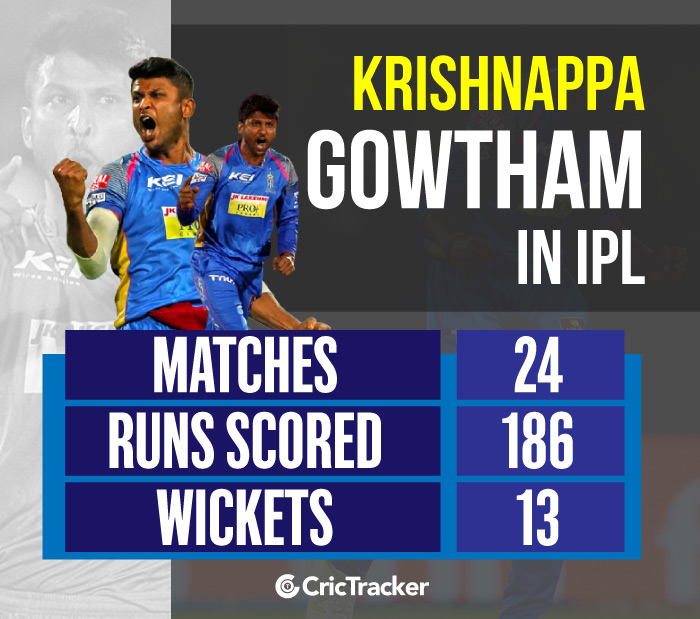 The IPL has created a platform for many young, quality players and sometimes, players in their mid-30s to come out and express themselves. K Gowtham has been a pivotal player for Karnataka in domestic cricket for the past few years. Even though an India cap hasn't yet come calling but in his own words, his dreams are coming true with the IPL. 
Follow us on Google News