CricTracker Exclusive – Rishabh Pant made me his trump card and I tried to deliver every time: Avesh Khan
Avesh Khan speaks about his experience of playing with Virat Kohli, AB de Villiers and a lot more.
Updated - May 21, 2021 5:16 pm
1.5K Views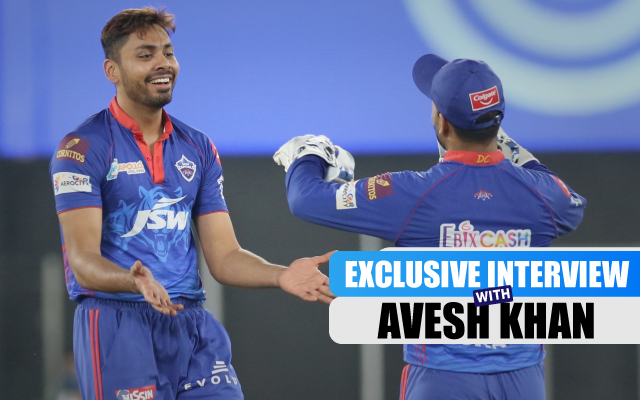 Five months, nine days. This is the duration for which fans had to wait to see one of India's favourite sons, Mahendra Singh Dhoni in action. The scenario when he came to bat can be compared to the beginning of the third act of any Alfred Hitchcock film – all set for the vintage Hitchcockian climax.
Chennai Super Kings were 136/5 after 15.1 overs against Delhi Capitals. First ball – good length around the fourth stump – Dhoni tries to push it down to the covers – catches the inside edge. Second ball – around the same length – Dhoni opts for a pull – catches the inside edge again. This time, however, the ball crashes into the stumps.
The architect? Avesh Khan. The name is not unheard of for cricket enthusiasts, for Khan has been there or thereabouts in the circuit, albeit as a bridesmaid, not the bride. This year has been different, for, in a team jam-packed with quality seamers, he has shone the brightest.
A month and a half after that match, the speedster from Madhya Pradesh finds himself among the list of players who will board the flight to England. Every such success story has an unsparing prologue – Avesh Khan's case is no different. Before he became famous for dismantling stumps, he saw his family's lone source of income getting dismantled. Not metaphorically, but in quite a literal sense.
We caught up with him to know about his story, from then to now.
Here are the excerpts from the interview:
Q. Seven years ago, when you were only 17, you witnessed an incident that fuelled your desire to make it big. You saw your father's paan shop getting demolished. Can you take us through that and shed light on your upbringing?
My father had a paan shop, which was his only source of income. It was demolished to facilitate road construction. I was not established back then and was yet to represent my state. We were a family of six – me, my parents, two sisters and my grandmother. So obviously, it was a very tough time for us.
I saw the struggle of my father and my family. Every teenager has the desire to wear nice clothes, eat in fancy places. But I remember being told by my mother, "Only you can fulfil your desires." Cricket has always been my passion, but now I was determined to excel in this, so as to help my family.
Q. Despite being India's highest wicket-taker in the ICC U19 World Cup 2016, you went unsold in the IPL auction. What kept you motivated during this phase? What was Rahul Dravid's role in it?
In the league stage of the ICC U19 World Cup 2016, I had picked up 9 wickets in 3 matches. The IPL auction was on the day we played our quarter-final against Namibia. I was hopeful of getting picked, as I knew I was bowling well.
After I came from the match, I was informed that I went unsold in the auction. It was disappointing that despite being the leading wicket-taker of the Under19 World Cup then, I failed to fetch a bid.
Avesh Khan's stats in ICC U19 World Cup 2016
| | | | | | | | |
| --- | --- | --- | --- | --- | --- | --- | --- |
| Matches | Overs | Maidens | Runs Conceded | Wickets | Average | Economy Rate | Strike Rate |
| 6 | 52 | 6 | 181 | 12 | 15.08 | 3.08 | 26 |
Rahul sir came and told me, "Winning the World Cup for your country is more important than getting an IPL contract. Getting picked in IPL is not in your hands, but performing well for the nation is. If you help India win this trophy and become the highest wicket-taker, you might as well make it to India A directly."
He constantly reminded me that I was in great touch and my primary job was to help India lift the trophy. Rahul sir always encouraged me to single-handedly win the U19 World Cup for the team.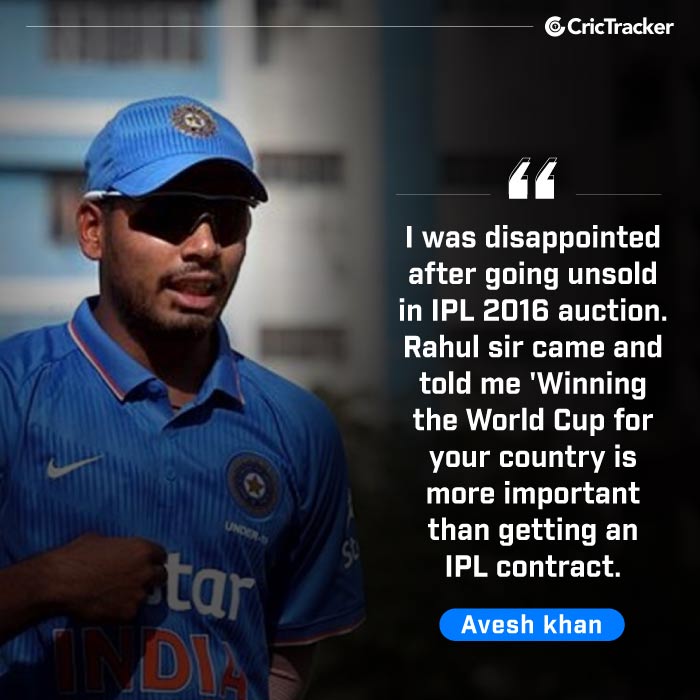 Q. Your IPL debut was in 2017, for Royal Challengers Bangalore. You played one game, but got to share the dressing room with some of the stalwarts of the game like Virat Kohli and AB de Villiers. What was your experience in the RCB camp?
It was a great experience. I was picked a year before as a replacement. Adam Milne was injured and I was called up for trails, where I performed well. I learned a lot from Virat bhai's approach to the game during my stint at RCB. His attitude was to not throw his wicket away and bat as long as he could. He used to say that his intention is to dominate any and every bowler he is facing.
AB de Villiers also helped me a lot. He once told me, "Even if you are bowling to me and I smack the first two deliveries for sixes, your plan should always be to take my wicket. Every ball should be bowled with the intention of picking a wicket."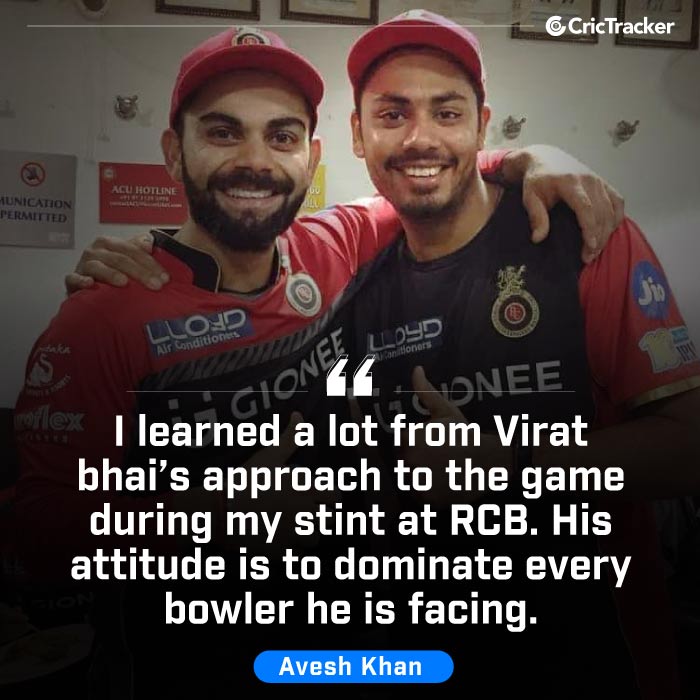 Q. Your current IPL team, Delhi Capitals have a plethora of experienced seamers in the likes of Kagiso Rabada, Ishant Sharma and Umesh Yadav. When did you get to know that you will be a part of the playing XI?
I had only played 8 games for DC in the past three seasons – 6 in 2018 and one each in the next two seasons. But I knew that I was bowling well and was doing well in the domestic circuit. This year also, I have performed well in the Syed Mushtaq Ali Trophy.
I kept myself well-prepared and was just waiting for the chance to come. I knew that Kagiso Rabada and Anrich Nortje will be unavailable for a few matches and Ishant bhai was, unfortunately, nursing a niggle.
So, I was aware that I might get a chance and tried to perform well in the practice matches. Ricky sir backed me a lot. I was informed a week before our first game that I will be playing and he encouraged me to prepare myself mentally.
Avesh Khan's Stats in IPL
| | | | | | | | | |
| --- | --- | --- | --- | --- | --- | --- | --- | --- |
| Season | Matches | Balls | Runs Conceded | Wickets | BBI | Average | Economy Rate | Strike Rate |
| 2021 | 8 | 180 | 231 | 14 | 3/32 | 16.50 | 7.70 | 12.85 |
| 2020 | 1 | 24 | 42 | 0 | 0/42 | – | 10.50 | – |
| 2019 | 1 | 18 | 30 | 0 | 0/30 | – | 10.00 | – |
| 2018 | 6 | 114 | 204 | 4 | 2/29 | 51.00 | 10.73 | 28.50 |
| 2017 | 1 | 24 | 23 | 1 | 1/23 | 23.00 | 5.75 | 24.00 |
Q. Besides Ricky Ponting, you also had the backing of someone whom you know very well. Your U19 teammate Rishabh Pant, now the captain of DC, seemed to have a lot of trust in you. What do you make of his captaincy? Do you find any differences between the Pant of 2016 and the Pant of 2021?
Yes, his attitude is now very different to his 2016 version. Rishabh Pant is someone who always makes his intentions very clear. Obviously, he has supported me a lot. I was given an opportunity in the first game, where I proved myself. I bowled two overs in the power-play, one in the middle and one in death. Pant was spot on with his bowling rotations.
I was used in all phases of the game – powerplay, middle-overs and slog overs. He made me his trump card and I tried to deliver every time for the team. I and Rishabh are good friends, so we spoke a lot daily and also stayed together.
After every game, we used to scrutinize what we did well and what went wrong, and how can we improve in the next match. He always made his plans very clear. Rishabh asked me to bowl according to the field, without being worried of getting smacked.
During the game as well, he used to communicate from behind the stumps. Sometimes, he made gestures and I would pick it up to find out where he wants me to bowl. He is an attacking captain who always backs his bowlers.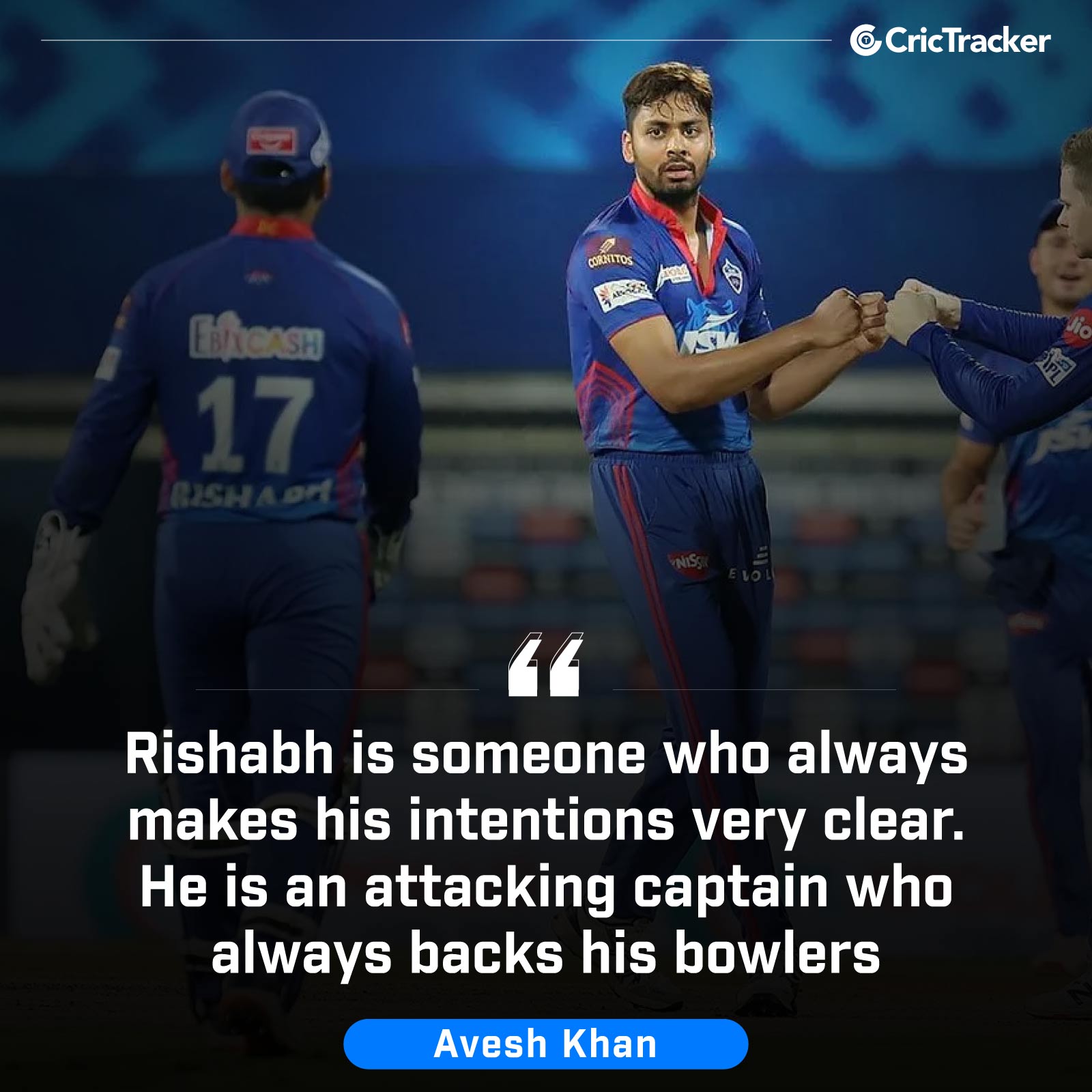 Q. It is now public information that taking MS Dhoni's wicket was your dream. Did you have a chance to interact with him after the game?
Not really. While shaking hands after the game, he praised me. Since he had presentation and media duties, I didn't get to chance to have an extended interaction with him.
Q. MS Dhoni, Virat Kohli, Faf du Plessis, Andre Russell – you seem to have inculcated a knack for dismissing the kingpins of the opposition batting order. Is it something you specifically aim for?
Rishabh, actually, always gave me the ball in the crucial overs. Obviously, the main batsmen of the opposition would be batting then. Irrespective of whom the batsman is, my aim was always to provide the team with breakthroughs. A game of T20 cricket can only be won by picking up wickets. Maine jab bhi bowling ki, dil khol ke ki.
Q. There have been two noteworthy changes in you this year, as compared to the past IPL seasons. You have been fearless in trying out a few variations and have also worked on your fitness, which Ricky Ponting has pointed out. Could you tell us about that?
In the last two seasons of IPL, I only got to play one game per year. When you are playing your first match, you always try to do the basics right and not think about trying out variations. So, I never actually got a chance to showcase the variations I have got. Since I got more opportunities this time, I tried a few new things.
Yes, I have lost around 5-6 kgs. I have hired a dietician and I'm now following a different diet plan every day, depending on what I'm doing on that day. Reducing weight has had a big influence on my performance.
Q. The current Indian team management has shown a lot of faith in youngsters of late. Are you fancying your chances of playing in England or taking it simply as an opportunity to learn from the best?
Since I'm a stand-by, I might as well get a chance to play if someone is injured. If I do get an opportunity, I will definitely give my 100%, but that is not something in my control. My focus will be on learning as much as I can from the tour.
Q. The 2021 ICC World T20 is just around the corner. Is that something you have one eye on, or are you approaching things one step at a time?
I am not thinking that far at this moment. As of now, my focus is solely on the England tour. I am aiming to put in the effort every day to better my game and if a chance comes my way, I will try to ensure that I pick up wickets and help my team win.
Follow us on Telegram