CricTracker Exclusive – Rishabh Pant helps everyone around him but he never boasts about it: Rashid Salmani
Rashid Salmani has some high-profile clients such as Rishabh Pant, Rahul Tewatia, Nitish Rana, Faf du Plessis among others.
Updated - Mar 26, 2021 1:20 pm
963 Views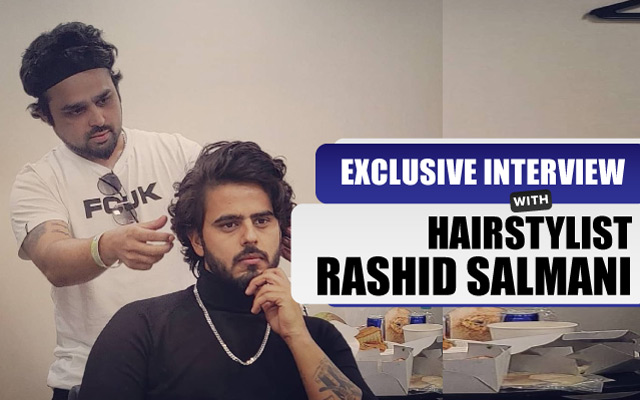 Along with playing cricket in the IPL or for the country, the current players are fond of making a fashion statement every now and then. When it comes to fashion, hairstyle is an important part of it, and some of the youngsters of Indian cricket have the only man to turn to for it. Rashid Salmani.
He is a famous hairstylist who has worked with many cricketers like Nitish Rana, Rishabh Pant, Shubman Gill, Yuzvendra Chahal, Rahul Tewatia. Rashid has also made a name for himself by working with foreign cricketers during the IPL. It is during this IPL season, when Salmani is working day and night, to ensure that the cricketers are happy with their hairstyles. 
In an exclusive interview with CricTracker, Rashid Salmani shared his experience of working with these stars and how close he has become with Rishabh Pant, Rahul Tewatia, Nitish Rana and others. 
Here are the excerpts from the interview:
CT: You are quite renowned in the hairstyling field. How did you go about your career and your journey so far? Also, who was the first cricketer who came for hairstyling and did it help in elevating your career?
Rashid Salmani: See, whatever I have achieved is because of my hard work, yes I do believe that the support from everyone around you is important, but I know I have worked unconditionally. I have never taken it as a job. For me, it wasn't ever like 'this is a 10-hour job and that's it.' I have worked odd hours as well. The salon closes at 10 pm, but I work till quite late. If any celebrity called me at 1 AM saying that they need a hairstyle done, then I would be ready to work. 
But, yes, my career reached another level when I started working with celebrities. The first ones were Nitish Rana, Unmukt Chand and Yuzvendra Chahal in 2016 or 2017. As they used to play domestic cricket, so whenever some senior player would ask them where did they get their hair styled from, they would recommend me. Slowly, I made a name for myself.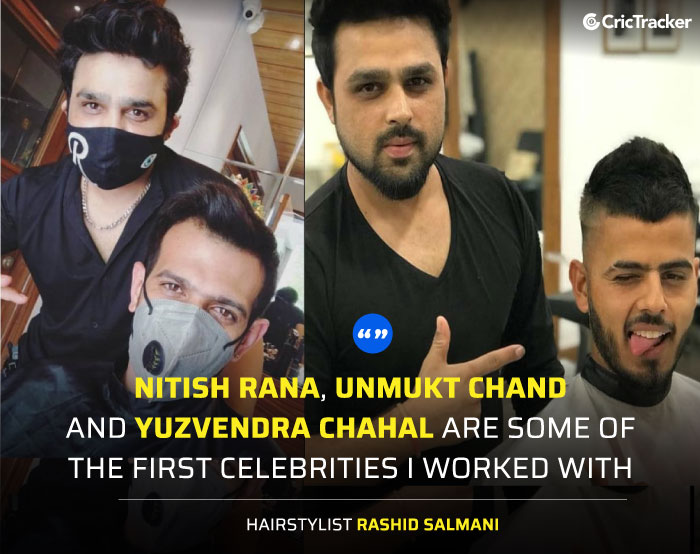 CT: You have interacted and worked with many celebrity cricketers, so did you ever feel intimidated by any of them?
Salmani: Not really, because whenever any celebrity approaches you, they know everything about you. They probably take a look at my social media profiles. So, when I get the call, I try to think of them as normal people. Because if I am styling my friend's hair, I would want to make it the best. So, it is important for me to consider everything, their skin tone, their hair quality, their hair type.
I don't like copy-pasting hairstyles, so I focus on these things a lot. As for a haircut, the shape of your face and the shape of your head is very important. Also, you need to see how that person carries himself or what kind of lifestyle he lives with. I have to also see if a certain hairstyle can be maintained by them or not, I look for the kinds of hair products which they use.
Generally, what happens is that people get all sorts of hairstyles when they are in the salon, but they can keep it once they are back. I consult a lot with them, so that I can make sure whatever I do to their hair, they can maintain it properly in the future and that it compliments them. With all these discussions, I am able to build trust with them, which helps me in making sure that neither of us feels uncomfortable. 
CT: Has it ever happened to you that a cricketer got a hairstyle done from you and then it went on to be lucky for them and they came back to ask for the same hairstyle? 
Salmani: Well, this has happened a few times. You see everyone has their beliefs regarding who is their lucky charm. Cricketers also have such beliefs like some people wear their right pads first and some wear left pads first. I won't disclose their names because you know, it's their lucky charm. But, there are a few players who say that Rashid is their lucky charm (laughs).
CT: So, you talked about hairstyling everyone, according to their personality, so how do you plan it? Like Rahul Dravid and Rishabh Pant's hairstyles will be completely different as they have so contrasting personalities. 
Salmani: So, during my academics, while I was doing master's level classes in Hairstyling, I had a chance to work with some international hairstylists, mainly from the glamour world, people who do fashion shoots and everything. So, working with them has helped me to understand how to communicate someone's personality from their hairstyles.
I give my clients an option on what they want and at the same time, try to see what I can deliver as a stylist to them. Secondly, I always see the personality. I work around the expectations of my clients. Consultation is the key to hairstyling I believe because that allows you to understand and build a relationship with your clients. 
CT: Has anyone ever come to you and asked to make them look like any other big star?
Salmani: Yes, so I work a lot with Nitish Rana bhai. He is a huge fan of Manchester United and he likes experimenting with hairstyles as well. Rishabh bhai (Pant) also likes doing that, but Nitish Bhai is on another level. He likes Paul Pogba a lot and Nitish bhai likes to follow his styles sometimes. Initially, he would ask me to style him like that.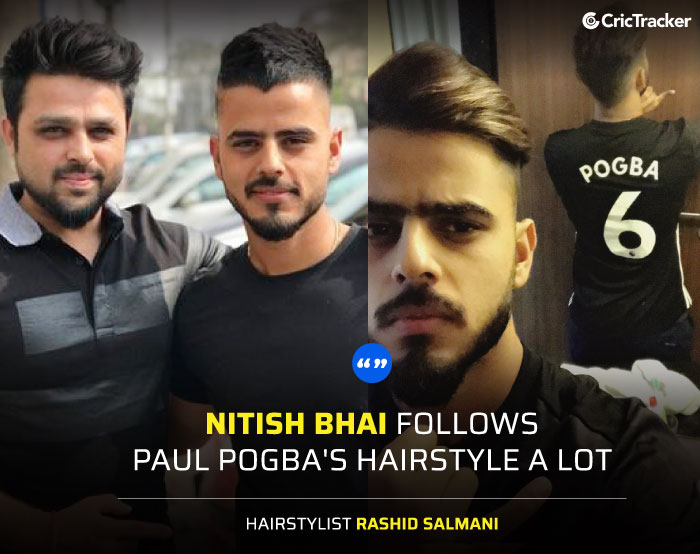 I would never copy his style directly, but I took ideas and would recreate something. Rana bhai is inspired by Paul Pogba and David Beckham a lot. I know Nitish bhai's taste, so I do his hair accordingly but by taking ideas from him about Beckham and Pogba. Whatever his requirements are, I work on them. I take inspiration from them and then work around to add something to it and try to create something. 
CT: Is there any player who would not get his hair styled by anyone other than you? Like even if they might get late, but they want only you to do their hair. 
Salmani: During the last season of the IPL, before going to the UAE, Nitish Rana and Rahul Tewatia had come to get their hair cut from me. After that, they went to the IPL and only cut their hair once they were back in India. In between, they didn't cut their hair even once. Rana bhai, Nitish bhai, Tewatia bhai, these guys all prefer me cutting their hair. They won't get it done by anyone else other than me.
Even if it's two or three months, they would want to get a haircut from me only. I had gone to Rahul Tewatia's engagement ceremony, where he was telling his family that people were telling him to cut his hair because it had become quite long during the IPL, but he was like "my boy is in India and I will cut my hair from him only." When he came back to India, he told me that my flight lands in India at 5 AM, so I went to him at 7 AM in the morning especially to cut his hair. 
CT: You have worked with many foreign cricketers as well. So according to who has the best style statement among them? Also, with whom do you share a special bond?
Salmani: Faf du Plessis and Trent Boult. Like last year, Boult was in quarantine so I couldn't go there, but before that whenever he was here in India for the IPL, he would always call me. I remember the first time I styled Trent Boult's hair, I had to do it at 3 AM at night. The match had ended late, so he called to his room to get his hair styled personally.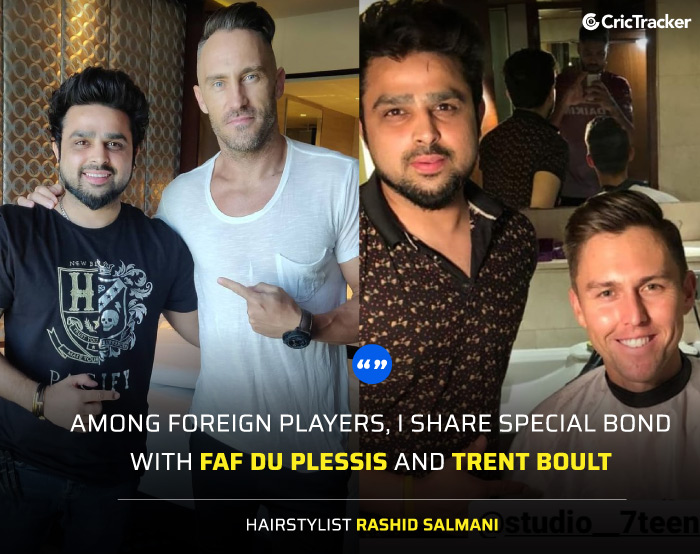 And I personally love Faf du Plessis' hair. He also prefers getting it done by me. So, whenever he is in India, he gives me a call to come and do his hair. The last time when South Africa had to come to India for a tour in March 2020, the series was called off due to COVID, at that time, Faf had called me and I went to do the hairstyles of all the South African players.
David Miller, Du Plessis, J Malan and others were there. Another one would be Rashid Khan, whenever he comes to India, he calls me up for getting his hair styled, he trusts me a lot with it. 
CT: We have seen you hanging around a lot with Nitish Rana and Rishabh Pant, so do you have a story in mind about them, which you would want to share with our readers?
Salmani: The two are always behind me. They often get together and pull my leg. They are always busy with matches and everything, I am also busy with work most of the time, so whenever we get an opportunity to meet, the two of them pull my legs. They are close friends and they call each other 'brother'. 
CT: Rishabh Pant has been in some good form lately, so have you congratulated him on the success? Also, with IPL coming, you are likely to spend more time with him right?
Salmani: Yeah, I recently had a talk with him and I congratulated him for his success. I wish he keeps doing well for his team. We generally meet during the IPL, but this year I don't know how the situation will be. 
CT: You have seen Rishabh Pant for some time now. Do you think he has changed some things as he is getting better results now with the bat?

Salmani: He is a very hard-working man. He works extremely hard on his game. He has become such a big player, so clearly he has worked really hard on his game to achieve that. I really like his lifestyle. He is really humble and down to earth. He always helps people and he is very kind. There are very few people, who are that famous and still so humble. He helps everyone around him but he never boasts about it. 
CT: Now that you work with so many cricketers and you are around them, do you also enjoy watching cricket matches? Do you follow their cricket?
Salmani: Absolutely. Whenever the domestic season is going on, I am always checking scores and trying to know how they perform. I follow all the teams. I love watching cricket. I absolutely love watching the IPL, it's so much fun. I wholeheartedly support Delhi and Kolkata in the IPL. I used to be a big fan of KKR in the beginning, but after meeting Rishabh bhai, I have started following the Delhi team as well.
CT: Your friend, Nitish Rana is in KKR and Rishabh Pant is in Delhi Capitals, it's obvious that you will be in the middle. What if they clash in the final of IPL this year? Who will you support? 
Salmani: When they are up against each other, I generally don't compare, because then I would be in trouble (laughs). But I personally love Delhi and Kolkata. Whenever they do well, I feel so happy. So, if they are in the final, I would want to see a good contest and hope the deserving team wins. 
CT: Lastly, what is your earliest cricket memory and what is your favourite cricket memory? 
Salmani: My earliest cricket memory is watching Sachin Tendulkar. Even when he was not scoring runs, it was his style which I really liked. His body language as a player was really good. The way he would carry himself was really nice. 
My favourite cricket memory is the match which I had seen in Eden Gardens a few years ago. It was the eliminator match between Kolkata and Rajasthan in the IPL 2018. I had watched that from the KKR lounge and it was a really good experience. It was the best experience that I have had watching cricket.