CricTracker Exclusive: Ryan Campbell – The man who invented the scoop shot back in 2002
He played two ODIs for Australia and then went on to feature for Hong Kong in three T20 Internationals.
Updated - Jun 17, 2020 6:08 pm
376 Views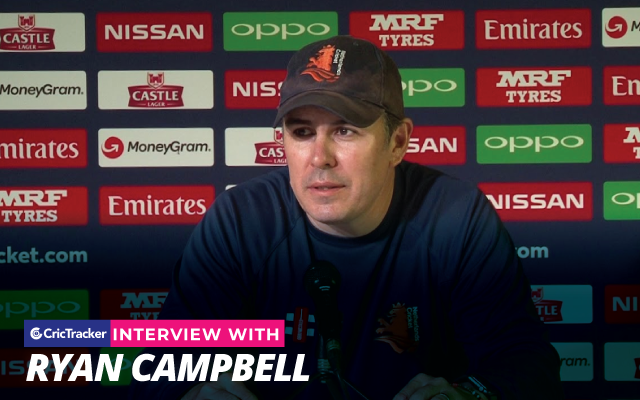 Ryan Campbell was an understudy of Adam Gilchrist at Western Australia for years. And they had various similarities when it came to playing the game. An aggressive batsman, wicket-keeper and a great thinker of the game. Campbell was what an opener would be seen as post the 1996 World Cup when Sanath Jayasuriya redefined batting against the new ball. The only difference between him and his WA teammate which one can find now is that Gilchrist played 396 times for Australia while Campbell played just twice. 
If you go back in time to the 1996-97 season in Australia, one might hear people say that Campbell will go on to do big things for his country. However, that wasn't to be. Gilchrist's emergence at the international level never really allowed any other wicket-keeper to stand a chance to play for Australia. But, that was a time when the Aussies would field an Australia A side in a tri-series and the two teams would end up in the finals. 
After retiring from professional cricket in 2006, Ryan Campbell has had an interesting journey. He played in the Indian Cricket League in 2008. Then, he shifted to Hong Kong where he went on to become the batting coach of the national team. Eventually, he represented Hong Kong in three T20Is during the ICC Men's T20 World Cup in 2016 in India.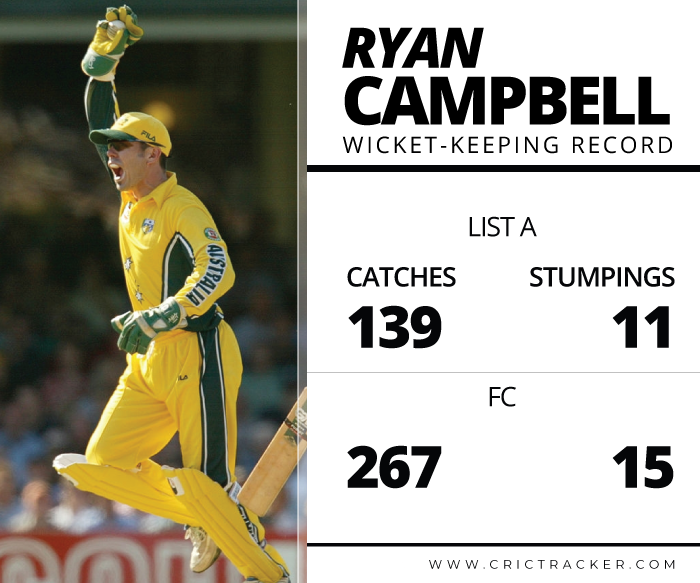 After finally quitting the sport, Campbell was named the head coach of the Netherlands cricket team. He led the Dutch to a T20 World Cup Qualifier win recently. CricTracker caught up with him on an afternoon and talked about his career, sport in the Netherlands and the effects of the cricket schedule due to the COVID-19 global pandemic. 
Here are some of the excerpts:
Were you always a wicketkeeper? Because you didn't keep wickets in your first season with Western Australia, Adam Gilchrist did that.
In the 1994-95 season, Gilchrist moved to WA from New South Wales citing lack of opportunities. He sort of ended Tim's (Zoehrer) career. At the time, I thought even my career was done. We had a fantastic team in Western Australia back then. I mean, I would go out to open the innings with Mike Hussey, then there was Justin Langer, Damien Martyn, Tom Moody, Adam Gilchrist, Simon Katich and many others. I mean, that was one of the best sides that WA had.
Batting with aggression came to you naturally or was it embedded in the culture of Western Australian cricket?
Rodney Marsh is an absolute legend. He kind of brought the idea of batting aggressively within me. I would bat in the middle-order but when I got the opportunity to bat at the top of the order, it gave me a license to play freely and execute my plans better. Rodney believed that to win a first-class match, the batters had to bat and score runs quickly so that you have enough runs by the time the 10 wickets gone. And this would allow the bowlers to take more time to get the wickets.
You were scoring runs for fun in the Sheffield Shield and the Mercantile Mutual Cup in the late 1990s and were a popular figure in the domestic arena. How was the experience of playing in the late 90s in domestic cricket in Australia when the standard was right up there?
I don't like comparing generations. But during that time, we had players who were scoring 1000 runs in every season of Sheffield Shield and weren't getting picked for the Australian side. That is what you want to have, competition. When you are competing with the best, it brings the best in you.
We had players who would go and play Test cricket and come back and say that Shield cricket is more difficult. The structure in domestic cricket in Australia was very good. And people were trying to copy us. Then, we would lose a couple of Tests against England and they would start doing it as England did.
Has the standard or quality of cricket gone down in the domestic circuit in Australia?
I wouldn't say it has gone down, but it is not the same. I mean players who are getting 600 runs in a season now are getting a look-in for the national side. But, I think there have been attempts made to improve the cricket there. They have tried doing several things such as the day-night first-class matches, but that wouldn't be the reason. Cricket Australia has to look into that aspect as well. In WA, I know they are trying to do things to improve their game. They won their last shield back when I used to play.
You went through depression during your playing days. Was it because of what was going on with your professional life or it was anything personal?
Both my professional and personal life had taken a hit. It was during one of those off-seasons. It was becoming very difficult to manage both while being at that state of mind. But, eventually, it all started to come together. I had my friends, family and members of the Western Australian Cricket who helped me to get out of it. I was someone who wouldn't let things off my chest.
It sort of built together and eventually got me to where I didn't intend to. It is good that mental health has become a topic of discussion in cricket circles, especially after the incident with Glenn Maxwell. It all panned out well for me eventually and it became a part of my retirement speech.
Not many are aware of this fact that you have invented the scoop shot. It was a game between Australia A and Sri Lanka in 2002. Can you explain how did you plan playing that shot?
As a wicket-keeper, I had an opportunity to sit during every bowlers' meetings. And every meeting, I used to hear them plan the same thing. In the death overs, bowl it full at the stumps, with mid-on and mid-off up. And the fine leg fielder would almost certainly be inside the circle. So, I thought I can get it on the full, with a man inside the ring, I can easily get a boundary.
I had done that once before in a match against Victoria a few days back. I tried it that day and it came off. It would put the bowler under pressure. If they didn't have a fielder in that region, they would have to put one there.
After retiring in 2006, you played in the ICL in India. How did that happen because you said that you were exhausted from playing when you decided to retire? 
It was right after the first season of the IPL. I had been asked if I would throw in my number for the IPL, but at the time I didn't know how big it was going to be. I ended up doing media work for the IPL in Australia. But the ICL just happened because of Damien Martyn. He is a good friend of mine. So I was out one night, having a drink or two with my pals when my phone rang.
He told he was going for this league in India and that he needed a wicketkeeper-batsman. I was already into media commitments. I tried telling him that I didn't want to play and I was already done with my playing days, but he didn't back down. So, at some point, he told me to ask for a sum which I would want to be part of this league. And I kind of threw in a random number.
A few minutes later, he rang back and told me that the deal was on. And that was it. Six weeks into training and I was back playing in India. And I loved playing in India. The culture is amazing and people flock to the stadiums, it brings a great atmosphere.
So, after playing in the ICL, you shifted to Hong Kong. And then you played for the national team at the age of 44. How did that transpire? 
I didn't want to play. It just happened. Irfan Ahmed was banned and couldn't take part. He was a brilliant player and was an opener too. So, all of a sudden the team didn't have an opener. And the team was pretty inexperienced. So, they asked me to play as I was the batting coach and I ended up playing those three matches. 
You are the oldest player to have played in a T20 World Cup match. Do you know that?
I don't like that title against my name, but it is what it is. But I do feel good that I opened the batting and bowling for an international match.
How did a wicketkeeper from Perth end up opening the bowling for Hong Kong?
I actually used to bowl in junior cricket. I had got into one of the U15 matches with my bowling. Actually, my father thinks I am much better bowler than a wicket-keeper I ever was.
The Dutch team has obviously done quite well since you've become a coach. What has changed since you took over?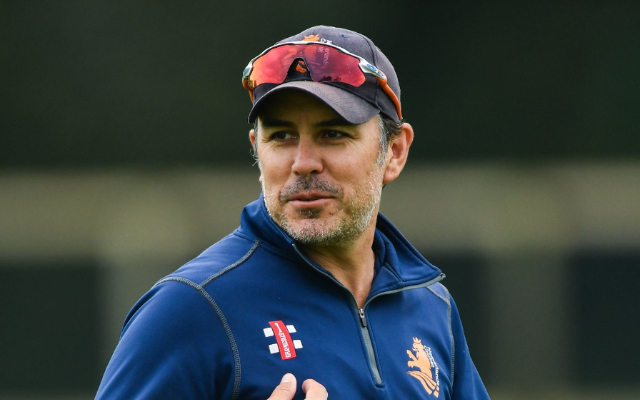 It's important to bring competition to the side. That is something which has been our priority. It gives you a chance to recheck whether you are good or not. In the Netherlands, we don't have a first-class tournament, but we have been scouting for talents. In fact, before the T20 World Cup Qualifiers, we tried out almost 27 players before making a final draft.
When I came in, they were a batch of talented cricketers but the lack of competitive cricket at the highest level can make you a bit sore. Some of them had technical deficiencies. When you play international cricket, your weaknesses are exposed, allowing you to improve. That doesn't happen much in associate cricket. This is why an opportunity to play at the World Cup is huge for them.
There are talks about the T20 World Cup being postponed. Your thoughts on it? How will things change with the Netherlands side?
I am hearing they might postpone the T20 World Cup. I don't think it would be a great idea to have two World Cups in the same year. And if they did, how will the qualification work for the 2021 edition in India? This is where I hope that the big three (India, Australia and England) along with the ICC don't just think about themselves but also consider the associates. 
With the ODI league as well, there is a lot of worries. We were prepared to host Pakistan for a series this summer. But due to the coronavirus pandemic, that is less likely to happen. If the ODI League gets scrapped, the Dutch will suffer the most. We haven't played an ODI in some time. We can't go back to the second league as it has already started. And I don't see the top international team playing the Netherlands.
Rashid Khan and Sandeep Lamicchane became popular players from the associate nations. Afghanistan isn't an associate nation, but it used to be. So, do you think someone from the Netherlands can become a favourite of the T20 leagues? 
Yeah, sure. There are a few guys who have played in the Global T20 Canada. The Euro T20 Slam (the first edition was delayed to 2020) would have been a great stage for these players. But that didn't happen. But I hope it happens sometime in the future. You need to give opportunities to players to see if they have something special. You see, even today there is a repetition of players across T20 franchise cricket.
Similar players take part in many leagues because teams go for known players rather than scouting for talents. You give an opportunity to a player, he is seen on a world stage and then you know he has the talent or not. It happened with Sandeep Lamicchane. We got him an opportunity to play at the Hong Kong T20 Blitz in 2016 for Kowloon Cantons. We saw him and then, Micheal Clarke was there with the team for that season.  And then as it turns out, Sandeep is playing all around the world. There is a lot of talent in the associate nations.