CricTracker Exclusive – Sported long hair once and wore Jersey number 7, planned my comeback around MS Dhoni: Anamul Haque Bijoy
He also talked about his interactions with Quinton de Kock and Babar Azam during the 2012 U19 World Cup in Australia.
Get every cricket updates! Follow us on :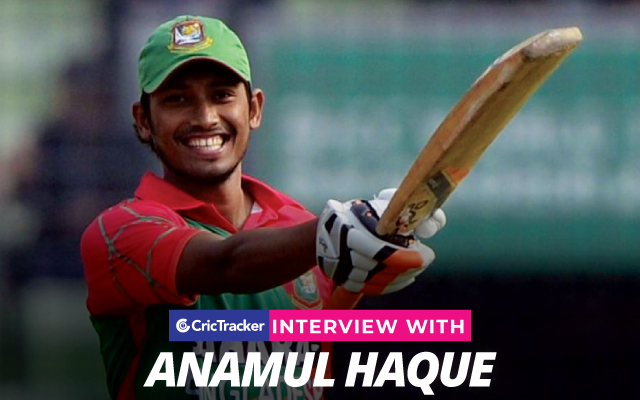 In the late 2000s when Bangladesh were busy grooming Mushfiqur Rahim, Tamim Iqbal, Shakib Al Hasan and Mahmudullah, a 15-year-old was taking giant strides at the dawn of his career. Hailing from Kushtia, Khulna, Anamul Haque Bijoy was busy furrowing eyebrows at the Bangladesh Krira Shikkha Protisthan (BKSP). At the age of 19 before his Tigers' debut, he had already racked up 13 tons.
Topping the run-charts was mere bread and butter or rather Daal Bhaat, as they say in Bangladesh, for him. By the time he was two months into his 20s, he had already donned the national jersey in all three formats. Around seven years later, Anamul has gone off the radar. Even as clouds of uncertainty keep hovering over his career at the age of 27, Bijoy is in no mood to throw in the towel.
He has piled runs in domestic cricket and has continued, knocking on the doors of the national selectors. Bijoy is also amongst the leading run-scorers in the Bangladesh Premier League (BPL) and has scored more runs than Shakib, playing nearly similar number of matches.
As he waits in anticipation to stake his claim back into the national team, CricTracker decided to catch up with the talented cricketer from Bangladesh.
Here are some excerpts from the conversation with Anamul Haque: –
From studying in BKSP to making a first-class debut at the age of 15. Talk us through how you career shaped initially: 
Back then I used to play U16 age-group cricket for Dhaka and at a young age I scored a number of centuries. My keeping prowess wasn't the worst either. At that time, Dhaka didn't have a proper wicketkeeper and the one who was there wasn't young either.
Co-incidentally, our U16 coach was also the coach of Dhaka Division. He picked me for the first time and that kick-started my career. And I celebrated my 16th birthday during one of the games. Mohammad Ashraful and a few renowned cricketers were also a part of the team.
*Anamul Haque had scores of 8 and 0 on debut against Rajshahi Division in December 2008. In both innings, he got out to fast bowler Delwar Hossain.
There's an intriguing story behind your nickname 'Bijoy'. Tell us about it: 
My birthday is on December 16, which is also the Bijoy Dibosh (Victory Day) in Bangladesh. My nickname was 'Hasib'. But then people also called me 'Bijoy' and I became fond of it and considered it as my real name.
Before I joined BKSP, my schoolmates used to address me by that name. During admission, instead of 'Hasib', I chose my name as 'Bijoy' and then it became permanent.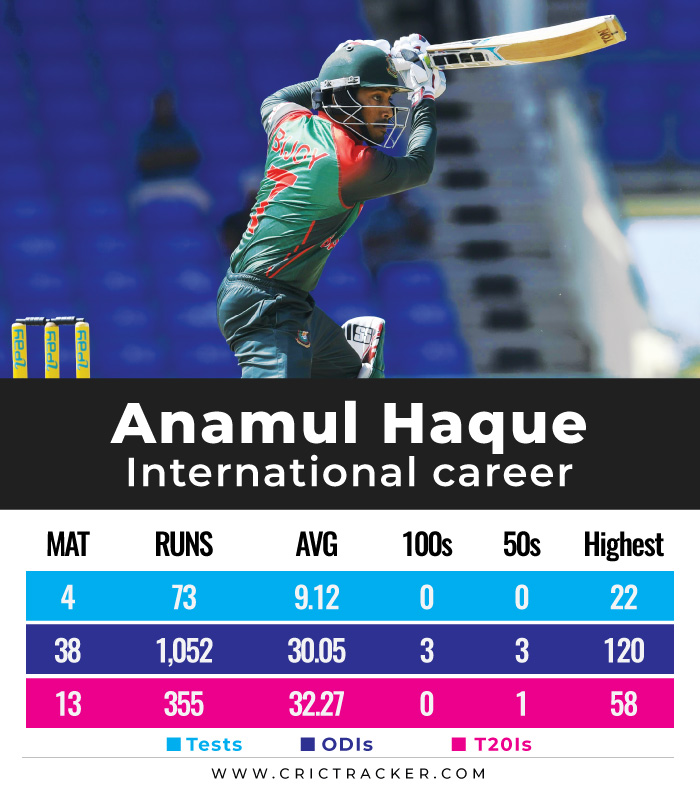 As a wicketkeeper-batsman, who has been your role model from your formative days?
I was a big fan of Sachin Tendulkar and I still am. Not only did I like his game, but also the ads (Pepsi, Boost) he featured in. I grew up watching him. I also watched Mohammad Mithun, who's also from Kushtia, my hometown. In keeping, I didn't quite have a role model, but I enjoyed watching Brendon McCullum, who was very stylish in his stroke-play. Then later, I started following MS Dhoni.
Talking about Dhoni, you have generally sported long hair, which is pretty reminiscent of him during his early days. Also being an attacking keeper-batsman, has anyone compared you with the veteran?  
Yes, people have told me about this. In fact, I wore Jersey number 7 when I kept the long hair during the tri-nation series in 2018 (involving Sri Lanka and Zimbabwe). At that time, I was 24 years old and even Dhoni started to dominate around that age. So before making a comeback after injury, I wished if I could start like him. While I was away, I processed my thoughts around it.
*It was Anamul Haque's first appearance for Bangladesh in ODIs in around two years and 10 months. He lost his place from the national side after a shoulder injury during Bangladesh's win against Scotland in the 2015 World Cup.
In your second ODI, you got your first ton against West Indies. Not only that, but Bangladesh also secured their then biggest victory by 160 runs. Take us through the knock and also your 174-run stand with Mushfiqur Rahim:
Mushfiqur was the captain back then and he played with an attacking approach. I didn't think of forming that partnership with him. Before that, I had a good time, playing U19, domestic and List A cricket, scoring centuries and helping my team win a number of matches. Those experiences helped me score heavily for Bangladesh in that match in Khulna after I got set.
*On December 2, 2012, Anamul scored 120 off 145 with 13 fours and two sixes, winning the Player of the Match award. On January 19, 2018, the record for the biggest victory was broken when the Tigers beat Sri Lanka by 163 at the Sher-e-Bangla National Stadium in Dhaka.
You played a lot for Bangladesh from 2012 to 2014 but then was left out. Was there any communication from selectors since then as you have been scoring heavily in domestic cricket?
I was hopeful of returning after injury, which I suffered during the 2015 World Cup. But the others kept getting opportunities and so I didn't get enough chances. I wasn't told anything specific and was only advised to perform and wait for my chances. I have always tried to give my best.
In the 2019-20 BCL, you were the top run-scorer. Bangladesh have struggled to find an apt opening partner of Tamim Iqbal. Do you think, after performing in the BCL, you have given yourself a great chance of making a Test comeback?
I like Test cricket from the start of my career and I'm consistent. If I get another chance, I will try to make use of my first-class experience. The senior players in the form of (Imrul) Kayes bhai, Mashrafe (Mortaza) bhai, Shakib (Al Hasan) bhai along with my coach in the first-class team helped me.
*Anamul has played 95 first-class matches, scoring 7,083 runs at an average of 46.90 with 22 centuries and 34 half-centuries. In the 2019-20 BCL, he got 501 runs at 83.50 with two centuries and three half-centuries.
*Since Anamul's Test debut, Bangladesh have used 10 openers, namely Tamim Iqbal, Imrul Kayes, Soumya Sarkar, Shamsur Rahman, Shadman Islam, Jahurul Islam, Liton Das, Shahriar Nafees, Saif Hassan and Anamul himself.
You were the leading run-scorer in the 2012 U19 World Cup with two centuries. In fact, you scored more than even Babar Azam and Quinton de Kock in the tournament. Tell us about the journey:
I attended an unofficial trial when Bangladesh was in Zimbabwe for a tri-series, also involving South Africa (June 2012). When I came back, the U19 team lost to Afghanistan in the Asia Cup and the side had to be reorganised. It was then that I was made the skipper of the U19 team.
So, it's tough for a team to perform if too much shuffling is done. The performances keep coming when there's a settled unit. My aim was to form a strong team with my seniors, juniors and batch-mates. In the practice matches of the World Cup, we had a lot of troubles in alien conditions.
But we made a comeback thereafter. We managed to beat Sri Lanka and then defeat Pakistan in the seventh-place playoff. We also did well against England and Australia. It was a memorable outing for me since I got to play alongside cricketers, who are now stalwarts of their respective national teams.
Joe Root was also slated to play int the tournament, but he couldn't. I should have been in a better position and until the 2015 World Cup, things were going smoothly. But then things went a little haywire.
*Anamul scored 365 runs from six matches at 60.83 with tons versus Pakistan and Sri Lanka. He also made 56 against England U19 in Townsville.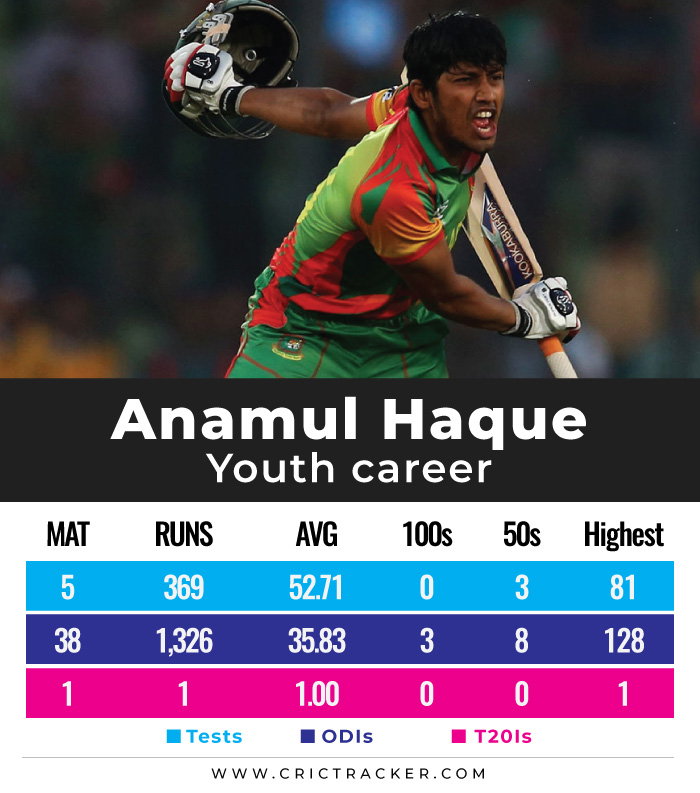 Do you remember any kind of interaction with Babar and de Kock?
I had a chat with de Kock during the group stage. He scored 95 and played with a broken bat. After he scored 60, his bat broke, but he continued playing with it. At the end of the game, I told him he could've changed his bat, which could also have helped him score a century. He told that he was comfortable enough with it and he might not have been at the same ease with a new bat.
*Quinton de Kock was the Player of the Match at the Allan Border Field in Brisbane. He scored 95 off 93 with nine fours and two sixes. South Africa won the match by 133 runs.  
With Babar, I also interacted during a match where I scored a century. In that contest, I smashed eight massive sixes. Babar was the skipper and he asked me how did I manage to muscle those over-boundaries. Later I gave him one of my gloves and he kept it happily. I even remember hitting him for three sixes. Then he jokingly told me that I could've avoided the hammering.
*Anamul Haque scored 128 off 112 with five fours and eight sixes, earning the Player of the Match award. Bangladesh won the match by five wickets at the Endeavour Park No.2 in Townsville. Babar Azam's spell read 5-0-28-0.
In the same tournament, you ran into a bit of a controversy when you didn't withdraw an appeal after Soumya Sarkar 'Mankaded' Jimmy Pierson in the quarter-final against Australia. What's your take on that incident and the law?
We were young and the momentum was on our side, they were four down for 30 odd runs. No one was aware of what was about to happen since it was a high-intensity match in the presence of the crowd. After Soumya ran him out, around eight players told me that it was within the laws.
I took the decision after so much insistence from my teammates. Then the home crowd started to sledge very aggressively and even hurled abuses. It made us extremely nervous since we were youngsters. Morally, we were devastated after the incident.
*Australia were 33/4 when Pierson got out, chasing 172 in the first quarter-final. The hosts, led by William Bosisto, won by five wickets at the Endeavour Park No.2 in Townsville.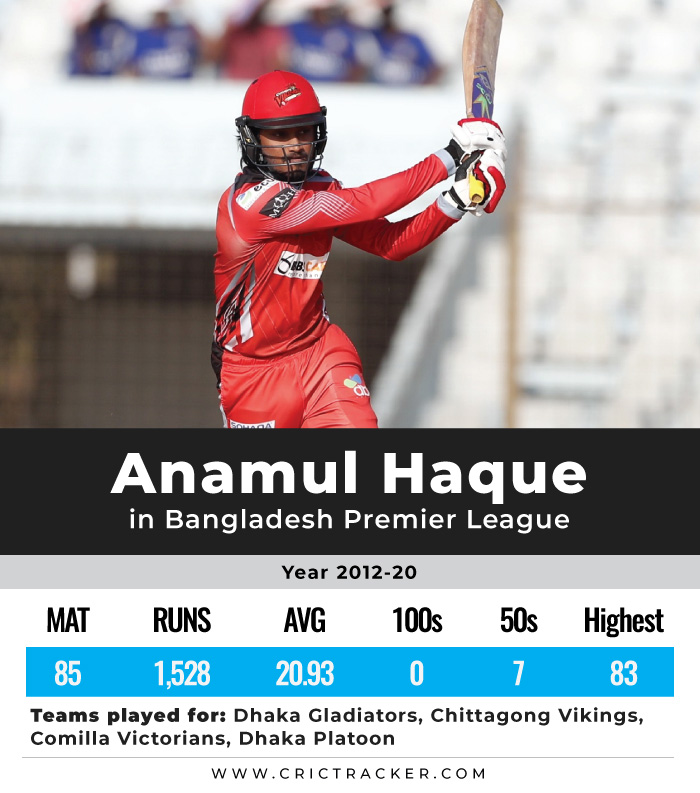 Having played alongside Tamim Iqbal for Dhaka Platoon in the BPL, do you think he is the ideal choice for the Bangladesh leadership role?
Tamim is capable enough and he loves to take challenges. His performance also says that he is an indispensable member of the Bangladesh team. If he keeps on scoring the way he is, then he will lead the national team for a long time. He also has great management skills.
*Anamul Haque has played one ODI under Tamim Iqbal in the match against Sri Lanka in Colombo on July 31, 2019.
The Fab Four of batsmen is said to consist of Joe Root, Virat Kohli, Kane Williamson and Steve Smith. If you are given a chance to include one Bangladesh player in the list, who would it be and why?  
Tamim Iqbal without a doubt. As an opener, his career has been glorious, to say the least. Other international teams are wary of us since we have the likes of Tamim bhai, Mushfiqur bhai and Shakib bhai. Tamim has changed the image of Bangladesh cricket.
He is one of the best openers in world cricket at the present point in time. The way he played in the last five years, if he could continue that in the next five years, he may end as one of the legends of the game.