CricTracker Exclusive – The first thing I saw after my IPL bid was Virat Kohli's welcome message: Sachin Baby
Sachin Baby was named after legendary cricketer Sachin Tendulkar.
Get every cricket updates! Follow us on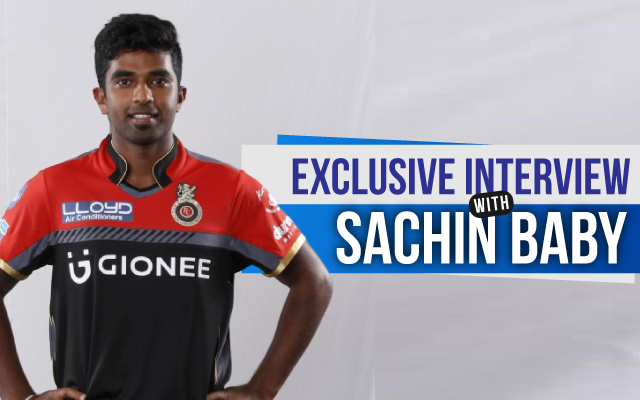 'Waking up early and working in the morning while others are dreaming, one can achieve his dream easily.' Moving on the same line of discipline and passion is Kerala skipper Sachin Baby who is inching a step closer to his dreams every day. Sachin is currently with his squad while plying trade in Vijay Hazare Trophy and looks forwards to have a wonderful season IPL season in 2021 with RCB.
Consistency and class are the two benchmarks that have kept the Kerala cricketer on high pedestals, and he continues to rise more and more in his life. He had a dream run in 2012-13 Vijay Hazare Trophy wherein he stepped in the shoe of a captain and led the team from the front. The 32-year-old has the credit of leading Kerala to their maiden semi-final appearance in Ranji Trophy in the 2018-19 season and had an active stint in the Indian Premier League with several franchises.
Recently, the domestic star was in an exclusive chat with CricTracker, where he opened on his variety of experiences with the RCB family and the sense of pride he feels while being associated with the franchise.
Excerpts from Sachin Baby's interview
Q. You have been named after legendary Sachin Tendulkar. Can you tell some story behind all of it?
Actually, my mother is a big fan of cricket, and she admired legends like Sunil Gavaskar and Sachin Tendulkar too much. While I was born, she thought of naming me Sachin, and 'Baby' is my father's last name. So that is how I got my name, and many people ask me the story behind it.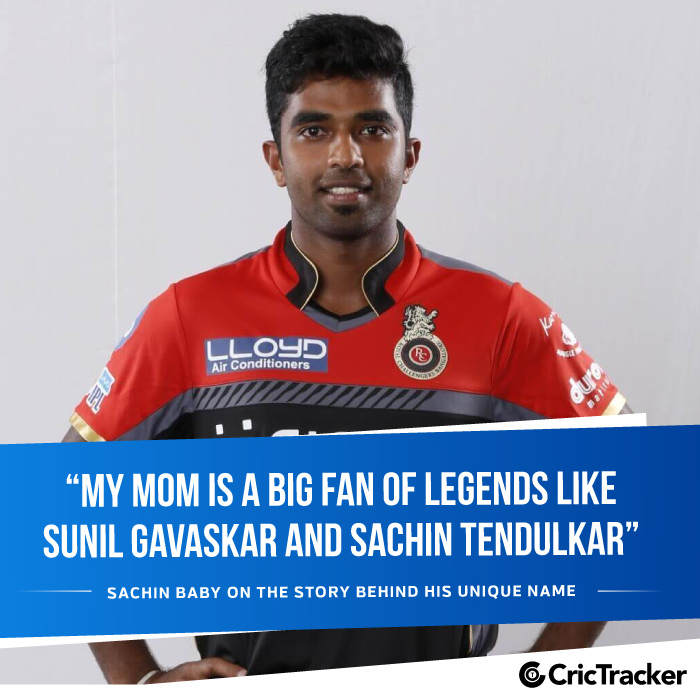 Q. You were emotional in IPL 2016 final when RCB couldn't clinch the trophy. What was Virat Kohli's message after that loss in the dressing room?
Yes, I was quite emotional because I really believed that I would be able to get that for my team, but it couldn't happen. Kohli lauded everyone for their efforts. He owned everything and made us believe that all this is a part and parcel of the game.
Q. You are back in the RCB dugout as you bagged a bid this year. What was your feeling after the IPL 2021 Auction?
To be honest, I was pretty sure that I will get a call this year as I have been quite consistent in the domestic circuit lately. It feels great to be part of the RCB as it is just like my family, and I have been with them in past. I knew that CSK or RCB were looking for the middle-order batsman, and I felt like I could be the one.
Q. Did Kohli or team management get back to you after the latest IPL Auction?
The first thing I saw after my bid was the message from Virat Kohli. He messaged me, 'Welcome back to RCB.' I cannot tell how blessed and grateful I feel to be part of this team, and this message made me really happy.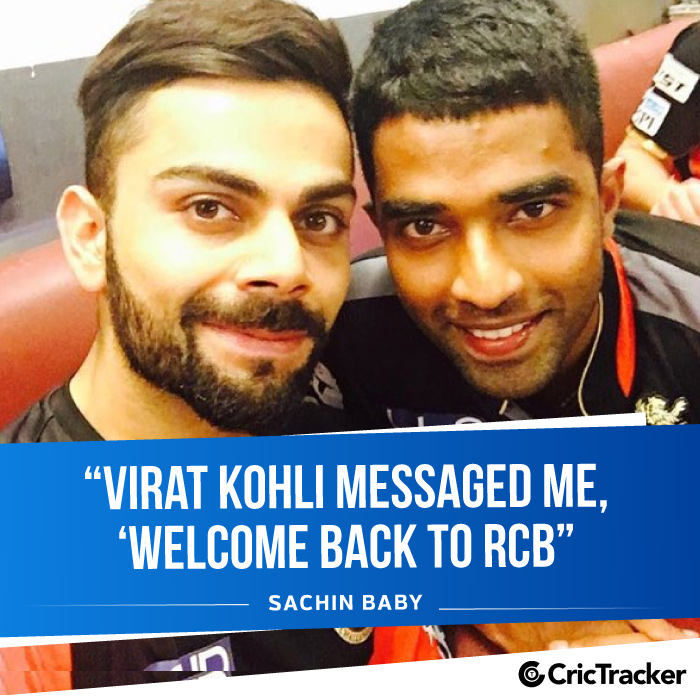 Q. You are currently leading the state in VHT, and 2012-12 was your dream run. Please share some experience on the same.
It was great, and by getting the captaincy, I realized the sense of responsibility and the trust that people have shown in me. I had to give my best, and back then, I had gained the experience of leading side in many categories of the game like U15, U17, etc.
Q. Sreesanth recently picked a fifer, and how things changed when he joined the Kerala side after so long?
Sreesanth didn't get a single game in the last seven years, and he has faced a lot, but still, he is able to take fifer, which speaks volumes about his talent. He is really hard working.
Q. You led the Kerala side to the maiden semi-finals appearance of Ranji Trophy in 2018-19. Can you throw some light on it?
Yes, we reached semis in 2018-19, and before that year, we played quarter-finals. Earlier people used to look down upon Kerala and didn't consider it a good team. But now, when you tell that you are playing for the state, people treat it in high regard owing to Kerala's consistent performance in the domestic circuit.
Q. You released your YouTube channel in the lockdown period. Does vlogging interests you besides cricket?
Yes, I did it in lockdown period to spend some time, but then I couldn't continue much like editing, and the related process takes a lot of time. I realized that I can give that much time to my cricket as it is always my firth priority. These things can be done at any point in life, but cricket is my bread and butter.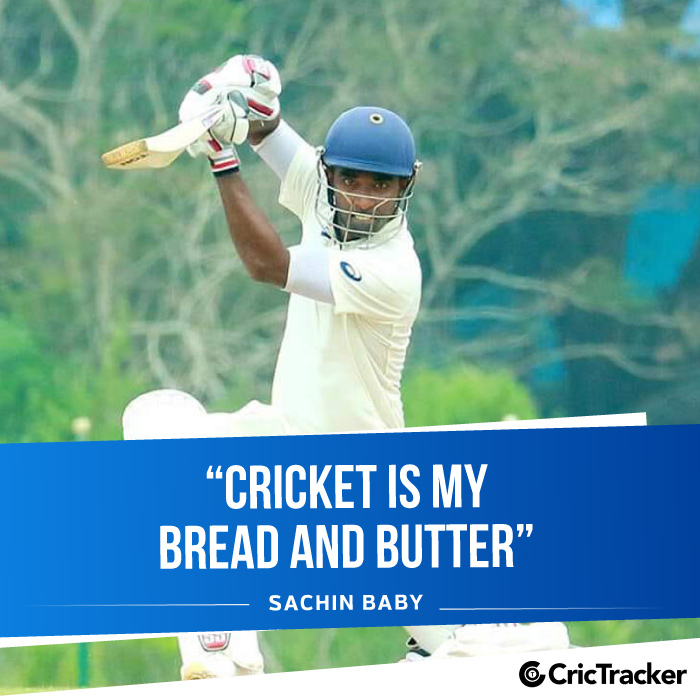 Q. Waking up early, following a strict routine, and meditation has been your success mantra lately. How have these things impacted your cricket?
Yes, I have been following a strict routine for 3-4 months, and it is giving me good results. All of it makes you strong, and meditation especially has me focussed on cricket. I think everyone needs to have a certain routine in their life to excel further.