CricTracker Exclusive: This is the best opportunity for us to get worldwide exposure, says Vanuatu Cricket CEO Shane Deitz
Shane is excited about the upcoming BetBarter Vanuatu Blast starting from May 21.
Updated - May 16, 2020 2:44 pm
147 Views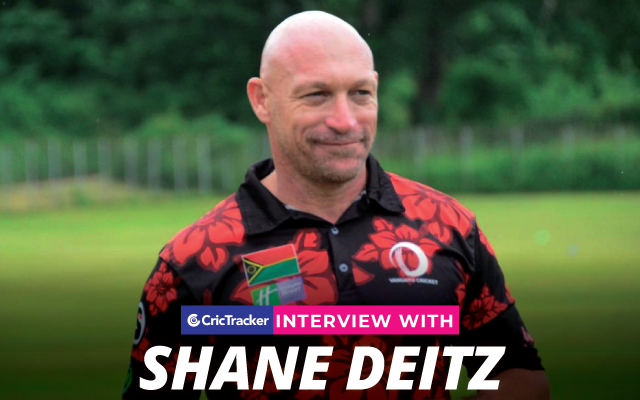 Vanuatu was the first country to resume cricket amid the ongoing Coronavirus pandemic across the world. The Women's T20 Super League played in April received an overwhelming response which led to Vanuatu Cricket thinking of coming up with the BetBarter Vanuatu Blast T10 League which is set to commence on May 21. They decided to postpone their 40-over domestic tournament hoping that the T10 League will attract the audience.
At the center of all the action has been Vanuatu Cricket's CEO Shane Deitz. He has been constantly giving updates to the fans through the social media platforms about the cricket in the country and the upcoming and exciting T10 League. For the uninitiated, Shane has played for South Australia before and also has a decent coaching experience.
CricTracker caught up with Shane Deitz for an interview where he spoke at length about Vanuatu Cricket's rise in the last few years and the way Women's Cricket is shaping up in the country. He also threw light on the way cricket will be played amid the COVID-19 threat.
Here are the excerpts:
Question: How has been the response overall after cricket resumed in Vanuatu?
Answer: We have had a great response to the resumption of cricket locally and globally. As we are very lucky considering what the rest of the world is suffering we thought it was our responsibility to try to provide everyone around the world some live sport to watch and take advantage of our lucky situation.
Question: Any specific instructions are given to the players? Are they being tested for Coronavirus before the match?
Answer: No players were tested for COVID-19 as we have had no cases in our country and our borders are completely closed so we are very lucky to be COVID-19 free. We still have some measures in place and the use of common sense when dealing with others. 
Question: You decided to postpone the 40-over Men's League and replace it with T10 League. Any reason for it?
Answer: We postponed our normal club 40-over competition to take advantage of our unique situation and provide some real entertainment in the form of a T10 competition. We will bring the best players of Vanuatu Men's cricket together to showcase the talent and skill we possess here as we don't have many opportunities to get this worldwide exposure. 
Question: Can you give more details about the T10 tournament?
Answer: The new 10-match tournament is known as the "BetBarter Vanuatu T10 Blast"! This will consist of three teams which are the amalgamation of current club teams to form stronger teams and a higher standard of competition. We have been planning to do this for some time so as this opportunity presented itself, we took it. We are so delighted to have BetBarter as our partners in helping us maximize the impact of this tournament globally and in particular in the heartbeat of cricket which is Asia. 
Question: Will the spectators be allowed to watch matches in the stadium during the T10 tournament? If yes, how is it going to be handled given the social distancing norms?
We hope to have lots of local spectators watching live. Again, as we have no cases in our country we encourage common sense to prevail and not directly touch each other. We will have handwashing stations around the ground for spectators too. 
Question: Due to the ongoing pandemic across the world, have you instructed players to not use saliva or not celebrate wickets like before? Any changes made to the traditions of cricket?
Answer: No changes are made to the game and we instruct players to only fist bump when celebrating wickets, which currently is common practice in Vanuatu when greeting others. 
Question: How has been Vanuatu coping in terms of development in Cricket? 
Answer: Vanuatu Cricket has been on a rapid rise over the past 10 years. From nowhere, we have risen up the rankings from qualifying for the old division 8 World Cricket League to division 4 and now under the new system competing in the ICC Challenge League where we play the likes of Canada. In 50-over cricket, we are ranked 29 in the world which is an amazing achievement for a country with little resources and a very small remote population.
Our T20 ranking of 49 is defiantly not a true indicator of where we deserve to be as we haven't played many games recently compared to teams for example in Europe. An example of this is our 3-2 win over Malaysia who recently defeated Hong Kong 5-0 and are a very good team. As these rankings are very new, this we expect will change in time. Our Women's team are ranked 28 in World T20 rankings and we are supporting them to really develop and go to the next level. 
Question: Being the CEO of Vanuatu Cricket, What are your plans to take cricket in the country forward?
Answer: We intend to improve our rankings as we develop cricket tourism project and we invite teams and clubs from around the world to challenge themselves to play against an international team. This will give our players much-needed competition as this is what we lack to develop our players. To travel overseas is a huge expense which we can't afford so we must bring the teams to us.
We have upgraded our facility to include a Hybrid Pitch from Gabba Sports Australia and the Holiday Inn Vanuatu as a major sponsor to provide world-class accommodation to our travelling teams. This T10 tournament will begin the promotion for us and display to the world if they tour here they will get some fantastic cricket as well as seeing some of the amazing sights in this amazing country.
Question: You moved from South Australia to Vanuatu and then took up a coaching career and also made your international debut at the age of 42. How did this all happen? Are you going to play in this T10 League?
Answer: Personally, I retired from South Australia in 2008 and began my coaching career employed by New Zealand Cricket and Wellington Firebirds. I coached there for 5 years before becoming Bangladesh Women's National Team Head Coach in 2013 until the 2014 T20 World Cup. Then I took up the role of Head Coach and High-Performance Manager in Vanuatu.
Current rules for qualification are 3 years so after that, I became available to play for Vanuatu and reluctantly did so for 50-over cricket as my skill set as a keeper middle-order player was required. It went ok but my body didn't enjoy it too much. I defiantly won't be playing any cricket again especially T10 or T20 as that is a young man's game and no one wants to see a 45-year-old man slowing the game up. So no, I will not be playing in the BetBarter Vanuatu Blast.