CSA may appoint an overall manager for international pitches after Faf du Plessis' comments
The ultimate desire is to have pitches that will give their quicks a lot more, so they can play to their strengths
Updated - Jan 19, 2018 7:27 pm
1.9K Views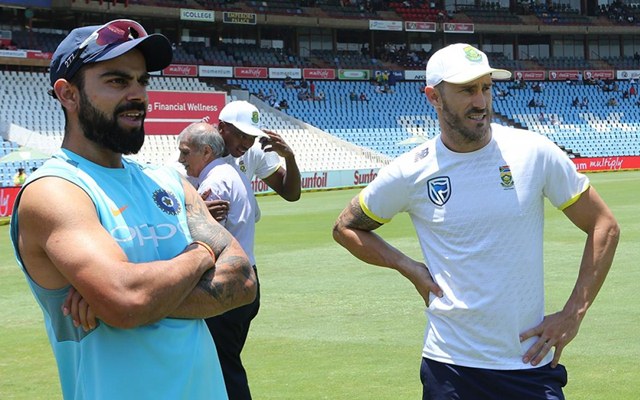 The South African team, just one day into the second Test expressed dissent over the pitch conditions provided at the SuperSport Park in Centurion. South African quick Morne Morkel even went on to say it felt like playing in the subcontinent rather than at home. And now after everything is done and dusted, Proteas skipper Faf Du Plessis has called on Cricket South Africa (CSA) to put in place a process to ensure a pitch like the SuperSport Park surface is not produced again.
Albeit South Africa won the match comfortably, and in so doing claimed a series victory over India, a traditionally spicy track proved slower than usual and even took turn, one thing du Plessis had expressly he did not want in this series. The South African captain is the fifth member of the side, after Aiden Markram, Lungi Ngidi, Morne Morkel and Dean Elgar, to take issue with the SuperSport Park pitch but he also referred to other surfaces which have been similarly placid.
The Proteas skipper opens up about the pitch conditions
According to Cricbuzz, Du Plessis said, "I was very concerned when I got here, leading up to the Test match. It looked not like a Centurion wicket that I know. That is a concern, to be honest. I am very honest about good things and when we get it right but it's also fair to comment on where we can get better. I believe this was an opportunity that we missed."
He added, "We can blame the groundsman but we also have to blame ourselves. We need a process where we make sure CSA has someone that looks after the groundsmen to get the right kind of pitches when we play against (different) teams. Not to make it ridiculous. We never wanted something ridiculous, we just wanted a pitch with pace and bounce. I think there is concern that we are not getting it right and this is not the first time – I can think of three or four occasions over the last 12 months. We need to be better as a collective. That's something I will be taking up and making sure we can improve."
Du Plessis calls for "collective" effort
The ultimate desire is to have pitches that will give their quicks to play to their strengths, especially against subcontinental sides. Promoting that all around the country may not be possible but du Plessis hopes common ground can be reached. The groundsmen have an annual conference of recent and after du Plessis' reaction, CSA may look into appointing an overall manager for the international pitches.