CT 2017: Virat Kohli confirms India will go ahead with 4 bowlers plus Hardik Pandya
"We will see what the wicket is like and what we feel will match-up well against the opposition," he quoted.
Updated - Jun 3, 2017 8:32 pm
27.5K Views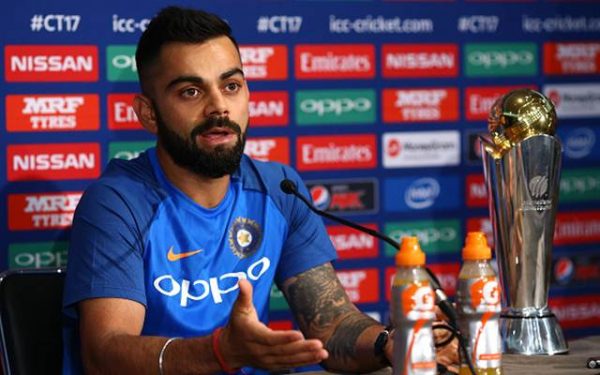 Team India skipper Virat Kohli is looking very confident as the Indian team gears up for their first match of the Champions Trophy 2017. They will take on arch-rivals Pakistan at Birmingham on Sunday (June 4). Going into the game, the men in blue have the winning momentum at their side. They have managed to convincingly beat New Zealand and Bangladesh in their two warm-up games.
The problem that the Indian team and skipper Virat Kohli now face is the problem of plenty. All the players in the squad look like a healthy bunch of candidates at the moment. In the pre-match post conference, Kohli spoke at length about the team combinations that India will go forward with. His words have given a direct indication that Hardik Pandya will be a certain starter in the lineup.
Kohli noted that they will go in with four bowlers and an all-rounder in Hardik Pandya. The four bowlers could either be two spinners and two pacers or three pacer and a spinner. The final combination will depend on what kind of surface is prepared for the match. He is happy to have the selection conundrums as the captain of the team at the moment.
"Hardik Pandya coming into the equation as all-rounder means you can only play four bowlers apart from him. So who to choose according to the conditions. We have just arrived and I haven't even got a chance to look at the pitch. There are all kinds of possibilities – two spinners and two seamers, three seamers and one spinner," quoted Virat Kohli as per the quotes in Indian Express.
"We will see what the wicket is like and what we feel will match-up well against the opposition. Accordingly, we will pick our best bowling attack but as you mentioned all are bowling well, the team looks balanced, we are confident as a team. That's showing in the way we are playing even in the warm-up game because the intensity was right up there. That was something really nice to see for me as a captain. It's a good headache to have but everyone is fit and ready to go," he added further.
On Dhoni's inputs
Virat Kohli also spoke about the inputs he is getting from the former skipper MS Dhoni. He agreed that not all times they get along on the same path on a particular decision. However, on most occasions, he is more than happy to get the feedback from the former skipper. Dhoni has shouldered the captaincy role in fine fashion for almost a decade and hence his inputs are of high value.
"It's priceless to have his thoughts and views on different situations and things that he picks up are really minor but make a massive difference. Identifying who is in a better mindset to do a certain job is something that he has always been a master at and I keep seeking his advice every now and then to make sure what I'm thinking is on the right path," said Kohli.
On playing Pakistan
When asked about how the team is preparing for the marquee clash against Pakistan, Virat Kohli conceded that as players, they are not taking the game any differently. The preparations are pretty much the same as they have been doing for the other teams in the tournament. He also added that the men in green can be a surprising outfit on a given day. However, Kohli has backed himself and his team to come out triumphs in the big match.
"Nothing different to be honest. I know it sounds pretty boring but this is exactly what we feel as cricketers, and not saying anything different to what we feel. For us it's a matter of executing what we know best regardless of who we are playing against," quoted Kohli.
"As a team I think they can surprise you because you don't play against them so much. You are not too aware of how they react in different situations. All you can do in that situation is focus on your skill which anyways you should do as a team. As individuals, some people like to watch videos and go through bowlers and batsmen and all that, some people don't. I personally don't," he conceded further.