BCCI AGM: names change but the game is the same, Dalmiya elected as President
Updated - Mar 2, 2015 8:07 am
12 Views
BCCI AGM: names change but the game is the same, Dalmiya elected as President: The Board of Control for Cricket in India (BCCI) held its Annual General Meeting (AGM) today in Chennai. It was for the appointment of all the important positions in the board along with that of the President.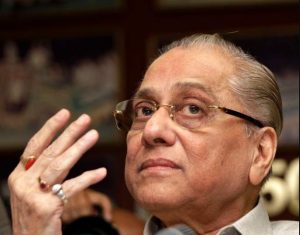 Follow us on Telegram
N Srinivasan the ICC President was prevented by the Supreme Court of India from contesting the elections and thus he could not extend his stay as the BCCI boss. With the strong hold that the India Cements and Chennai Super Kings (CSK) owner has in the governing associations across the country ensured that the President's position did not move away from his camp rather went to an aid in Jagmohan Dalmiya.
Jagmohan Dalmiya was unanimously elected President of the BCCI in the AGM. Though Sharad Pawar (NCP chief) tried his best to propose a candidate against the CAB old horse; he was unsuccessful in gathering enough support.
As a result even before the AGM it was clear that Dalmiya would take over the chair from Srinivasan.
Most of the calls and positions in the board continued to stay with the N Srinivasan camp and the only turn-around was Anurag Thakur (HPCA chief) beating veteran Sanjay Patel for the post of the BCCI Secretary, it is learnt that the closely fought contest went Thakur's way by one vote, 15-14 was the vote share.
The Joint Secretaries post went to Jharkhand Cricket Association's Amitabha Chodhary who is a former IPS officer; he beat Goa's Chetan Desai.
Quick Link : Watch: Pepsi IPL 2015 teasers are here 'Aaraha hai India ka Tyonhar'
The new BCCI treasurer is Haryana's Anirudh Choudhary as he defeated Congress Member of Parliament (MP) Rajiv Shukla of the Uttar Pradesh Cricket Association.
While these were the elected office bearers three vice-Presidents were appointed unopposed. The three are Andhra's Gokaraju Gangaraju (South Zone), Assam's Goutam Roy (East Zone) and M L Nehru of Jammu and Kashmir (North Zone).
Along with the three undisputed winners two more members from the Srinivasan camp won the elections' TC Mathews, Kerala (West Zone) won it against Ravi Sawant and C K Khanna, Delhi (Central Zone) successfully beat Congress man Jyotiraditya Scindia from Madhya Pradesh.
Though we get to see a few new names in the BCCI office now, but with the way everything has been set around, just for the sake of pleasing the Supreme Court of India, while Srinivasan will continue to influence decision-making from behind the curtains, will not change anything for the good.
The stand that the new BCCI Chief Jagmohan Dalmiya takes over all the issues circulating around the board, its style of governance and also the BCCIs stand at the global body ICC for various issues will be interesting to see. He has all the knowledge and experience it takes to be there and do what he wills.
Follow us on Google News