Deep Dasgupta's Column: I am surprised by Ricky Ponting's statement on Ravi Ashwin
Ashwin said that he stood by his actions. I stand by him as well and there are no two ways about it.
Updated - Aug 23, 2020 8:04 am
897 Views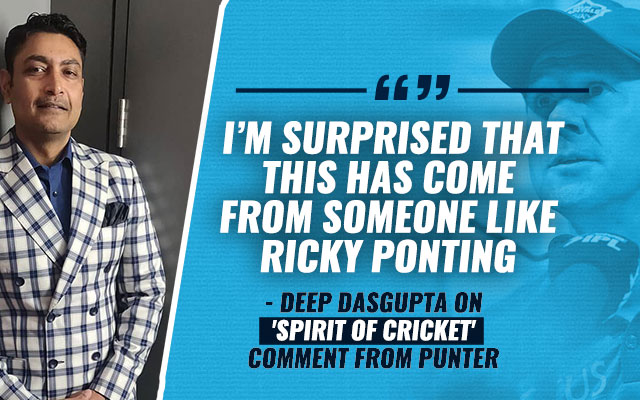 Views on bowler running out the non-striker
My take is very simple; it's what the law says. If the batsman is outside the crease and the bowler gets him out at the non-striker's end, then the batter is out and that's my take. If it's there in the rule books and it's as simple as that.
Clash of rules and 'Spirit of Cricket'
What exactly is the 'Spirit of the Game'? It's a sense of fairness. So, what is fair in this with the non-strikers, who are supposed to be inside the crease, is not and is taking the extra inches?. I understand as I've been there as well.
At times batsmen don't do it intentionally, especially nowadays when there's the third umpire and run-outs are being given or not given on the basis of inches. That's where I think this makes it that much more crucial that the non-striker stays inside the crease.
Is it fair? No, it isn't; the batsmen getting out earlier than he should be is not fair. So, Spirit of the Game, for me, is a sense of fairness. For me, it's not fair for batsmen to get out before the ball is delivered.
On batsmen showing enough respect for bowlers
Well, the batsman doesn't have to respect the bowler; he/she just has to respect the rules. If there's a rule out there, there's a reason for it, especially after the last couple of years when it has been debated quite frequently. If it's still there, there's a reason and one doesn't have to respect anything other than the rule and if the rule says so, let's abide by this.
On Ricky Ponting words for Ravi Ashwin
I don't know in what context he said this in. But if he said this then I'm extremely surprised because he himself is one of the players, who's been tough; he's played his cricket as tough as a nail and wouldn't give an iota to the opposition. I'm surprised that this has come from someone like Ricky Ponting because it's not something that one needs to tell the bowlers.
It is something that is to be communicated to the batsmen. Ashwin said that he stood by his actions. I stand by him as well and there are no two ways about it. Murali Kartik is also in favor of that. It's not the bowlers' fault as they aren't doing anything illegal and it's the batsmen, who aren't following the rules. So, why blame the bowler for this, why come down hard on the bowlers when it's not their fault at all!
Watch the video:
Follow Deep Dasgupta on his social platforms Facebook, Twitter, and Instagram
Follow us on Telegram