Despite juggling around, lack of 3rd seamer hurting India's ODI machinery
Yes, the ODI machine of India is good, the bowlers are decisive, but for world tournaments, there needs to be backup plans.
India's ODI machinery is chugging along at a fair clip. The top order is consistent, the middle order, for all its frailties, has been getting the job done and the bowlers led by Jasprit Bumrah and Bhuvneshwar Kumar are a reliable duo, more like a bank for captain Virat Kohli.
The captain can smile, and then when he looks around for a third seaming option, the smile tends to disappear. India wanted to invest in Khaleel Ahmed, as they were looking at a left-arm angle leading into the World Cup, but the young man has been far from impressive. He was shunted away and in came Mohammed Siraj and was looted for 76 runs in 10 overs in Adelaide.
Along the way, the ball has been thrown to Siddarth Kaul, Deepak Chahar, Umesh Yadav, and even Mohammed Shami. Now Shami is a peculiar case in Indian cricket. He drilled home his significance in the Test series when he emerged as the second-leading wicket-taker, but his ODI form has been anything but impressive. However, not everything looks bleak.
With Bumrah rested, Shami seems to have stepped up the plate and has been far more consistent and penetrative in the two matches so far. With all the skills in his arsenal, the Bengal pacer can solve India's woes, but he blows hot one day and extremely chilly the next. Perhaps, this tour could be his second coming as an ODI bowler. Before the MCG ODI, he is just 1 wicket away from completing 250 international wickets. No mean feat, but his ODI records leave a lot to be desired.
Shami answers the call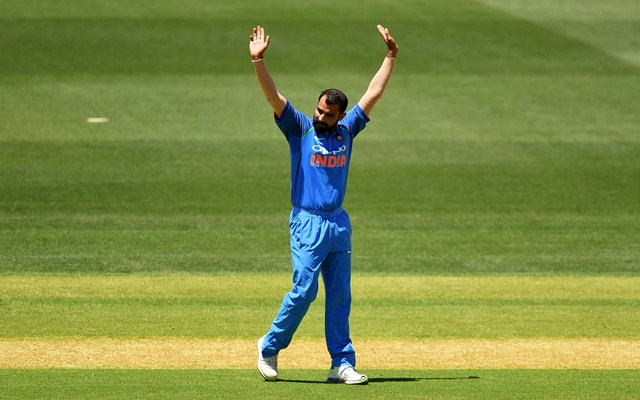 "Bhuvi (Kumar) is very experienced as well as (Mohammed) Shami," Dhawan said. "That's why in the first 10 overs we have been dominating."
Well, pre-match pressers can be slightly off-putting, but in this case, Dhawan has hit the nail on the head. Shami looks to be the answer for India as far as the third seamer is concerned, and especially with the Hardik Pandya controversy refusing to go away without multiple shrieks along the way, Kohli needs a fit and firing fast-bowler at his disposal.
It can be argued that Siddarth Kaul and Deepak Chahar did not get an extended rope when they played in England, but despite the small sample size, their performances were anything but satisfactory. Umesh Yadav has forever been on the fringes, and he forever remains the favourites of the commentators, but 106 wickets in 75 matches at an economy of 6 is not at all heartening.
Bumrah and Bhuvneshwar are locked in and so are the wrist spinners, but the all-round option and the third seamer option will keep the selectors and the captain busy.
Yes, the ODI machine of India is good, the bowlers are decisive, but for world tournaments, there needs to be backup plans, and as of now, despite juggling around, Kohli has not found a good option to bank on.
"I think the Indian attack is well balanced. Bumrah has been rested for obvious reason but their attack is still quite good," former Australian pacer Jason Gillespie believes.
We believe so, and so will Kohli when he marches out in England, but having a solid backup plan will make those strides even more purposeful.