Dharamveer Pal: The Unofficial 12th man of Indian Cricket Team
I want to support Men in Blue till my last breath: Pal
Updated - Oct 9, 2017 11:49 am
203 Views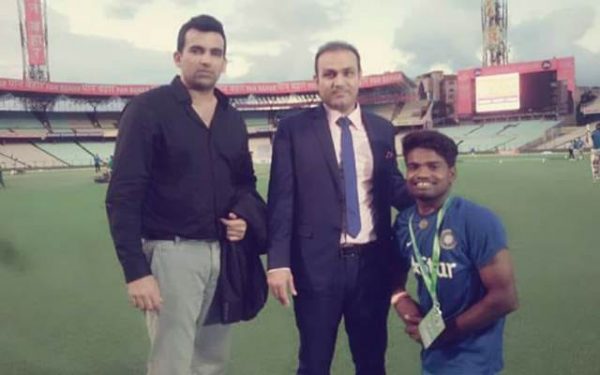 23- year old ballboy, hailing from Madhya Pradesh, Dharamveer Pal, is one of the many unfortunate who suffers the brunt of polio disease in the country. Dharamveer was diagnosed with polio at the early age of 18 months only. Due to the unfortunate disease, Pal was left immobile from the waist down.
Much like the majority of the Indian population, Dharamveer also has been an ardent cricket fan throughout the entirety of his life. It is only due to his passion for cricket today that he has been able to break into the Indian side as the unofficial 12th man of the team.
Dharamveer now travels everywhere along with the Indian team as the members take care of all his expenses while considering him as a family. His escapades with Indian cricket doesn't quite end with him being the unofficial 12th man of the Indian side. Pal also captains the differently-abled cricket team of India.
I want to support Men in Blue till  my last breath: Pal
It is learnt that Dharamveer has an incredible arm and throw with lightning agility on the field while using his active limbs to move around. Pal has been seen taking pictures alongside the likes of Sourav Ganguly, VVS Laxman, MS Dhoni and Murali Vijay.
"I am ready for any challenge life throws at me. I don't see myself as handicapped, this is the way I am and I am strong, I can do any work. Anything, any big job. I can take any job. I want to be connected with cricket till my last breath and support Men in Blue till then. You know, I am an inspiration for all those people who think that Polio disease didn't let them do anything," claimed Dharamveer Pal according to Cricfit.
Pal's story is one of the many inspirational stories the game of cricket has provided in the recent years especially in a sport-frenzied nation like India.