Diana Baig: A natural athlete
Speaking about her raging confidence she said it was a result of the support she got from everyone around her.
Updated - Jul 6, 2017 6:11 pm
945 Views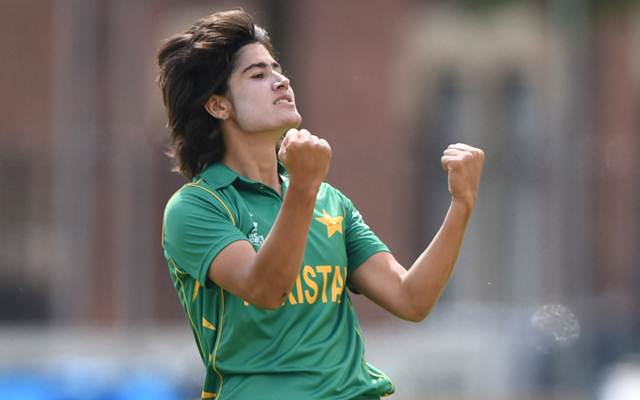 Follow us on Telegram
Diana Baig, who is a Pakistani international cricketer and footballer is giving us some serious life goals. The 21-year-old is a complete package and intends to play every sport she can. According to the youngster, she would love to represent the country in every sport but the Pakistan Cricket Board stands in between.
"Mere ko har sports achchha lagta hai," said Diana Baig. "Yeh log mere ko rok lete hain, nahi tho mein har sports mein ghus jaati – volleyball, athletics."
Pakistan lost their match against the Indians in the ongoing Women's World Cup on Sunday but Diana Baig managed to grab the limelight with her heroics on the field. She entertained the crowd with her tremendous athleticism which was a treat to watch.
She was brought into the team in place of Kainat Imtiaz and she made the opportunity count quite effectively. She took the wicket of in-form batsman Smriti Mandhana with a brilliant inswinger. Her pace caught the eye of West Indian cricketer Ian Bishop who is an active commentator in the tournament.
She bowled back to back maidens and restricted India to just 17 runs in the powerplay. She was brilliant in the field as she used her athleticism and swift movements to save at least 15-20 runs for the team.
Pakistan captain Sana Mir said that Baig is a lively individual in the team and brings a lot of energy in the players. "brings a lot of spark to the team" said Mir.
Suzie Bates, Sophie Devine and Ellyse Perry are women cricketers who have been double internationals for their country and Baig also falls under the list. She has already played as a defender for Pakistan's national football team but decided to quit football a year ago to focus completely on cricket.
On her confidence:
Speaking about her raging confidence she said it was a result of the support she got from everyone around her. She highlighted the name of Ayesha Ashhar, the current manager of the Pakistan team for her great support and belief. Ashhar was the one to spot Diana Baig when she was 15.
"People encouraged me a lot by saying Diana has the talent to do something," she said. "I didn't believe in myself, but as I got into the Pakistan team, I started believing. Even my family, who were initially not interested, started taking interest. My father always wanted me to do something. He must be proud now that I have done something. It's destiny. God's wish." added Baig.
Ayesha said "amazing to see someone field like this in women's cricket". Baig credited football for her athleticism, and said she loved fielding. She can "field anywhere, but I had prepared to field at point for this World Cup".
Baig who tries to enhance her skills as a fielder by watching everyone around her, including Jonty Rhodes on YouTube, says "I have full confidence in my fielding,". "You have to put a lot of mind while fielding at point as the ball can turn any time. It is difficult. I have practiced with coaches here. Har ball mein jaan de deti hun (I give my everything for every ball)." continued the youngster.
"I usually analyse my fielding in advance – if a catch is going to come like this, I will hold it like this," she said. "When I am at the boundary, I almost imagine everything in advance. That catch, it was almost done, but I think I gave my 100 per cent.
"When everyone keeps telling you that you are good, even if you are not good, you start thinking that you are good," Baig, who shifted to Lahore for education and cricket three years back, added. "When everyone in the team started saying I was the best fielder, I kept saying I am not going to leave a single ball. Now I want people to say I am good."
While she is content with her dives on the right, she wants to improve a bit on her diving technique towards the left. She has already started working on that part following the legendary Jonty Rhodes on YouTube.
Follow us on Google News