'Didn't know this!' – Neil Wagner elated after knowing that Glenn McGrath had mentioned about him in 2003 CWC diary
Wagner did not play for South Africa but made his international debut for New Zealand in 2012.
Updated - Feb 4, 2020 5:51 pm
857 Views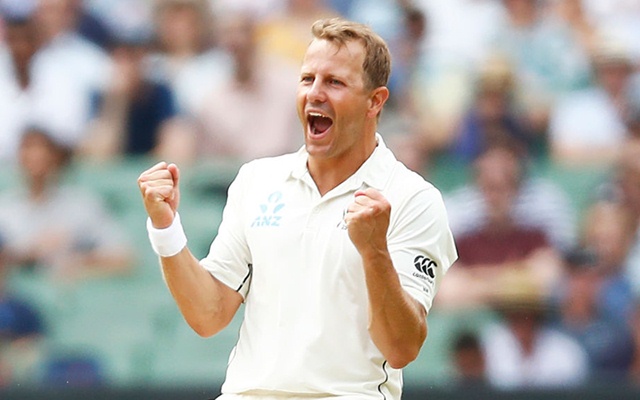 Follow us on Telegram
Sometimes, nostalgia opens up a box of gold for any individual, including cricketers. New Zealand seamer Neil Wagner is one who tasted the sweet experience of late. The 33-year-old left-arm bowler, who was one of the few members of the Kiwi Test side in the recent tour of Australia, discovered something memorable on social media and was impressed. It was about how former Australia spearheads Glenn McGrath and Brett Lee displayed a charitable gesture towards him when he was a teenage player in South Africa, the country of his birth.
It was during the cricket World Cup in South Africa in 2003. Ricky Ponting's Australia were playing to defend their 1999 crown victory and they were doing it well. The Men in Yellow had a defeatless streak in the tournament but the on-ground aggression never translated into arrogance off it for the Australians. And Neil Wagner, who was yet to turn 17 then, got to know about it.
Didn't know this!Amazing and extremely kind! Remember how awesome @glennmcgrath11 @BrettLee_58 was!Carried my bag back to my parents car!Feels like yesterday!!Pretty awesome memory and so cool to see them both a month ago in the middle of the SCG! https://t.co/ORUh9SZ56O

— Neil Wagner (@NeilWagner13) February 3, 2020
South Africa-born Wagner donned the Test jersey for New Zealand
On Monday, a sports writer named Dave Sera Sera shared on Twitter a section of the diary that McGrath had penned during the 2003 World Cup. At one place, the 'Pigeon' mentioned Wagner (though spelled it as "Neil Wagenaar") saying the latter stood out among the six young quicks that he had met along with Jason Gillespie ("Dizzy") and Ian Harvey ("Harvs").
"There are some promising fast bowlers among them; they all have good action and bowl with some pace. The one stand out is a left-armer, whose hero is Allan Donald — you can tell by the way he follows through, a mirror image of AD. His name is Neil Wagenaar and he'll be someone to look out for in the future," wrote McGrath, whose best bowling record in that World Cup was 7/15 in seven overs.
Wagner, who did not play for South Africa but made his international debut for New Zealand in 2012, reacted to McGrath's observation to add to the story. He said he didn't know about the Australian legend's kind words but added that McGrath and Lee carried his bag back to his parents' car and was touched by the humble gesture. He also recalled the presence of the two bowlers, who took 1,667 international wickets between them, at the Sydney Cricket Ground during the third Australia-New Zealand Test a month ago.
Wagner came up with some spirited performance in the series in which his team was hammered, by taking 17 wickets. He has 204 wickets in 47 Tests so far.
Watch: Irfan Pathan's interview post his retirement
Follow us on Google News