Diehard Yusuf Pathan fan offers free Auto rides everytime Yusuf scores for KKR
Javed Shah of Valsad is a diehard fan of Indian cricketer Yusuf Pathan.
Get every cricket updates! Follow us on
The cricketers are not just glorified in India but are worshipped as well. Over the years, there have been fans who have carved a name for themselves for the heroes they adore and revere in the game. Another name from Valsad, Gujarat has joined the list of such diehard fans. Javed Shah, an auto-rickshaw driver, has been following the Indian cricketer Yusuf Pathan for quite some time now.
The story of his 'fan-ship' – if we could coin a word like that – began last year when Yusuf Pathan had travelled to Valsad for a domestic fixture. Interestingly, it was a Ranji Trophy game and Yusuf had turned up for his domestic side Baroda in the match. Javed had already been a big fan of the hard-hitting all-rounder. As soon as he got to know about the arrival of his favorite star to his town, he decorated his auto-rickshaw and took it to the venue.
However, there was little that he could do to catch up with the senior Pathan. Luckily for him, the word about Javed coming with his decorated auto to the venue reached the ears of Yusuf Pathan. Yusuf, being the humble man that he has always been, ensured that he caught up with his fan.
Incidentally, Yusuf met his fan and even spent a lot of time with him. He travelled on the streets of Valsad in the decorated auto-rickshaw of his fan. This year, the superfan has taken his love to another level in the Indian Premier League. He has set some super offers in his auto-rickshaw for the people of his city.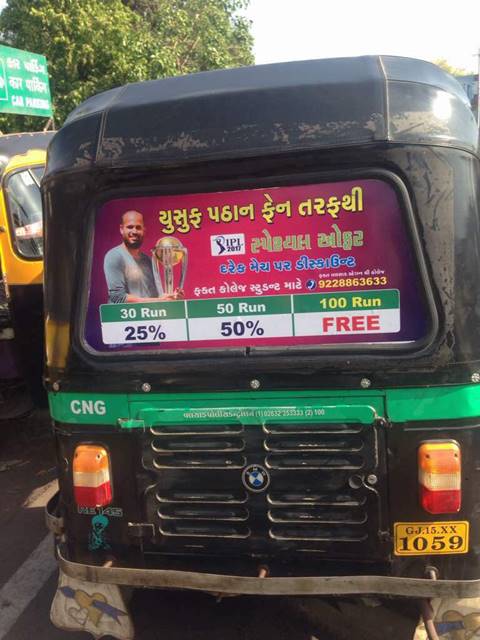 Everytime Yusuf hits more than 30 runs, he is offering a 25 per cent discount in his auto on that day. If the star batsman goes on to hit a fifty for the Kolkata Knight Riders, he will be offering 50 per cent discounts. In the case that Yusuf smashes a big majestic ton, Javed Shah is set to provide free rides to his fans on the following day.