Do we appreciate Chris Gayle enough for the kind of batsmanship he has shown us?
It's high time we start taking Chris Gayle's name in the same breath as we do for someone like a Sachin Tendulkar or Brian Lara or a Virat Kohli.
Updated - Feb 5, 2021 7:32 pm
720 Views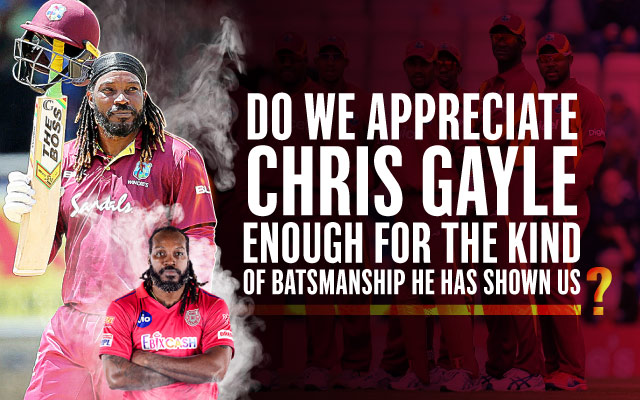 41 years and 135 days. That was Christopher Henry Gayle's age when he smashed 84 runs off just 22 balls in an Abu Dhabi T10 League match. Till he got to the score of 56 runs, all his scoring shots were boundaries. At the end of the assault, he had hit nine sixes and six fours, that's a total of 78 runs just in boundaries. He could have got a century in a T10 match, but the target set by the opposition was already done and dusted. This was what some would call brutal hitting. It was unreal and it takes a man of immense will and power to do that at 41. 
The first real star of T20 franchise cricket
Chris Gayle for a generation of cricket fans would be someone who does crazy things with the bat in franchise T20 cricket and sometimes shows up for West Indies in a one-off series. But I, for once, had come across Chris Gayle, the dashing opener of the West Indian cricket team. This is about 2007, franchise T20 cricket wasn't a thing and the shortest format of the game was taking baby steps. But, in the inaugural match of the ICC World T20 in Johannesburg, the Jamaican scored 117 runs from just 57 balls.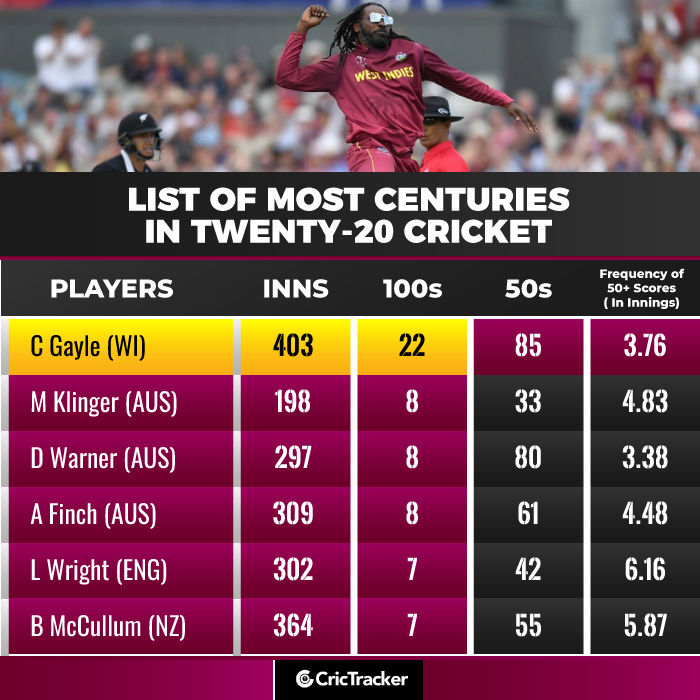 That was the first T20I century ever to be scored. That was also the first of his 22 T20 centuries. But, if this piece was about Gayle's T20 exploits, would I be actually writing this? You can probably search for the youtube video of that innings from the other night in Abu Dhabi or any of his T20 knocks and be done with it. But, for a moment let's just take a look at some numbers and see the enormity of the achievements which Gayle has. 
One of the best batsmen in international cricket at one point to playing T20 franchise cricket
For someone who travels and plays just T20 cricket across the globe (T10 being new to the scene), the Jamaican has a tremendous batting record in Tests as well. He has an average of more than 42 in Tests after playing over 100 matches, which makes him stand tall in front of many legendary Test openers. Chris Gayle has got two triple centuries in Tests. Three players who have done that apart from him are, Virender Sehwag, Brian Lara, and Sir Donald Bradman. He once also hit Matthew Hoggard for six fours in an over of a Test match at the Oval in London.
He was a fantastic one-day batsman as well. He has over 10,000 ODI runs along with 25 ODI centuries. He is the first batsman to score a double century in a World Cup match. On top of all of that, Gayle was a handy bowler as well. He would often be called upon to bowl the death overs or just help his captain get the game under a little control. And, Gayle seldom disappointed. 
The left-handed batsman made his debut for West Indies in 1999, a year after he started playing for Jamaica's senior side. He spent the first ten years trying to make his career count as a West Indies player and did a pretty good job at it. But, post-2010, his strangled relationship with the board left him a little high and dry. But, his efforts in the T20 cricket across the globe made him a complete star. The man has more than 13,000 T20 runs already!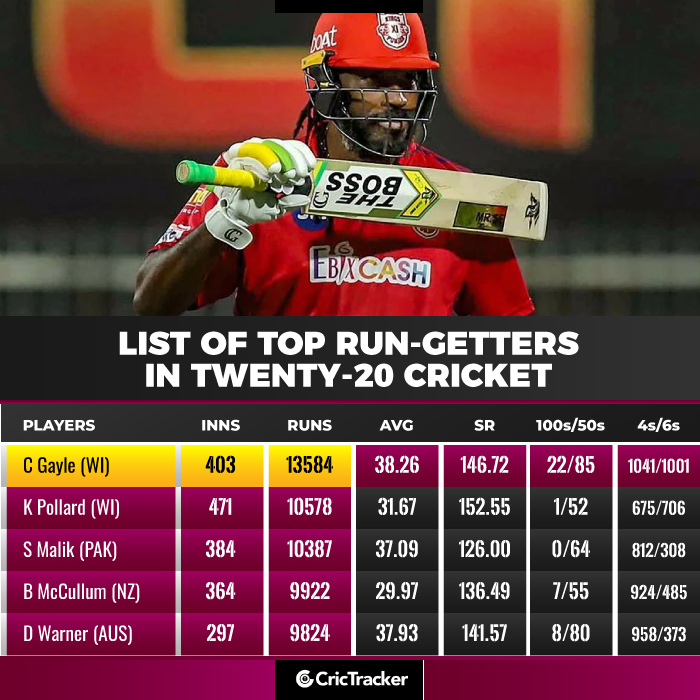 He has been a global icon and calls himself, 'The Universe Boss.' Indeed Chris Gayle is and he still goes out there on the park to stamp an authority of the title. He has had an illustrious career, but sooner or later, we might see an end to it. I hope it is not anytime soon, but when it happens, cricket will surely miss one of its favourite sons. 
Celebrate the Universe Boss while he is still at the pitch
There I say, Chris Gayle shouldn't be any less celebrated than any other legend of our game. People talk about Sachin Tendulkar for his 100 centuries, Ricky Ponting for his great batting and captaincy record, Brian Lara for those effortless runs or Rahul Dravid for facing the most number of balls in Tests. But, the same isn't the case with Gayle. 
More often than not, there are comments like breathtaking batting from Gayle, but it is very rare that people appreciate his batsmanship. It's almost like 'yeah, hundred of 30 balls in an IPL match, great record but what else?' Tendulkar is often credited for his longevity in the game. How he was at the peak of his career even after 20 years of his career.
Chris Gayle might not be at his peak but he is still kicking in hard. And in the last few years, his game has evolved as well. Just to justify that, during the first over of that chase in the T10 league match, Gayle placed one ball slowly past the short third man fielder with immense elegance. Next ball, with that heavy bat lift he strikes the ball and sends it 20 meters away from the boundary. If that doesn't call for versatility, what else does?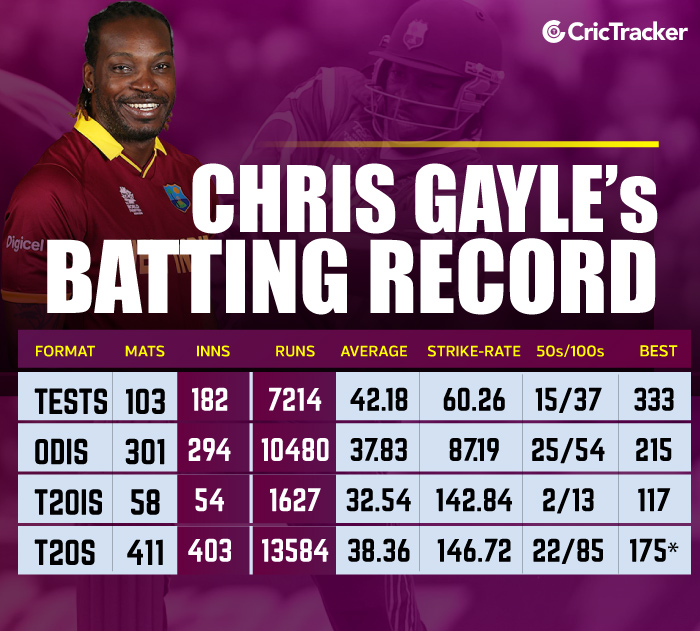 Come to think of it, a few days ago, we were praising Cheteshwar Pujara's 56-run knock against Australia in the fourth innings of the Brisbane Test. Chris Gayle took just 13 balls, to hit six sixes and five fours to get to those many runs last night in Abu Dhabi. I know all of you cricket pundits will jump to say, "that was against the best bowling attack in the world, on a day five wicket, with the red ball" and blah blah.
I know all of that. But, let us take a moment to appreciate a sport that allows praises for players who do things so differently yet end up with such similar scores. I would end by just saying that it's high time we start taking Chris Gayle's name in the same breath as we do for someone like a Sachin Tendulkar or Brian Lara or a Virat Kohli. He is no less of a legend than all of them and it is time to celebrate his batsmanship in complete awe of his magnificent hitting. 
Follow us on Telegram