Documentary series showing Australia's journey from Sandpapergate to Ashes defence to be released in early 2020
The Sandpapergate was one of the lowest points in the history of Australian cricket.
Updated - Nov 25, 2019 5:46 pm
2K Views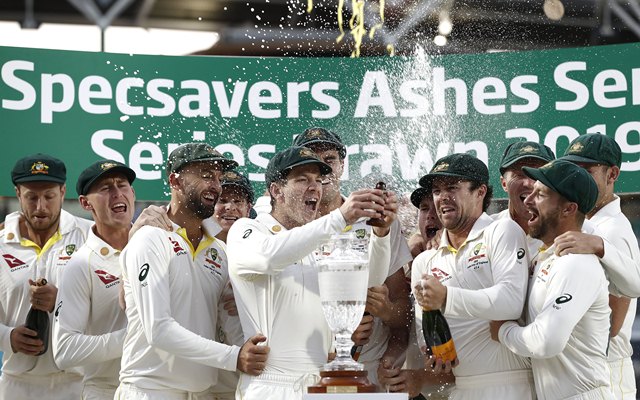 Australia have been one of the top achievers in cricket. Playing Test cricket since 1877, the Baggy Greens have taken part in 826 matches — the second-highest after England (1,017) and winning the most among all the Test-playing nations — 389.
There have been dark moments in the history of the Kangaroos as well, like the 2018 Sandpapergate in South Africa that rocked everything Australian related to cricket, and a new docu-series is set to encapsulate the Australian team's journey of redemption from the ball-tampering scandal to a successful defence of the Ashes in England this year.
The eight-part series titled 'The Test: A New Era for Australia's Team' will also feature unseen footage from the dressing room and behind-the-scenes pictures of the their first-ever loss to India in a Test series at home, their exit from the World Cup in the semi-final and then the turnaround in the Ashes, according to a report on cricket.com.au.
Australia did not lose an Ashes in England since 2001 when Steve Waugh's side had bagged a series 4-1. This time, Tim Paine's side saw a 2-2 draw and could have won had Ben Stokes not played an other-worldly knock at Headingley. The docu-series is set to be released in 2020.
When Australia were rattled by Sandpapergate
The Sandpapergate was one of the lowest points in the history of Australian cricket as a number of members of the Steve Smith-led side were caught rubbing the ball against sandpaper during a Test match in Cape Town. It saw a year-long ban getting imposed on Smith and his deputy David Warner and their absence left the Aussies considerably weakened for the time.
Another player Cameron Bancroft who was caught doing the act was also handed a ban. The repercussions of the incident saw Darren Lehmann quit as the coach of Australia and even a number of top officials of the country's board stepping down.
The trailer of the docu-series showed highs and lows that the team faced that even include Smith getting hit in his neck by speedster Jofra Archer at Lord's during the Ashes and the shocking loss in Leeds in the next game.
The series will be available Down Under on Amazon Prime Video and will be available in over 200 countries and territories around the world early next year.
[interaction id=" ="5dcd6430342c3067af608693""]