Dwayne Bravo reprimanded for misbehaviour against Mumbai Indians
Updated - May 22, 2016 12:12 pm
75 Views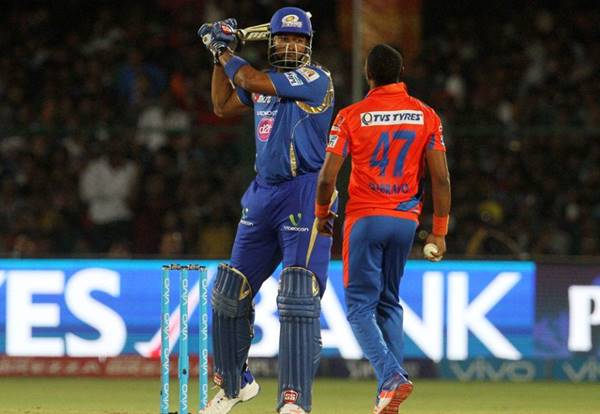 Follow us on Google News
Gujarat Lions all-rounder Dwayne Bravo was fined as much as 50 percent of his match fees for showing inappropriate behavior during the match against the Mumbai Indians.
The Gujarat Lions clashed with the Mumbai Indians in the must-win match for the latter at Kanpur yesterday. It was in the 14th over of the match when Kieron Pollard walked in to bat. Dwayne Bravo had the ball in hand. As he ran up to the stumps for the final delivery of the over, Pollard backed off from the strike and asked the bowler to re-bowl the ball.
While Bravo just smiled as he went back to his run up, he was certainly not pleased. He bowled a bouncer up next which the batsman defended. Bravo went up to Pollard and gave a slight shoulder push to him and in return, Pollard, too, showed actions of hitting him with the bat.
VIDEO – Watch: Kieron Pollard and Dwayne Bravo exchange cold stares
The two looked absolutely involved in the heated moment. The two West Indian players have a past in the tournament's history and have often come up clashing against one another in most of the Chennai Superkings and Mumbai Indians clashes. This time, Bravo had turned up for the Lions.
Kieron Pollard was lucky to have escaped a punishment, but it was Bravo, who was penalized 50 percent of his match fees for his actions and physical contact to the other player. He was stated to have breached the IPL players' code of conduct in the process and hence reprimanded for the same. As per the rules, the West Indian all-rounder was found guilty of the level 2 offence in the Article 2.2.7 that states penalty for inappropriate and deliberate physical contact with a player in the course of play during a match.
Bravo cannot question the fine as the decisions by the match referee on the breaches made for the level 2 offences are final and binding.
Follow us on Telegram