ECS Iceland T10 2020: Squads, Schedule, Timings, Live Streaming and all details you need to know
The Vidistadatun ground in Reykjavik will be playing host to the matches.
Updated - Jul 30, 2020 4:28 pm
801 Views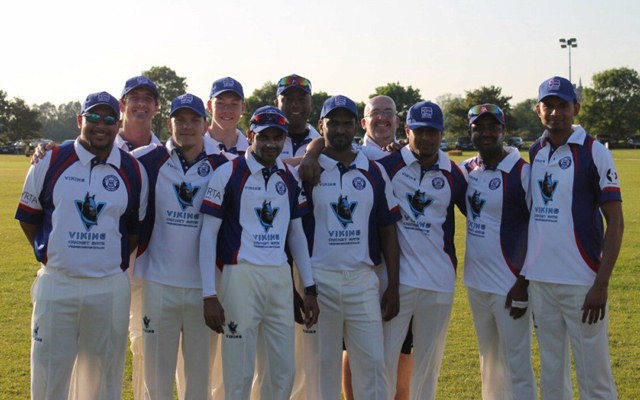 The ECS Iceland T10 League is set to get underway on Saturday, August 1. The tournament only consists of a couple of days with seven matches to be played. The event will feature three of Iceland's top domestic teams, namely Reykjavik Vikings, Kopavogur Puffins and Hafnarfjordur Hammers. The teams will lock horns with each other in a round-robin stage.
The Vidistadatun ground in Reykjavik, Iceland will be playing host to all the seven matches of the tournament. The Kopavogur Puffins are deemed to be the favourites after their scintillating form in the recent Íslensk Premier League 2020 where they remained unbeaten. The Hafnarfjordur Hammers, on the other hand, haven't won a single match this year.
They would need to up their game in order to make an impact in the tournament. For the Vikings, they have been a little inconsistent. However, they have the firepower to emerge victorious. Cricket at the highest level has already resumed amid the COVID-19 pandemic and Iceland would also be hoping for their league to go ahead as per schedule.
Where to watch the tournament live?
The ECS Iceland is set to be streamed worldwide on the European Cricket Network YouTube channel. Indian viewers can watch the action on the Fancode App.
Squads
Hafnarfjordur Hammers Squad: David Abew-Baido, Abdur Rehman, Jakob Robertson, Omar Sabi, Sammy Gill, Javed Hussain, Sulaman Nainaz, Kali Nazar, Lee Nelson, Nolan Williams, Fida Wur and Mohammad Younas.
Kópavogur Puffins: Abhishek Chauhan, David Cook, Leslie Dcunha, Mohit Kotian, Dushan Bandara, Lakshitha Bimsara, Keenan Botha, Olafur Briem, Sampath Kumar, Ramachandran Gujapan, Gabriel Maksimov and Sathiya Rupan.
Reykjavik Vikings: Lakmal Bandara, Sadun Lankathilaka, Asim Ayoub, Junaid Raja, Ravi Rawat, Max Sandharu, Jega Subramaniyam, Derick Deonarain, Mahinda Dissanayake, Chamley Fernando, Gul Khan and Prabhath Weerasooriya.
ECS Iceland T10 League 2020 Schedule and Match Timings (in IST)                    
August 01, Saturday
Reykjavik Vikings vs Kopavogur Puffins Lions at 04:30 PM
Hafnarfjordur Hammers vs Reykjavik Vikings at 06:30 PM
Kopavogur Puffins vs Hafnarfjordur Hammers at 08:30 PM
Reykjavik Vikings vs Kopavogur Puffins at 10:30 PM
August 02, Sunday
Reykjavik Vikings vs Hafnarfjordur Hammers at 04:30 PM
Hafnarfjordur Hammers vs Kopavogur Puffins Tigers at 06:30 PM
Iceland T10 Final: August 02, Sunday
Teams: G1 vs G2 at 09:30 PM