England and New Zealand: Drunk fans injure two stewards in Edgbaston Test
With 18,000 fans allowed in the stands, the celebratory has not been something that the stadium authorities would have liked.
Updated - Jun 12, 2021 2:56 pm
593 Views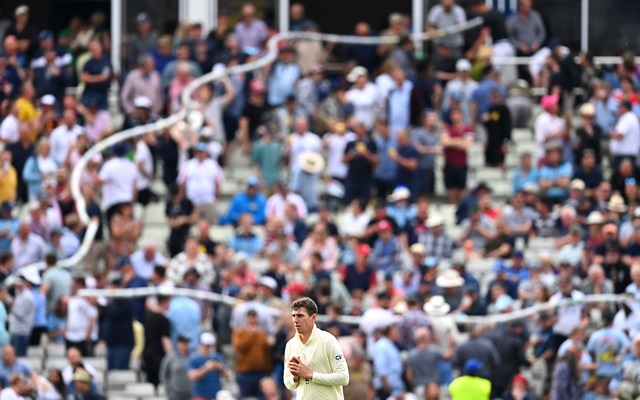 Follow us on Telegram
Cricket is an integral part of the summer in England every year. In 2020, the crowds couldn't come to the stadiums and watch matches due to the pandemic. However, with the restrictions getting slowly and steadily lifted, crowds are back in the stands in England. The ongoing Test between England and New Zealand has allowed 18,000 fans. 
On the first two days, the mood in the stands was quite good as the fans cheered at the Edgbaston cricket ground in Birmingham. Despite England's poor show, the event seemed quite joyous for the fans, who celebrated and cheered on with alcohol in their hands. This has made the job of the Stewards quite difficult. 
According to a report in The Telegraph, it has been revealed that two of the stewards have been injured. This event was an anticipated one for the English fans, who had been deprived of the thrill of watching Test cricket from the stands, for close to two years now. One of the stewards revealed how drunk fans caused harm to him and his colleague. 
The incident happened in the infamous Eric Hollies stand
"Two of us have been injured already today," said one steward, who was assigned to oversee the spectators in the infamous Eric Hollies stand. "I almost broke my thumb with one of those beer snakes while my colleague had his shoulder done in ejecting a drunk member of the public," he said as quoted by the Telegraph. That steward further noted that there were just too many drunk fans in that stand, even though the rest of the ground was great. 
"The rest of the ground is great but this bit isn't. [The fans] are too drunk and there's too many of them. And there aren't enough police. [The fans] are out of control," he added. Stuart Cain, who is the chief executive of Edgbaston revealed the authorities were notified about only one steward getting injured and nothing had come from the other one. 
This has occurred as a result of how stadium authorities have sold their tickets. In the first Test at Lord's, only 25% of the total capacity was allowed. On top of that, there was a special provision taken to allow more young kids, of ages above 16 to come and watch, as this is the time of school holidays in England. But, in Edgbaston, a 50% crowd was allowed with only fans of age 16 or above being allowed. 
Follow us on Google News