England transgender cricketer Maxine Blythin opens up on the backlash she received for playing in women's championship
Blython was brutally trolled on social media by a section of fans.
Updated - Nov 27, 2019 6:09 pm
664 Views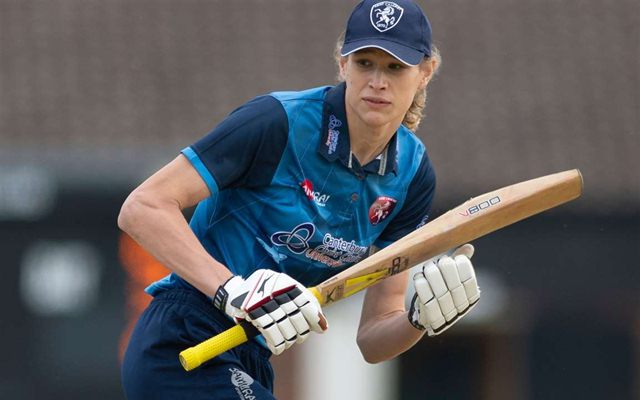 England transgender cricketer- Maxine Blythin- was recently awarded the Kent Women's 'Player of the Year', an honour ushered on her following her stupendous performance in the Women's County Championship. The six-feet tall opening batsman helped Kent win the championship last summer and finished as the third-highest run-getter in her debut season as her county notched up an impressive title win.
Blythin, a transgender cricketer- was born with a special condition, according to which, she did not undergo under male puberty as a young kid purely because her testosterone levels were way too low.  The opening batsman won the coveted award with minimal fanfare or media attention last September. However, a series of tweets from columnist Katie Hopkins brought Blythin and the fact she played in Women's cricket, came into the limelight.
Following a series of controversial tweets from Hopkins, Blython was brutally trolled on social media by a section of fans. Responding to all the negativity on social media at the hands of the trolls, Blyton said to Sky Sports that while she was not particularly surprised or disturbed at all the negative things hurled at her by a section of fans, she was actually "shocked" to see the kind of support she received from her close friends, her family and the cricket fraternity in general.
"From obviously reading media stories you know that that kind of mentality is out there," Blythin told Sky Sports. "There are people who just don't like you because you're different or you don't fit into the binary norms that they see. You get a lot of hate mail, some more extreme than others," he added.
"It's probably the hardest thing, I think, for someone like me to experience because it's someone saying, 'you are not valid, I get to decide who you are, not you', without any understanding of the biology behind it, the science behind it, and just in general how your brain works."
"My friends have all been accepting. My family, with some time, were very accepting. At work, I've never had any issues, on the sporting field, not a single comment, no issues. In just general life, going to the shops, going anywhere, not a single issue at any stage. I've just been living my life being a normal human, going to work, going to the shops, paying taxes," Blyton told Sky Sports as quoted by ESPNCricinfo.
Maxine Blythin pays tribute to Tammy Beaumont for supporting her
Tammy Beaumont- Kent captain and English opener- had come out in support of her teammate on social media when she responded to Hopkins in a series of tweets, and Blythin paid tribute to her captain and said that he is proud to call Beaumont as her teammate.
"Personally, I'm proud to call her my team-mate and my friend. So please attempt [sic] don't speak for me or my ovaries. Having someone who openly shows her support despite knowing what backlash you could get from it, from people who just don't know anything about the story, anything about biology, anything about who I am or what I'm doing, is very brave of Tammy and something I appreciate a lot," Blythin said.
[interaction id="5dc6c071daa233047a27bb8a"]