England vs India: Broadcaster trolled for referring to Stuart Broad as Chris Broad, his father
Chris Broad is Stuart's father and a former England international cricketer.
Get every cricket updates! Follow us on
Amidst India's pathetic batting display in the second Test at Lord's, the fans found a funny deflection from the proceedings, thanks to a goof-up by the broadcaster of the ongoing series, Sony Pictures Networks (SPN). The channel flashed "Chris Broad on a hat-trick" after the bowler, Stuart Broad, removed Virat Kohli and Dinesh Karthik on successive deliveries in India's second innings.
Chris Broad is Stuart's father and played international cricket for England in the 1980s. The former left-handed opener who is a match referee now, had a more prolific domestic career scoring 21,892 runs in first-class cricket with 50 hundreds.
Social media did not spare the broadcaster for showing that the wrong Broad was on a hat-trick. Stuart though did not succeed in getting the hat-trick though his four-wicket haul in the second innings complementing James Anderson's spell wrecked and buried the Indian innings. Broad now has 424 Test wickets which makes him the second highest for England after Anderson (553) and 10th overall.
While many users laughed at the goof-up of 'replacing' the son with the 60-year-old father, there were also others who stood by the broadcaster, saying: "technically broadcaster isn't wrong as his full name is Stuart Christopher John Broad being Chris Broads son."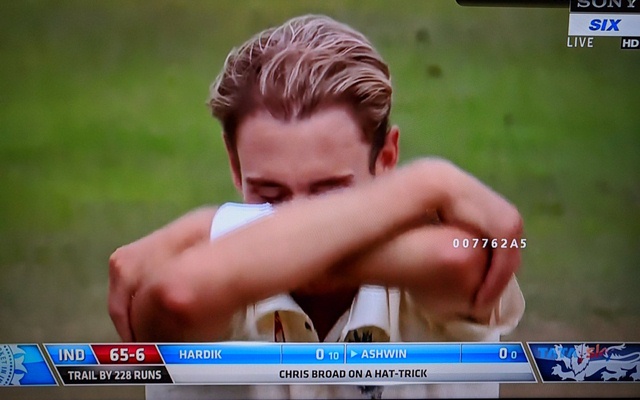 Another said that India were losing the game perhaps because Chris Broad was bowling in the game and not his son Stuart after viewing the wrong projection. However, Stuart has done much better as a bowler in international cricket compared to his father who had never picked any wicket. Broad has 667 international wickets in all three formats combined.
India crashed to a defeat by an innings and 159 runs in the second Test after being bowled out for 130 in their second innings. They had to score 290 runs to make England bat again but for the shaky-looking Indian batting line-up, that seemed quite a mountain to climb. England lead the series 2-0 with the third Test set to begin at Trent Bridge on August 18.
Here's how Twitter reacted
Who is Chris broad though? pic.twitter.com/6pHY4Jm7cp

— Jatin (@LogicalBakwaas) August 12, 2018
Wasn't #StuartBroad on a #hattrick? Who is Chris Broad?#indvseng #TestCricket #testmatch #SonyLIV #Cricket @BCCI @ECB_cricket @SonyTV pic.twitter.com/AiAzw9SS6o

— Abhinav Jha (@raretweeter13) August 12, 2018
Okay… So is it just me or anyone else also noticed that yesterday #ViratKohli & Dinesh Kartiks wicket was taken by Stuart Broads father Mr.Chris Broad…? #ENGvIND … pic.twitter.com/Cy1mzRmU3J

— A$hu007 (@Ashu_Pharande) August 13, 2018
Chris Broad on a hattrick? I guess his dad would be happy! #ENGvIND

— Kunal Tolani (@Kunal_jt) August 12, 2018
@SPNSportsIndia thinks your father Chris Broad is still playing @StuartBroad8 #EngvInd pic.twitter.com/h5vazvJKpb

— Narayan Bhat (@narayanmanutd) August 12, 2018
So @SPNSportsIndia doesn't know difference betweem @StuartBroad8 & his father #Chris_broad @bhogleharsha #ENGvsIND @harbhajan_singh @BCCI pic.twitter.com/SGLP46yCvz

— Sudhanshu Srivastava (@Jhalla_Abhi) August 12, 2018
WTF is this??.. When did chris broad came out of retirement… Mr. @StuartBroad8 needs to answer this…

Only @SonySix and @SPNSportsIndia can come up with these kind of innovative ideas 😀😁#ENGvIND #INDvENGhttps://t.co/Kb9DYqGp5d

— SPYder🕷️ (@SPYder0393) August 13, 2018
@SonyTV Live telecast mentions "Chris Broad" is on hat-trick! He retired 30 years ago, his son "Stuart Broad" is playing now.. 😀@harbhajan_singh @SGanguly99 @sanjaymanjrekar r closest to action, perhaps 1 of u can tell inform them of the error. 🙂

@IndvsEngland @TestCricket pic.twitter.com/vTdDPTf2Oo

— Anshul (@AnshulGoel187) August 12, 2018
Match scorers high on weed? Live telecast mentions "Chris Broad" is on hat-trick! He retired 30 years ago, his son "Stuart Broad" is playing now.. 😀@virendersehwag.. Paaji kya kehna hai apka? @SonyTV @IndvsEngland @TestCricket @StuartBroad8 @TheCricketBCCI pic.twitter.com/t205R5sKET

— Anshul (@AnshulGoel187) August 12, 2018
Didn't know Chris Broad is still playing. @StuartBroad8 #EngvsIndia #LordsTest #cricket pic.twitter.com/nhdjzM2Qgw

— Ajay MV (@amv_amv) August 12, 2018
For all the latest cricket news and other updates follow CricTracker.