English all-rounder Chris Woakes names his All-time XI
Woakes has picked 5 English players and 4 Aussies in his XI.
Updated - Jul 20, 2018 4:04 pm
2.4K Views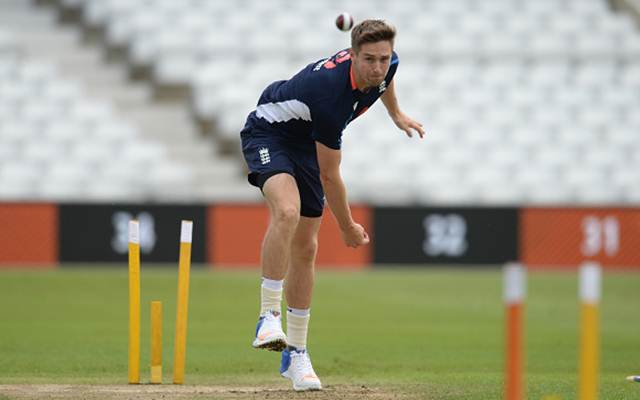 Follow us on Google News
Picking an all-time XI is quite a trend now. We've been seeing many cricketers pick their 'All-time' XI's for some time now. The latest entrant to this list is current English all-rounder Chris Woakes. The 29-year-old has featured in 24 Tests, 76 ODIs and 8 T20Is thus far playing for England. Chris Woakes' all-time XI included some legendary players like Sachin Tendulkar, Brendon McCullum and Glenn McGrath.
Woakes named Alastair Cook and Matthew Hayden his openers. He said that Cook needs no introduction and has also named him the skipper of the side. He justified picking Hayden by telling that Hayden is someone whom he has admired. Woakes told that Hayden is a hard hitter of the ball and it is great watching him bat.
In at No 3, Woakes has got Ricky Ponting. Ponting was one of the best players from Australia and was highly competitive. As many would expect, Sachin Tendulkar will be taking up the No 4 position. Woakes said it was unfortunate that he didn't get a chance to bowl to Sachin. Following up Sachin is Woakes' Warwickshire teammate, Ian Bell. Furthermore, Woakes said it was a pleasure to watch Bell bat.
And then at No 6, Woakes picked his hero and idol, Jacques Kallis. Woakes opined that Kallis' all-round skills will come in quite handy. Following him up is former New Zealand skipper Brendon McCullum. Woakes said that McCullum is quite an attacking option down the order and he will also don the gloves in the side.
Starting off with the bowlers, he has got Stuart Broad first up. Woakes felt that he was a great player to play with. Graeme Swann will assume of responsibilities of being the spinner in the XI. Glenn McGrath will be another fast bowler who will feature in Chris Woakes' XI. James Anderson will complete this XI.
Here is Chris Woakes' all-time XI:
Alastair Cook, Matthew Hayden, Ricky Ponting, Sachin Tendulkar, Ian Bell, Jacques Kallis, Brendon McCullum, Stuart Broad, Graeme Swann, Glenn McGrath, James Anderson.
Follow us on Telegram