Twitter all over Sachin Tendulkar for jinxing England and Roger Federer
Earlier, Virat Kohli was also trolled for supporting Germany.
Updated - Jul 12, 2018 1:09 pm
670 Views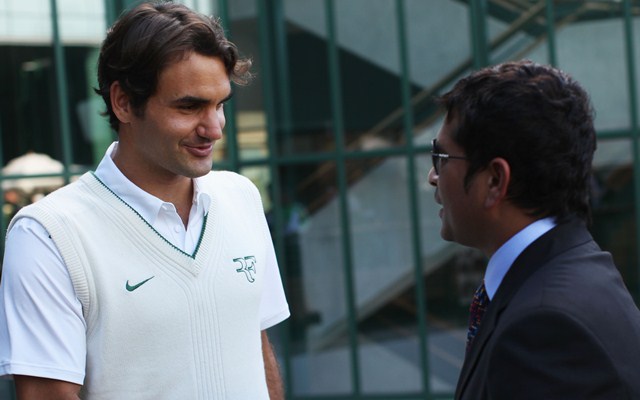 July 11 proved to be the day of upsets in Tennis and Football. The legendary Roger Federer who has an exceptional and unreal record at the Wimbledon, lost to the eighth-seeded Kevin Anderson from South Africa. Moreover, England lost to Croatia in a humdinger of a semi-final in the ongoing FIFA World Cup in Russia. Interestingly, Sachin Tendulkar had backed both, Federer and England, to win their respective matches. Unfortunately, the results were reversed and Twitter has started trolling the master blaster for jinxing them.
Ahead of the quarterfinal clash, Federer and Sachin had exchanged pleasantries on the social media. The latter had wished him all the luck for the game and no wonder he was tipped to come out on top against Anderson. But the Tennis star from the rainbow nation prevailed in a thriller and caused a huge upset.
Meanwhile, there was more for the genuine sports fans to suffer as Croatia beat England in the tussle for the Final. Sachin Tendulkar had also supported England in his Twitter post earlier on Wednesday and had backed them to book the date with France on Sunday for the title clash.
Stop supporting India
Very few things go unnoticed on social media nowadays and Twiterrati was quick to pounce on Sachin for jinxing both Federer and England. They lashed out at him and requested not to support India in the first ODI against England on Thursday. Few were also worried about India's fortune in the World Cup next year as they thought the Men in Blue will not win it if the Master backs them.
Sachin is not the first cricketer to face the heat from the Tweeples. The Indian captain Virat Kohli was also trolled recently for supporting Germany as the defending champions were crashed out of the mega event in the group stages itself.
Here are some of the hilarious trolls:
Sachin Tendulkar thought Federer will win and he lost.
Sachin Tendulkar thought England will win and they lost.

I can't think of a reason why he thought Sri Lanka will win in the 2011 WC final.

— SubbuS (@Subbu_06) July 11, 2018
Sachin supported Federer & England today lol

— BOBBEY (@iamsrktheking) July 11, 2018
Sachin should never wish victory to anyone after what happened to Federer and England.

— vikrant (@tweekrant) July 12, 2018
Hi @sachin_rt ,you wished Roger federer to win Wimbledon and also predicted England winning world cup.Both are out of competition.can you wish NDA for 2019 general election Please?

— A$hwin (@WinPawar) July 12, 2018
Bc jisey Sachin support kr rhaa wo haar rhiii…phle federer nd now England…! Bhaai aaj India ko support na krdiyo. 😐😏

— 9.6_talah_1.7 (@ktalha14) July 12, 2018
Sachin Tendulkar backed England and Federer … and both lost on the same day 😂

— Avinash Pareek (@avinashpareek) July 12, 2018
Sachin Tendulkar -God – wished both Federer for Wimbledon and England team for football on twitter and both got knocked out.

— Kumar Amit (@Ikumar7) July 11, 2018
Sachin said all the best to Federer and also said come on England!!!
And we have the results..#JustSaying 😂🙈

— JAYA (@jadoo_79) July 11, 2018
First Federer now England.

Come in God ji. Let's stick to our sports only@sachin_rt

— jambukeswaran neelakandan (@jambu8211) July 11, 2018
Sachin tendulkar proves to be new panoti for Federer and England 😒😒😔😔 #CROvENG #Wimbledon #FIFA18 #India

— Abhishek (@abhi3627) July 11, 2018
Sir please stop your wishes

Roger Federer
Champion trophy
Girls worldcup
Again Roger Federer
England football

All of lose#CWC19

— souravbala (@imbala99) July 12, 2018
[interaction id="5b45c6fcdb31a034862691ef"]
CricTracker brings to you all the latest cricketing news and trends